How to Watch Hulu Live on LG/VIZIO/Sony/Samsung TVs
If you don't have a cable subscription on your smart TV, Hulu Live TV streaming is a great option. Hulu Live TV includes 65+ top channels, featuring sports, news, series, movies, Hulu Originals, and more. Here comes a guide on how to watch Hulu Live on LG/VIZIO/Sony/Samsung smart TVs and other TV brands. First, check whether your smart TV supports Hulu Live TV streaming. Learn what to do if your TV doesn't. To get a stable Hulu live streaming experience, make sure your internet speed is at least 8.0Mbps.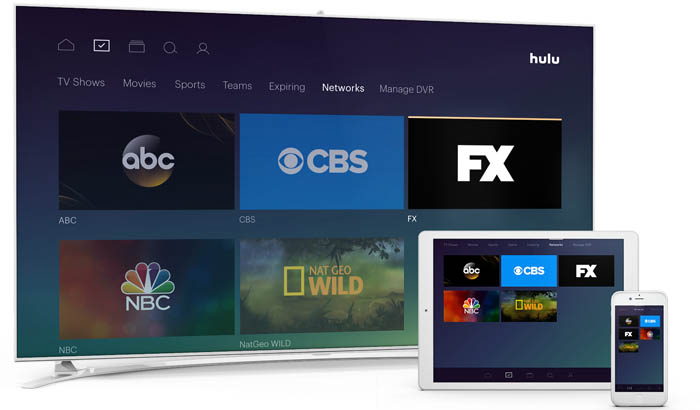 Hulu Live TV Supported Smart TV Models
Hulu Live TV is compatible with Samsung Smart TV, LG Smart TV, VIZIO Smart TV, Android TV, Amazon Fire TV, Apple TV, and Roku. It requires Samsung Smart TV 2016 Models or newer, VIZIO Smart TV 2016+ Models, LG Smart TV running WebOS 3.5 or later (some 3.0). Many older smart TV models lack the support for Hulu Live TV streaming. If your smart TV doesn't work with Hulu Live TV streaming, move to the next part to find ways to do that.
How to Watch Hulu Live TV on Unsupported Smart TVs
You can get an Amazon Fire TV Stick, an Apple TV, or a Roku which gives you the latest Smart TV features and a new Hulu app with support for Live TV streaming. Amazon Fire TV Stick and Roku are cheap and suitable for any TV including a very old smart TV model. Apple TV offers more options such as the ability to play games, play the movies purchased from iTunes, etc. Here we take Fire TV Stick as an example to show how to sign up for Hulu Live TV.
Plug the Fire TV Stick into the HDMI port of your smart TV.
Turn on your smart TV, connect your Fire TV Stick to the internet.
On the main screen, select Search, type Hulu Live TV.
Go to Apps & Games, select the Hulu app, and click Get. Wait for the app download process.
Select a plan (Hulu+Live TV) once you launch the app. Enter your email address, password, and other information. Choose your payment, submit, and done.
What if you can't get Hulu live TV on Firestick? Try restarting your devices such as your smart TV, Firestick, and your internet router. Unplug the Firestick and plug it again after waiting a few minutes.

Read more: what to do if Hulu disconnects on Roku, smart TV, etc.
Hulu Live TV Streaming Bandwidth Requirements
Hulu recommends internet download speeds of 8.0 Mbps for live streams and 16.0 Mbps for 4K content. If you use the internet for other activities, the internet speed should be higher. Low or unstable internet speed can make you experience not loading, buffering or freezing Hulu live streaming on TV. Check what to do if Hulu Live won't load on your smart TV.