[Solved] How to Fix YouTube 401 Unauthorized Error on Mobile, TV
YouTube Error 401 Fix | Solve 401 Unauthorized Issue When Using YouTube App on Mobile/TV
UPDTAE: Unfortunately, YouTube is down again currently with a series of errors, including YouTube video not loading/playing, white screen, YouTube app crashing, login error, YouTube not downloading and error code 401 (the one this article will focus on).
YouTube app offers a fairly convenient experience to view and stream videos across devices. But when an error occurred, it may drive us to be annoyed. Error 401, one of the most common YouTube issues, seemingly bothers many users.
- "I was getting error: 'there was a problem with the network [401]' when using YouTube app on Samsung Galaxy S6. App dose not load, display error message and retry button. I have disabled and then enabled app, restarted phone, no help. Any suggestions?"
- "I've had a problem while uploading videos to YouTube. An error message pops up saying the remote server has returned an error: (401) Unauthorized. I've tried uninstalling and reinstalling this app, but that didn't work. Please Help!"
How to fix YouTube error 401? Get optimal solutions here!
Part 1: What You Should Know About YouTube Error 401
YouTube Error 401 is one request context error of YouTube Data API errors with a message saying "Unauthorized (401)". It appears in two cases: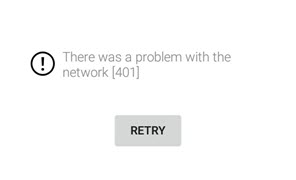 You don't have a properly authorized Google account (for example suspended) resulting in a prohibition of getting accessing to YouTube app on your mobile or TV.
You have a Google but don't link it to a YouTube channel. Although some features are still available, like rating videos, adding videos to "Watch Later", YouTube error 401 message will pop up when you try to upload a video.
Part 2: How to Fix YouTube Error 401
According to explanation of YouTube error 401, it is quite clear that this problem is primarily caused by unavailable Google account for YouTube. To fix it, try troubleshooting tips below.
1. Uninstall and Re-install YouTube App
Uninstall YouTube app on your devices completely with removal of all data and caches. And then, reinstall the latest version of it.
2. Use a New Google Email Account for YouTube App
We will take how to add a new account for YouTube on Android as example.
Firstly, clear data and caches for YouTube app.
Open Settings > Application Manager > YouTube > Storage > Clear Data and Cache.
Secondly, add a new Google account.
Open Settings > Accounts > Add Account > Google.
Next, enter a valid new email address and password. After logging in, uncheck all synced boxes.
Finally, run YouTube with the new account.
Open YouTube app and log in with the new Google account you have just added.