[Solved] VLC Not Playing YouTube Streaming Videos!
VLC is a feature-filled video toolkit, not only playing your local video files on Windows 10, Windows 11 or macOS, but also playing streaming videos from YouTube link directly. Yet, VLC doesn't always function normally. Instead, VLC media player will send you a short error message "VLC is unable to open the YouTube link. Check the log for details".
If you're facing this issue and still have no effective fix to troubleshoot this problem, stay here for 2-3 minutes and try the below workarounds to fix this VLC not playing YouTube streaming video error.
VLC not Playing YouTube Streaming Videos? Solve It with WinX Video Tools
Here comes WinX Video Tools Pack including a video converter and a video player that you can use to fast convert any videos for VLC to play without issues, or directly play any videos files up to 4K smoothly. No extra codecs required.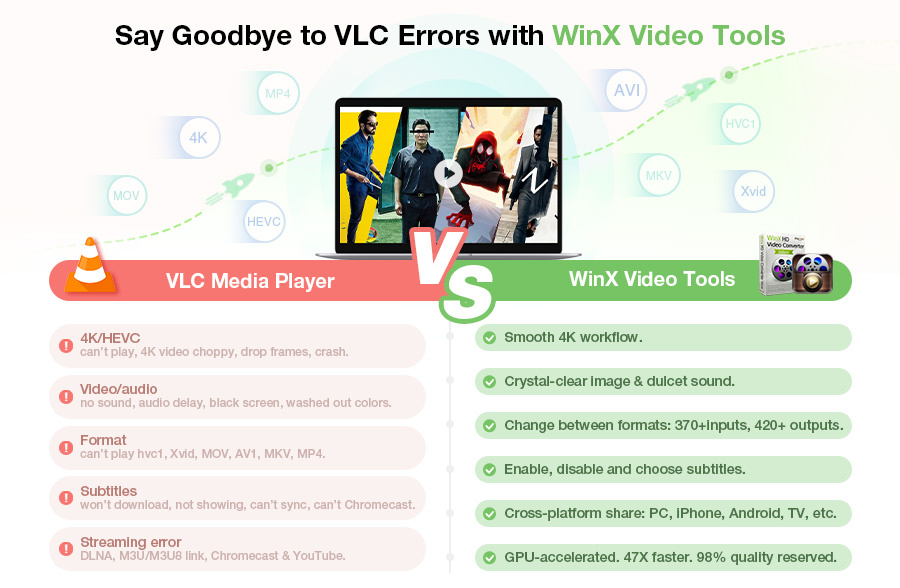 9 Solutions to VLC Not Playing Network (YouTube) Stream
Solution 1. Update VLC to the Latest Version
This is the most primary solution, also the one that would be easily ignored for VLC not playing network stream error. Therefore, please upgrade VLC media player to the latest version if it isn't. Then relaunch it on your Windows 10/11 or macOS to test if it can smoothly play YouTube streaming video. If you're not the lucky dog, be patiently to continue trying the following fixes.
Solution 2. Disable Cookies Forwarding Setting
Make sure you're on a reliable network since this workaround would be inimicable to your system security to certain degree. Safeguard your significant file data and make a backup of your files before doing this lest the accident occurs. Proceed if everything is ready:
Step 1: Launch VLC Media Player > click Tools on the top menu > Preferences.
Step 2: Move your mouse to the bottom left-hand corner to locate to Show settings section, and change the default Simple to All.
Step 3: Shift your attention from the bottom to the left-side panel and click Input/Codecs.
Step 4: Hit Access modules under Input/Codecs > choose HTTPS from the drop-down list. Step 5: Untick the Cookies forwarding on the right panel > tap Save button.
Step 6: Now, return to VLC main interface and try playing YouTube streaming video again to have a test.
Solution 3. Disable Hardware-accelerated Decoding
Another VLC default setting - hardware accelerated decoding might also render VLC not playing YouTube videos. Thus, you can try turning off hardware-accelerated decoding setting to fix this problem. As for VLC network stream in hi-def video like 4K 2160p video, the YouTube playing probably encounters playback freezing, stuck issue after HW-accelerated decoding is off. This is a double-edged sword. You cannot eat your cake and have your cake. Think twice before you leap for 4K YouTube streaming video playback. In terms of SD or HD YouTube video playing in VLC, go ahead:
Step 1: Access to Preferences under Tools from the user interface of VLC.
Step 2: Two ways to disable HW-accelerated decoding.
on the Simple setting interface, tap Input/Codecs on the top menu and change Automatic to Disable at Hardware-accelerated decoding.

on the All setting interface, find Input/codecs > click Video Codecs > FFmpeg > change Automatic to Disable at Hardware decoding option (under Codec name option) on the right panel.
Step 3: Tap Save button. Now re-open VLC and enable its network stream feature to play YouTube streaming video. Test if it works now.
Solution 4. Replace Existing Youtube.lua File
On top of VLC default settings, the youtube.lua file is also the major cause to result in VLC not playing YouTube video trouble. Try to replace the existing youtube.lua file with new youtube.lua file if the above solutions didn't help you out of this VLC youtube trouble.
Step 1: Open your browser and download youtube.lua file from VLC Player Official Download link.
Step 2: Activate Windows explorer by pressing Windows + E keys on your keyboard together.
Step 3: Copy and paste the following address to the website bar.
For 32-bit desktop, C:\Program Files\VideoLAN\VLC\lua\playlist
For 64 bit desktop, C:\Program Files (x86)\VideoLAN\VLC\lua\playlist
Step 4: Locate the existing old youtube.luac file and delete it from your PC.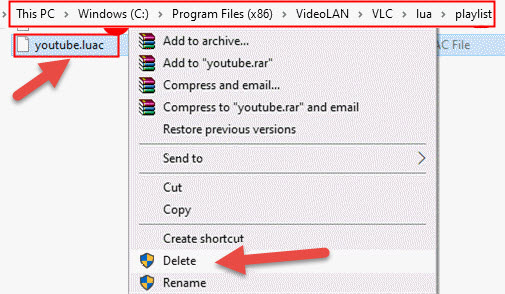 Step 5: Find and copy the newly downloaded youtube.lua file (downloaded from VLC official download link) on the Downloads folder of your Windows explorer.
Step 6: Paste the newly downloaded youtube.lua file in the location given in Step 3.
Step 7: Re-open VLC Media Player on your PC > press Ctrl + N keys to activate Open Media window.
Step 8: Enter YouTube streaming video URL > click Play button to test if VLC now plays YTB streaming video fine.
Solution 5. Re-name YouTube.lua File
Re-naming your youtube.lua file can help you fix VLC network stream not working error with YouTube, too. Check how-to guide:
Step 1: Press Windows + E keys to pop up Windows explorer > In the browser address bar, copy-paste the below address:
For 32-bit desktop, C:\Program Files\VideoLAN\VLC\lua\playlist
For 64 bit desktop, C:\Program Files (x86)\VideoLAN\VLC\lua\playlist
Step 2: Target on youtube.lua file and change its name to youtube.luac
Step 3: Re-open VLC media player on your PC. Now, re-paste the YouTube streaming video URL to VLC network stream for playback.
Solution 6. Augment File Caching Valume in VLC
Sometimes, YouTube streaming video is not completely working in VLC. Instead, it might play in freezing or lagging conditions. In such case, increase file caching valume in VLC to leave plentiful room for your ytb streaming video playback in VLC:
Still head to Tools option of VLC player > Preferences > Change Simple to All under Show settings section.
Input / Codecs, give it a hit.
On the right-hand panel, scroll down to find and stay at Advanced.
Change the values for File caching (ms) from 300 to a higher value like 1000 or 2000. The value is in milliseconds. Done!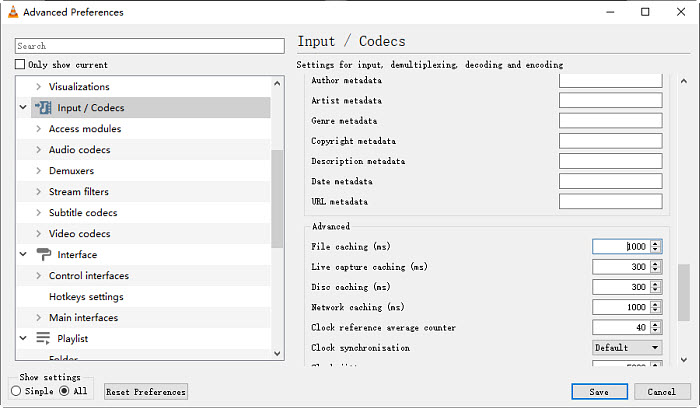 Solution 7. Give up YouTube AV1 (av01) Streaming in VLC
AV1 codec is designed to be the successor to VP9 and the strong contender to HEVC. Currently, YouTube videos, if not all, are encoded by AV1. And VLC media player (since version 3.0.6) has already supported 12 bits decoding of AV1. Theoretically speaking, VLC has no problem in playing YouTube AV1 videos. Yet, it's not the same case when it comes to AV1 video with av01 subcodec.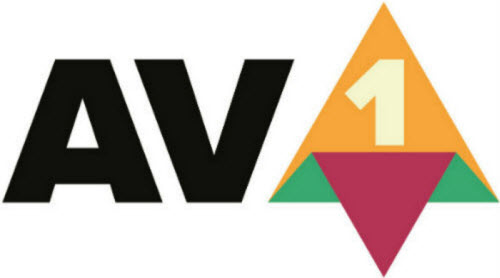 If you encounter YouTube AV1 (av01) video, please give up this type of video streaming in VLC. Find the video content with other codecs for streaming if you insist on using VLC. Plus, you're suggested to convert AV1 (av01) video to MP4, MOV, MKV, AVI, etc. other formats with a solid video converter notwithstanding the video source is local file not online streaming one.
Solution 8. Enhance Network Bandwidth for Hi-def YTB Streaming Video
Generally, it's not demanding for SD or HD 1080p YouTube streaming in terms of network connection. It's a different story if the YouTube streaming content goes up to 2160p 4K or even 8K resolution. In that case, you need to improve network bandwidth to 25Mbps or 50Mbps (minimum requirements). Or the real-time YouTube streaming playback on VLC would be troublesome, not working, freezing, lagging, video audio out of sync, VLC black screen, etc. varied types of errors.
Solution 9. Try VLC Alternative for YouTube Playback
Last but not least, the most direct solution is to ditch away VLC player and resort to its alternatives for network streaming. Most VLC alternatives like 5KPlayer support video streaming. But don't confuse local file streaming (AirPlay or DLNA) with online network streaming (real-time). 5KPlayer has the power to help you stream video audio from Mac/PC to Apple TV/HDTV/Smart TV via AirPlay or DLNA. Keep in mind that it supports local file sync to bigger screen. VLC is not that type. It allows online YouTube video real-time streaming.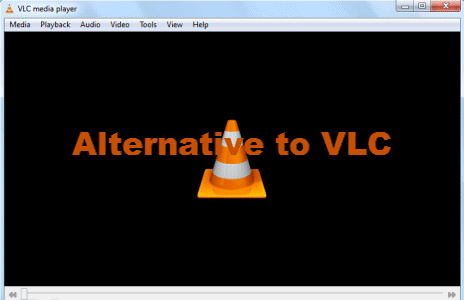 Concerning this kind of demand, VLC replacements CnX player and Movies & TV app are the nice options with network streaming supported. Give them a shot on your Windows PC. CnX player even makes network YouTube streaming available on your Android phone.
In Conclusion
VLC is not only an offline media player, but also a network stream player to playing online videos from YouTube, Vimeo, VEVO and more. But sometimes, VLC doesn't work perfectly for network stream playing. There might be various reasons behind this issue. You need to determine the actual cause and then use the corresponding solution to resolve it. Here, we've included some potential fixes you should give a shot if you encounter the same problem. You'll be able to fix VLC not playing YouTube error without any problems thanks to this.