Change Amazon Prime Video Quality| Poor Prime Video Quality
Many Amazon Prime Video movies and TV series are available to stream in HD or 4K UHD and will play in HD quality by default if your internet speed is 5MB/s or faster. If you don't get HD quality, follow our tips to change Prime Video streaming quality. If you're streaming a title that is in poor quality, a week or unstable internet connection, or bad HDMI cable quality. Also, follow our troubleshooting tips for your streaming device below to fix the issue.
How to Change Amazon Prime Video Quality
Before you change Amazon Prime streaming quality, make sure you know the following things.
1. Prime Video quality settings are only available on iOS/Android etc. mobile devices and Amazon Fire TV Stick.
2. There are no quality settings on some if not all Samsung/Roku/LG/Apple etc. smart TVs or other TV boxes. The Prime Video app will determine the streaming quality depending on the bandwidth speed available.
3. Amazon Prime Video recommends a minimum download speed of 5MB/s for HD content, 1MB/s for SD content.
Steps to Change Streaming Quality on Prime Video App
This way applies to setting streaming quality on the Prime Video app from Android/iOS phones, tablets, Xbox, PS4, some Samsung/LG smart TVs. Note that many Android and Samsung TV don't offer Prime Video streaming quality settings.
1. Open the Prime Video app on your device.
2. On the Amazon Prime Video app, head to Settings > Stream Download > Stream Quality. You should see several quality options, Good, Better, Best, or Highest Quality option.
3. Select a quality option you'd like to set.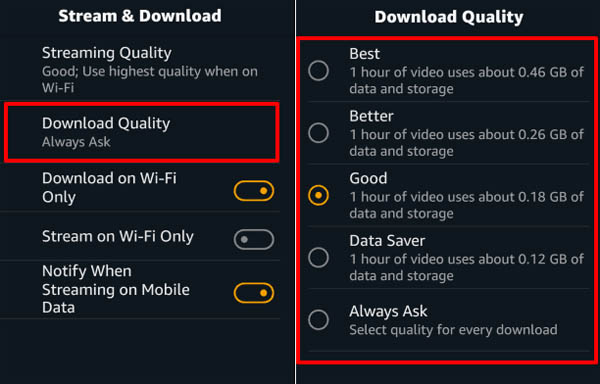 On Roku devices, head to Home > Settings > Display Type, and choose the resolution and frame rate from the options, such as 1080p HD, 4K HDR 30Hz.
Steps to Change Prime Video Streaming Quality via Web Browser
1. Sign in to Primevideo.com on your browser with the correct account and password.
2. Head to your Profile name and select Account & Settings.
3. Choose the playback option settings. You should see three options for prime video quality. Select the one based on your internet connection speed.
Also read: Top 100 Best Amazon Prime Video 4K UHD Movie
What to Do If Prime Video Quality Is Poor/Bad
The main causes of poor Amazon Prime Video streaming quality are low internet connection speed, bad HDMI cable quality, low-quality source, and low-quality streaming settings. Now, you should find a clue on how to fix poor Amazon Prime Video streaming quality.

1. Check your bandwidth speed

You can easily dig out a tool to test your bandwidth speed. If you have a bad bandwidth speed, the quickest fix is to close other apps that are using the same WiFi network when it's possible. Improve your internet connection speed by switching to another better provider.

2. Change your HDMI cable quality

If you watch Prime Video content from a device connected by an HDMI cable, a poor HDMI cable is a potential cause. Change to a good HDMI cable and test the HDMI cable quality using graphics software. This way isn't easy or convenient. Some devices such as Samsung 2019 Smart TV models have a setting that can be used to improve signal quality from a bad HDMI cable. Go to Menu > Support > Self Diagnosis > Signal Information > Signal History > DMI Delay Level, select Basic or Slow 1 or Slow 2 option.

3. Check Your Quality Stream Option in Amazon Prime Video Settings

There are three streaming video quality options, Good, Better, Best, or Highest Quality. Sometimes it might be set to the lowest quality automatically based on your bandwidth. Make sure the quality is not set to the lowest one.