Amazon Prime 4K Movies List to Watch During COVID-19 Quarantine
Like Netflix, Amazon Prime Video boasts of massive 4K movie resources, covering 4K UHD new-releases, horror, comedy, science fiction, kids and family movies, and more. Here's our gathering of best Amazon Prime 4K movie lists and tips on how to stream Ultra HD on Prime Video.
Where to find 4K films on Amazon Prime Video?
If you are using a web browser to stream Amazon Prime, go to Amazon 4K Store, select 4K ON PRIME VIDEO, you'll find all the 4K Ultra HD content under the list. If you are using the Prime Video app and your device supports 4K playback, just scroll through the movie list and find titles with a 4K UHD label. There's no HDR category. To find out HDR titles, you have to search and refer to the title information.
List of Best 4K Ultra HD Movies to Stream on Amazon Prime Video
Genres: Action, Adventure
Director: Chad Stahelski
Starring: Keanu Reeves, Halle Berry, Laurence Fishburne
IMDb rating: 7.6/10
John Wick 3 - Parabellum is the most popular movie in 4K UHD on Amazon Prime. As the highest-grossing film of the franchise in just 10 days, it becomes the first movie to dethrone Avengers 4 atop the box office. Over-the-top action is the highlight. It wins the title of the best action movie of 2021.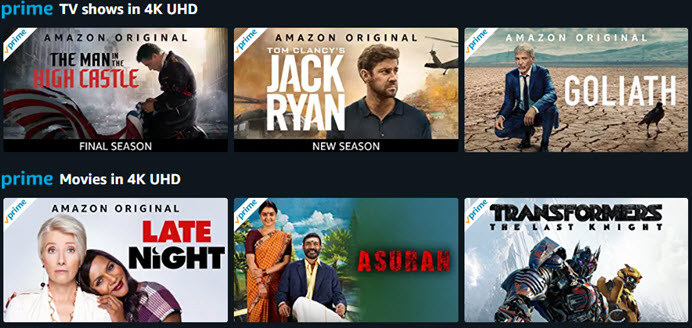 Genres: Action, Adventure, Science Fiction
Director: Jon Watts
Starring: Tom Holland, Jon Favreau, Zendaya Coleman
IMDb rating: 7.6/10
Another 4K UHD Hollywood blockbuster available on Amazon Prime Video. The sequel is the highest-grossing Spider-Man film with more than one billion dollar box office worldwide. Its humor, visual effects, and performances are highly praised. "Spider-Man: Far From Home stylishly sets the stage for the next era of the MCU."
Jumanji: Welcome To The Jungle
Genres: Comedy, Fantasy, Adventure
Director: Jake Kasdan
Starring: Kevin Hart, Madison Iseman, Dwayne Johnson
IMDb rating: 6.9/10
Four tonnages disappear into a video game. They have to work together to finish the game to escape from it. Otherwise, they'll get stuck in the game forever. The movie wins Choice Comedy Movie and Kids' Choice Award for Favorite Movie. It's a good family entertainment film. Learn what to do when UHD movies are not available on Amazon Prime Video.
Genres: Horror, Suspense
Director: Ari Aster
Starring: Florence Pugh, Jack Reynor, Will Poulter
IMDb rating: 7.3/10
This is one of the most-streamed 4K UHD horror movies on Amazon. Dani Ardor is invited by his boyfriend Christian Hughes to visit a rural hometown's fabled mid-summer festival after her sister and their parents' death. Dani becomes May Queen after a maypole dancing competition. Christian gets involved in a sex ritual and has sex with cultists Maja. Dani discovers everything and finally selects Christian as the ninth victim.
Genres: Adventure, Drama
Director: Jon Favreau
Starring: Donald Glover, Seth Rogen, Chiwetel Ejiofor
IMDb rating: 7.0/10
Scar, the former heir to the throne, plans to send king Mufasa to death and convince Simba that it's Simba's fault. Simba feels guilty and leaves the Pride Lands. With the help of new friends, Simba grows up and returns to the Pride Lands. After the battle with Scar, Simba becomes the new king and makes Nala the queen, everything in the Pride Lands returns to a normal state.
Scary Stories to Tell in the Dark
Genres: Horror
Director: Andre Ovredal
Starring: Zoe Colletti, Michael Garza, Gabriel Rush
IMDb rating: 6.3/10
Genres: Comedy, Drama
Director: Nisha Ganatra
Starring: Emma Thompson, Mindy Kaling, John Lithgow
IMDb rating: 6.5/10
Genres: Drama
Director: Dexter Fletcher
Starring: Taron Egerton, Jamie Bell, Richard Madden
IMDb rating: 7.5/10
Genres: Horror
Director: Rob Zombie
Starring: Sheri Moon Zombie, Bill Moseley, Richard Brake
IMDb rating: 5.7/10
Genres Action, Adventure, Suspense
Director Brian A. Miller
Starring Michael Chiklis, Bruce Willis, Meadow Williams
IMDb rating: 3.5/10
| | | |
| --- | --- | --- |
| New Releases in 4K on Prime Video | 4K UHD Movies on Prime Video for Kids and Family | Top Amazon 4K Action Movies |
| Think Like a Dog, The Pollinators, Once Upon A Time...In Hollywood, The Hustle, Primal, The Quarry, 47 Meters Down: Uncaged, Roger Waters: Us + Them. | Zootopia, Cars 2, Finding Dory, Inside Out, Coco, Toy Story, Hotel Transylvania 3, The Star, Jumanji, Incredibles, The Little Mermaid, UglyDolls, The Good Dinosaur. | Avengers: Endgame, The Equalizer, Fury, Brightburn, Tangled, Interstellar, Escape Plan, Apocalypse Now, Rambo 3, Guardians of the Galaxy Vol.2, Lord of War, Terminator 2. |
How to watch Amazon Prime movies in 4K Ultra HD
Make sure you meet the following requirements to stream 4K content on Amazon Prime.
1. Ultra HD compatible devices. Devices that don't support 4K won't detect 4K titles. Amazon Fire TV (2nd Generation), Samsung, Sony, LG, Vizio 2014 or later models are compatible with Ultra HD.
2. Your 4K UHD TV should have HDMI input that supports HDCP 2.2.
3. A steady 15 Mbps internet connection is required to stream Amazon Prime Ultra HD material without buffering. Learn what to do when Amazon Prime 4K movie streaming freezes.