HandBrake MP4 vs M4V: Why HandBrake Saves DVD to M4V not MP4?
This page answers why HandBrake saves DVD to M4V, but not MP4 file format. Also, it suggests best solution to let HandBrake rip DVD to MP4.
Q: I've started becoming more familiar with using HandBrake to rip DVD on my computer (running macOS). But found that HandBrake occasionally defaults the destination file to be in the file extension of M4V (.m4v) instead of MP4 when I tried to convert DVD to Apple TV. Why? How can I open M4V file with general video players?
If you involve in the same trouble as the above question, read on to find out why HandBrake saves DVD as M4V but not MP4 file, plus how to solve HandBrake saving DVD as M4V issue with the best HandBrake alternative.
Best HandBrake Alternative - Rip Any Copy-protected DVDs to MP4
[Note] HandBrake can only rip non-protected DVDs, but encrypted DVDs are not supported.
WinX DVD Ripper Platinum - best HandBrake alternative to help rip any homemade and commercial DVDs to MP4 for you.
Rip copy-protected DVDs with CSS, UOP, RCE, region code, Sony ARccOS, Disney DRM etc.
Rip DVD to MP4, M4V, AVI, MPEG, MOV, ISO, DVD VIDEO_TS folder, MP3, iPhone, Android, PS4, TV etc.
Rip any encrypted DVDs without installing libdvdcss or codec package.
GPU-accelerated. Fast and no quality loss.
Disclaimer: Digiarty Software doesn't advocate ripping copy protected DVDs or downloading online videos for commercial purpose & suggests referring to related laws in your country before doing so.
Table of Contents
Part 1. Why Does HandBrake Save Video as M4V?
Why does HandBrake save video as M4V instead of commonly seen MP4 format? Indeed, M4V is barely more an Apple thing than HandBrake. M4V format is developed by Apple and encrypted by the same with DRM copy technology. That is to say, M4V files have copyright protection from Apple, which forbids the access (especially from competitors like Android) for commercial purposes that protected DVDs also favor of. For example, M4V file cannot be read on Samsung Galaxy Note.
So, when you pass through audio (AC3), use SRT subtitles or have chapter markers enabled which often DVD contains, HandBrake will automatically use the extension .m4v. Chapters and AC3 audio can only be seen by QuickTime if they are stored in M4V container format.
Part 2. How to Open & Play HandBrake M4V Files?
Apple TV needs the .m4v file extension to know how to deal with the AC3 in the mp4 container. Chapters and AC3 audio can only be seen by QuickTime if you change the file extension from .mp4 to .m4v. QuickTime or any QT-based app cannot play a MP4 file with these features enabled, unless it has the extension ".m4v". So you should not change to MP4 the extension of a file if it is as M4V containing a3c audio. That's why the Apple TV preset changes it in the destination field.
1. The simplest way to open and play M4V file is to change the file extension back and forth between M4V and MP4. That is, HandBrake M4V to MP4, or HandBrake MP4 to M4V.
2. Play M4V files by Apple QuickTime Player, Windows Media Player Classic, VLC media player, MPlayer, RealPlayer and all-in-one video/audio player 5KPlayer
Part 3. How to Make HandBrake Save DVD to MP4?
If you are just ripping non-protected DVDs with HandBrake to M4V, you can simply change the file extension from .m4v to .mp4 each time you have got a M4V file. Also, there is a better solution – force HandBrake to use .mp4 for naming the output file all the time.
In HandBrake, go to Tools and choose Preferences.
Go to Output Files.
In the drop down menu for MP4 File Extension, select Always use MP4.
The setting is auto-saved. Just click Back button to go back to main screen and reload your source. Then, you will get a file with .mp4 extension.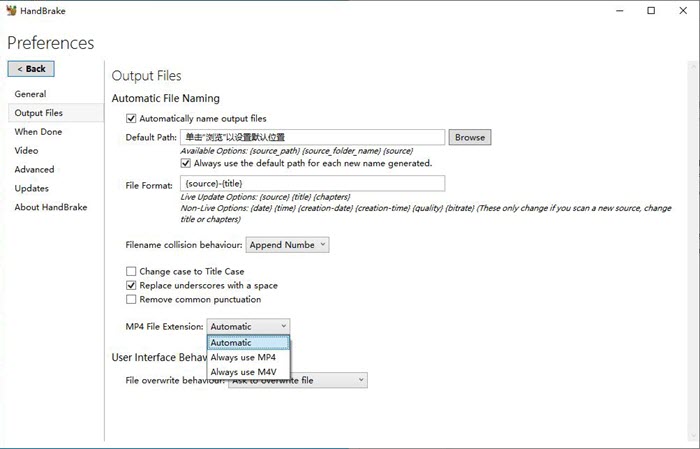 Part 4. Best HandBrake Alternative to Rip DVD to MP4 Directly
Find the best HandBrake alternative (such as WinX DVD Ripper Platinum for Windows and WinX DVD Ripper for Mac) to rip DVD to MP4/H.264, AVI, MPEG, WMV, etc directly. They can also convert DVD for movie playback on all iPhone, iPad, iTouch, iTunes, and any other popular Android and Windows devices. They also support ripping DVD to ISO, MPEG2, MP3, JPEG, or converting DVD ISO to AVI, MP4, and so on. In addition, WinX DVD Ripper Platium/for Mac fully supports Disney and Sony protected DVDs, and can select the correct main movie title by default during ripping.
Related External Source from Wiki:
1. HandBrake - HandBrake is a free and open-source transcoder for digital video files, originally developed in 2003 by Eric Petit (a.k.a. "titer" from his SVN repository username) to make ripping a film from a DVD to a data storage device easier. Since then, it has undergone many changes and revisions...
2. M4V - The M4V file format is a video container format developed by Apple and is very similar to the MP4 format...