[Solved] How to Repair Corrupted MP4 Video File Free
Get Ways to Repair Corrupted MP4 files on PC/Mac & Suggestions of Best Free MP4 Video Repair Software
"Hi! My phone captured a MP4 clip but neither it nor other players can play it back correctly. The audio is ok but the video is in green and black and seems like five pictures tiled. How could I possibly repair corrupted MP4 file? The video is very important and memorable for me. Thanks."
If you downloaded or have a local recording of a video, which was later saved in .mp4, or rather, a damaged MP4 file, how can you repair the corrupted MP4 file and get back your full intact video? There is much to do for fixing a broken MP4 video and you probably should start with the basics: some attention to the degree of video file damage and a great emphasis on the selection of the best MP4 file repair software.
Smart Approach to Fix Corrupted/Broken MP4
Slightly damaged MP4 video file can be repaired by software, say, WinX HD Video Converter Deluxe.
● If your MP4 file is scathed because of MP4 file header damage, load it to WinX, choose an output format like MKV, MOV or MP4 with different video codec and it will auto repair file header data to fix the error during conversion.
● If your MP4 file is partly damaged caused by inserted video clip like a commercial ad with incompatible video settings, you can use this tool to cut off the undesirable video clip from MP4 video to make it right.
● If your MP4 file is unreadable resulted from unreliable downloading, re-download MP4 video from YouTube, Dailymotion, Vimeo, Vevo, Metacafe, break, etc. 1000+ legal, safe and reliable video sites. Give WinX a whirl!
How to Repair Slightly Corrupted MP4 Video File
Free download WinX HD Video Converter Deluxe for Windows/10 and get it installed on a drive other than Disk C.
Step 1: Click "+Video" to load the MP4 video with damaged video clips.
Optional: to repair MP4 with file header damaged, select an output video format (you'd better choose the one with different video codec) from the pop-up output format profile window.
Step 2: Tap "Edit" button on the main interface -> go to Cut -> drag knob to set the time position for cutting -> click Cut button on the right -> specify the "Start Time" and "End Time" of the corrupted MP4 video clip (thus you can avoid the corrupted point) -> repeat the operation if you would like cut out more clips -> click button "Done".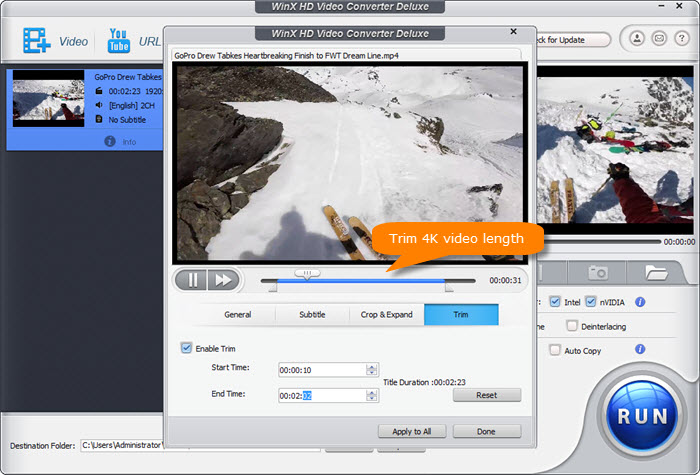 Step 3: Set your destination folder and press button "RUN" to start repairing your corrupted MP4 file.
One More Choice: Repair Corrupted/Broken MP4 Using VLC
VLC has the damaged AVI file repair feature, which can be also used to fix unreadable MP4 file. Read on:
Step 1: Compulsorily change your video file extension from MP4 to AVI.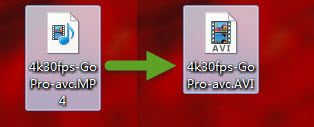 Step 2: Fire up your VLC player > Tools > Preferences > Input/Codecs.
Step 3: Find "Damaged or incomplete AVI file" > change the default setting "Ask for Action" to "Always Fix" > Save. Step 4: Drag and drop your modified AVI file to VLC and this video player will auto repair damaged AVI.
Note: this method doesn't always work, especially your MP4 being damaged again after compulsory extension conversion.
How to Repair Severely Corrupted MP4 Video File
"I have about 5 hours of critical footage that was recorded through OBS. Awkwardly, of the 6 total hours, about 30 minutes of it have been saved in mp4 and works perfectly."
Provided that you have tried everything you know and some ways you don't know to do the damaged MP4 video repairing, like opening the MP4 files in VLC, ffmpeg editing, AtomicParsley, All Video Fixer and various MP4 file repair tools, but nothing truly works, the ultimate solution to repair such severely corrupted MP4 file is doing it manually by professionals, which is way outside most people's price range. Under such circumstances, you data is approximately lost forever.