Play YouTube Video on Samsung Galaxy S21/Note 21 Anywhere
Troubleshooting: cannot play youtube videos on Samsung Galaxy S21 and more
- Hi I have an issue on my Samsung Infuse. Out of nowhere I was unable to play videos on YouTube's mobile site or even view previews in my flixter movies app. I kept getting the same old message over and over. To make things stranger the same youtube movies worked fine within the youtube app.
Among Samsung smart devices, Samsung Galaxy S21 undoubtedly come to the fore of most welcome ones at present. The reason why S21 outperform most of their peers is that they both own a plenty of great features and amazing specifications, being born with 3 types of display:
• 6.2-inch FHD+ AMOLED display with a resolution of 2,400 x 1,080 pixels, 4,000 mAh battery, 120Hz refresh rate support
• 6.7-inch FHD+ AMOLED display with a resolution of 2,400 x 1,080 pixels, 4,800 mAh battery, 120Hz refresh rate support
• 6.8-inch QHD+ AMOLED display with a resolution of 3,200 x 1,440 pixels, 5,000 mAh battery, microSD expansion, 120Hz refresh rate support
How to Play YouTube Video on Samsung Galaxy?
WinX HD Video Converter Deluxe is the right application to transform High Definition videos into a wide range of formats on Windows. - Boogerman (Miracletutorials Editor)
Related superb configurations bring about unmatchable video playing effect. But if your source videos are some online ones like YouTube, you may encounter a network connection matter. That is to say, when you are in some places without network, it must be a torment for you to play YouTube online video. How to solve this problem? The best way is to convert YouTube FLV format video to Samsung Galaxy S21/Note 21 compatible formats - MP4, AVI and copy it to phones for playback.
But how? Through search on search engine, you may easily find out that there are a pile of helpers, most of which are charged or with insecurity like malware and adware. In view of this, free and safe WinX HD Video Converter Deluxe is the best tool you can rely on. It gives you ability to deal with all Standard Definition, 1080P High Definition and 4K Ultra High Definition resolution videos from YouTube. With 420 preset profiles for output mobile devices, you can transfer YouTube video to phones/tabs like Samsung Galaxy S21/Note 21, iPhone, iPad, etc.
How to Convert YouTube video to Samsung Galaxy?
This software is embedded with High Quality Engine and "Yadif Double Frames" De-interlacing Engine, which can reduce noise and make output YouTube video play on Samsung Galaxy more clear by adjusting definition dynamically. Supporting multi-core CPU, owning the optimized AMD 3DNow! and Intel SSE3 SSE2 MMX Instructions attribute to a 84x faster converting speed. Therefore, just follow the steps bellow to start your conversion task: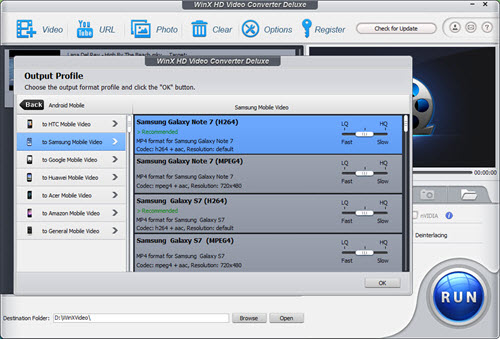 Step 1. Click "Video" icon to open the output profile interface;
Step 2. Choose the target device. Here to convert YouTube video to Galaxy at one go, follow "Android Mobile -> to Samsung Mobile video -> Samsung Galaxy S20 or Samsung Galaxy Note 21 or General Samsung Galaxy Mobile video";
Step 3. Select destination folder to save the video that's about to be converted.
Step 4. Hit "RUN" to start YouTube video to Galaxy converting.
Once accomplishing conversion, you can copy video to your Samsung gadget, having an uninterrupted offline YouTube video tasting.