Use MKVToolNix to Mux Merge Multimedia Streams to MKV
After reading previous introduction about How to Use mkvtoolnix to Create MKV, on this section we will discuss step-by-step tutorial on How to Mux and Merge multimedia streams to MKV with mkvmerge GUI.
Brief introduction about MkvMerge GUI
Simply speaking, mkemerge is used to Merge multimedia streams into a Matroska file. This program takes the input from several media files and joins their Video/Audio/Subtitle streams (all of them or just a selection) into a Matroska file.
Demux and Remux MKV in A Few Seconds Easily
Remux MKV from/to MP4 and other container formats without transcoding speedily in a click. Original quality can be reserved.
For PC and Mac only. Go to mobile page.
mkvmerge User Guide - How to Mux MKV
Step 1 - Mux MKV with mkvmerge
Above all, prepare your source video and audio files that is readable by mkvmerge. AVC (MPEG-4/H.264) for video and Dolby Digital (AC-3) audio is most ideal source that facilitate mkvmerge to burn an MKV file. Since mkvmerge can't read from MPEG-2 TS files you'll need to demux M2TS before to MKV.
Step 2 - Free mkvmerge download and load source elements
Input Files - Like all Video / DVD Converter software need to do, you should import your source files into mkvmerge, which supports majority of standard containers and elementary stream formats. It is a pity that there is no luck for TS / MTS / M2TS. Click "add" button to load source elements. And "Append" to combine source files (such as DVD VOBs).
Tracks - in this part you will learn why people always said that MKV is building future in mind. That is because of MKV is capable of handling with multiple Video/Audio/Subtitle tracks equally well.
Output - Use the "Browse" button to select a location and filename for the muxed MKV file you're creating. The "Start Muxing" button does just that.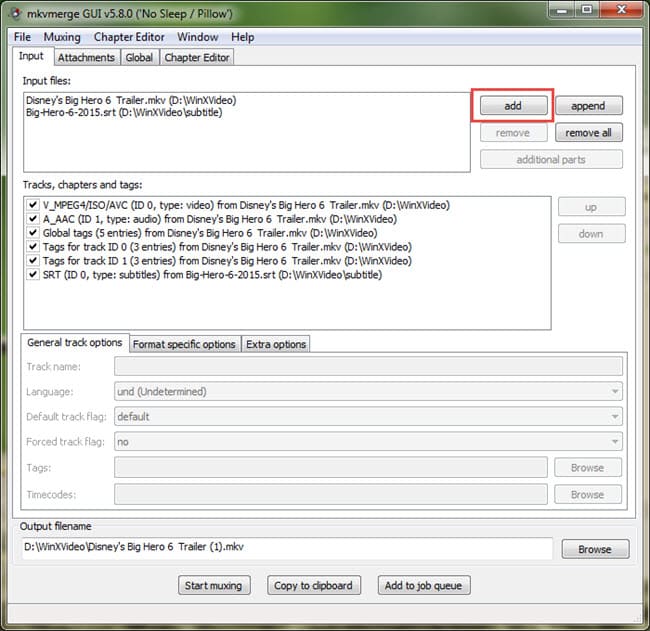 Step 3 - Optional Settings
General Track Options - These are options which may be used to give additional information about different streams that could be of use to authoring or playback software. It's based partly on the information already used in MPEG-2 streams for DVDs, but adds more possible information. For audio streams its good to set the language, and if there's more than one audio stream make sure to set Default track flag equal to Yes for the one you want to automatically play.
Video Stream Information - Even though all your video streams are identical, you may also need to adjust settings to be proper, which is the guarantee of a smoothly playback for the outputs. Take Aspect Ratio as example. Regularly it should be either 16/9 (16:9 or widescreen) or 4/3 (4:3 or fullscreen). If you're encoding video that's not formatted specifically for HDTV AR it may be another value like 2.35 (2.35:1) or 1.66 (1.66:1).
Audio Stream Information - The only importance you need to concern in this section is the Video/Audio sync issue. There are numerous possibility that can cause A/V out of sync issue. For instance, video may start with several frames that have no audio, the audio stream may be shorter than the video, and intended to start later. If you mux such an audio stream into MKV container you need to maintain the same tune in order to avoid audio sync problems.
A good solution for A/V out of sync issue is using DGIndex to demux your audio, which will note the delay in the filename. Make sure not to change this as it will be read by mkvmerge when you add the file, and set correctly from that information.