HandBrake Always "Selects Wrong DVD Title", How to Make It Right?
"I always use HandBrake to rip my DVDs free. However, some DVDs use lots of bogus titles (with duration close to, and often exceeding that of the main title) as a copy protection measure. This causes HandBrake to select the wrong DVD title, and the result is a movie where the chapters are out of order which is kind of unpleasant to watch."
The main reason to explain HandBrake wrong title selection error is HandBrake totally can't recognize and rip copy-protection DVDs. Among the encryption methods, 99 titles is one of the most complicated ones to confuse HandBrake to recognize the correct title so as to protect commercial DVD contents from piracy. So, this guide will help you out when your HandBrake can't select correct DVD main title.
[Solved] HandBrake Selects Wrong Title When Ripping Commercial DVDs
In reality, HandBrake can only rip non-protected DVDs, DVD folder and ISO images. To rip purchased commercial DVDs with region codes or copy protections, HandBrake will fail to scan the titles for you. So, you have no choice but turn to HandBrake alternative WinX DVD Ripper Platinum which has the ability to rip all encrypted commercial DVDs with the correct title selected.
Table of Contents
Part 1. Why Does HandBrake Select Wrong Title?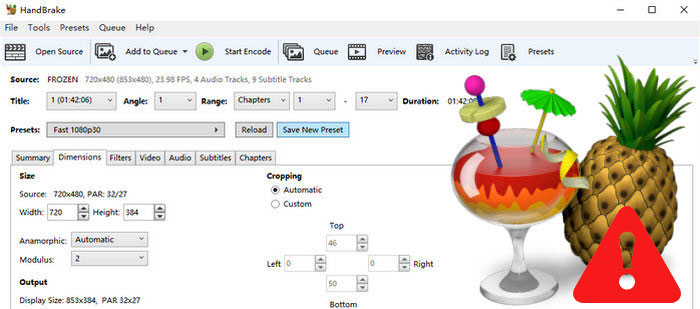 If your HandBrake failed to select the right DVD title containing the full movie contents, you are suggested to firstly check whether the source file you input is accepted by HandBrake. If your source DVD file is not supported by HandBrake, you may encounter error like "Your source may be copy protected, badly mastered or in a format which HandBrake does not support."
Reason 1. HandBrake can't rip copy-protected DVDs by default – main reason
Whatever jobs you do, it is very hard for you to rip encrypted DVDs with HandBrake as HandBrake natively has no such decryption ability. Often the case, HandBrake only shows one title instead of more for you to choose when ripping copy-protected DVDs. Even you installed VLC libdvdcss that can decrypt DVD CSS protection, your HandBrake can't rip 99 titles DVD and discs protected by UOP, RCE, region code, Sony ARccOS or Disney DRM advanced encryption method. Accordingly, you need a professional DVD decrypter called WinX DVD Ripper Platinum which can automatically select correct DVD main title to rip all commercial and homemade DVDs with full contents.
Reason 2. The source file is not supported by HandBrake
In detail, HandBrake can only select right title from the following files.
HandBrake supported input formats:
Video File: common media files such as MP4, M2TS, TS, VOB, AVI, MOV, ISO, MKV (Matroska)
DVD Folder: VIDEO_TS folder
HandBrake supported output formats:
MP4 (H.264/MPEG-4), MKV (H.264/H.265/VP8/VP9), M4V (Container), Theora, iPod, iPhone & iPod touch, iPad, Apple TV/2/3, Android/Tablet, Windows Phone 8, Android, Apple/Chromecast/Fire TV/Playstation/Rolu/Windows Mobile/Xbox (Legacy) Surround (v1.0.0 or later)
So, when ripping DVDs with HandBrake, you are suggested to convert DVD to VIDEO_TS folder first.
Part 2. How to Solve HandBrake Wrong Title Selection Error?
Possible solution 1. Manually select the right title
You may try "specific title scan" method to manually make HandBrake select correct DVD main title.
Insert your DVD disc and launch your DVD player.
Find the main title of the DVD movie from the Go menu, and remember the number of the title.
Open the DVD VIDEO_TS folder with HandBrake.
Enter the title number you just remembered to let HandBrake rip the DVD with right title.
Possible solution 2. Install VLC libdvdcss to rip CSS-encrypted DVDs
By installing libdvdcss on HandBrake, you can get a key to unlock some CSS-protected DVDs. VLC libdvdcss can decrypt some copy-protected DVDs, but it is in capable of ripping discs encrypted by advanced copy protections like UOP, RCE, region code, Sony ARccOS, Disney DRM etc.
To install VLC libdvdcss, make sure your HandBrake version is later than 0.9.4 and you have properly installed VLC. Please note that 32-bit HandBrake only works with 32-bit VLC, and 64-bit HandBrake only works with 64-bit VLC.
Best Solution: HandBrake Alternative to Rip ANY copy-protected DVDs with Right Title
If HandBrake wrong title selection error still cannot be fixed or the methods above are not OK with you, why not try alternative software to totally get rid of this trouble? WinX DVD Ripper Platinum is a program good at ripping Disney and other copy-protected DVDs with 99 titles.
WinX DVD Ripper Platinum: Best HandBrake alternative to rip ANY copy protected DVD to all mainstream videos, and enable convert DVD to Galaxy Note Edge, DVD to iPhone 7, DVD to iPad Air 2, DVD to iMovie, DVD to iTunes, DVD to Kindle Fire, Surface, and any other videos playable on Android Apple Google devices. And the latest version has already vanquished the latest (Disney) 99-title DVDs, as well as some other encrypted DVDs like workout DVD, Janpanese AV DVD and TV series DVDs. When ripping DVDs, it can auto analyze and select the correct DVD main title with full support for DVD CSS, region code, RCE, Sony ArccOS, UOPs, Disney X-project DRM, but for personal and family entertainment use only.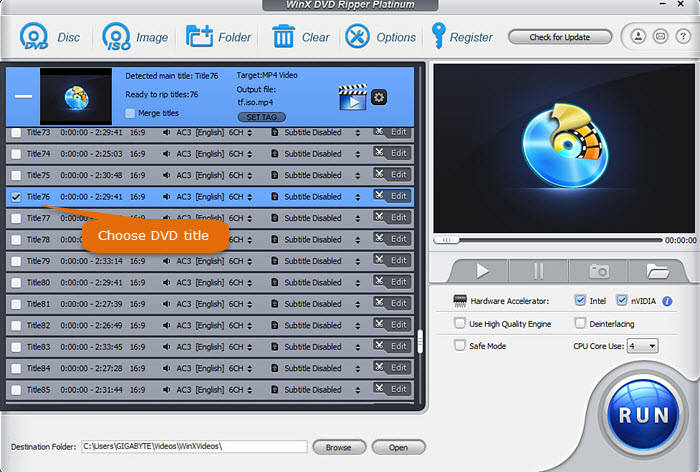 Step 1. Download this HandBrake alternative, install and launch it.
Step 2. Insert your DVD disc to the DVD driver. Then, click the "DVD Disc" button on the main UI of WinX DVD Ripper Platinum to load the DVD contents. BTW, you can also add ISO image or VIDEO_TS folder to it.
Step 3. When the Output Profile pops up, choose an output format like MP4 and click OK.
Step 4. Return to the main UI, you will find that this HandBrake alternative has selected the right DVD title for you. Simply click Browse button to choose a destination folder to save your ripped DVD media, and then hit RUN button to start ripping your copy-protected DVD with right title.