How to Play DVD Movies on the Plane, Boat or Train
Many People Want to Play Movies on the Plane
There are some real cases we collected from our users who have the needs of playing movies on the plane:
-- I'm trying to convert my Granddaughter's DVDs to mp4 foramt so we can store them on a memory stick and not have to carry a DVD palyer when we have to travel in our caravan.
-- I have ripped a DVD movie to my computer and want to move the movie to my iPad. How do I do that? Can you get me specific detailed instruction so my wife can use her iPad to play the movie for our granddaughter while on a long plane flight?
-- I am in the military and I travel a great deal so when I buy a new movie it is nice to Rip it onto my Samsung (10inch) device for viewing on my trips.
DVD movies are always a good choice to kill the time during trips. However, carrying a DVD player and dozens of discs in the journey is not a pleasant experience. In fact, to watch DVD movies on the plane, train, bus or boat. durign trips, you don't need to bother. This tutorial will tell you how to play DVD movies on a plane, train or boat while travelling.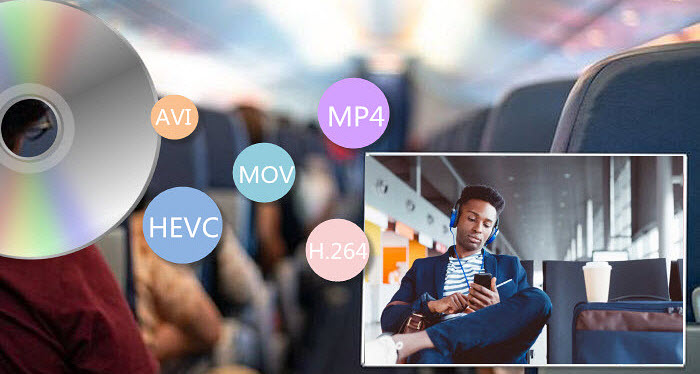 To play DVD movies on a plane/train/boat trip without carrying any players or discs, you can simply convert DVD to iPad Pro, iPad Air, mini /iPhone XS/XR/X/8/7, rip your existing DVDs to Android (Samsung Galaxy, Huawei, Google Nexus, Amazon Kindle Fire, HTC One, Lenovo Pad, etc.), or rip DVD to USB/memory stick, and so on.
Convert DVD to Mobiles/Digital Formats for Playback on they Plane/Train/Bus during Trips
WinX DVD Ripper Platinum is a DVD ripping program that can help you watch all kinds of DVD movies on the plane, boat or train to kill time and spend a nice networkless journey:
* It will rip any new/old DVD movies, TV shows, 99-title discs, encrypted DVDs, etc.
* It will convert DVDs to any iOS/Android/Windows mobile device, PC/Mac, USB drive, any storeage device as well as almost all the digital formats like MP4, HEVC, H.264, MOV, AVI, 3GP, WMV, MKV, etc.
* It ensures high output quality of the final video files to offer pleasant playback on devices.
Download the best DVD ripper software to play DVD movies on iPhone iPad Android on the plane, train or boat...
Please DO Not use WinX DVD Ripper to rip rental DVDs.
WinX DVD Ripper Platinum Helps You Play DVD on the Plane
To play DVD movies on the go, you are required to rip DVDs to iPhone, iPad, Android or other mobiles friendly videos. For example, you can convert rip DVD to iPhone XS/XR using this software as follows. First of all, get the software:
Please Free download for Windows 7 or later

on your PC;
Or Free download for macOS 10.6 or later

on your Mac.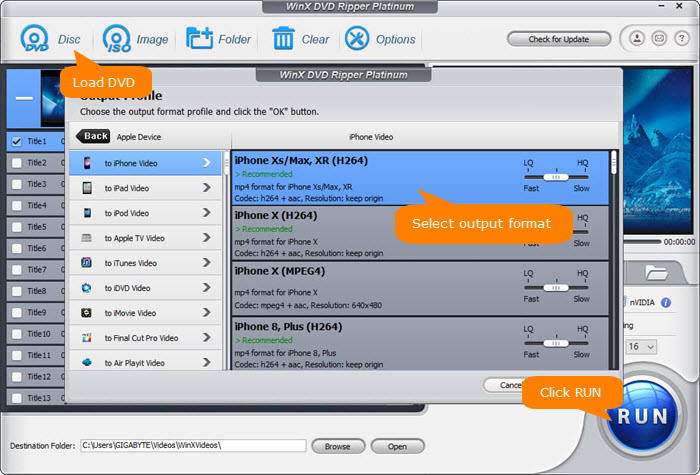 Step 1: After or before you make the DVD ripper running, please insert a DVD and click DVD Disc button. You can also add DVD ISO image or DVD folder, if any.
Step 2: Choose the output profile you like or need. If you want to play DVD on iPhone XS/XR, please find Apple Device on the UI, and click "to iPhone Video", choose "iPhone XS/XR" profile, and click OK. You can select the device from the left column.
Step 3: Browse your computer to change the Destination Folder where the converted video is to go.
Step 4: Just hit the big RUN button. After that, you can sync or transfer the video file(s) directly to your mobile devices for playing on your boat/train/plane journey.
Can We Power on Mobile Devices on the Plane in Fly Mode?
It has been unequivocally proven that using cell phones or other portable devices on the plane will produce electromagnetic interference, which may greatly lead to failures of aeronautical navigation equipment and automatic pilot system. It is very dangerous to aviation safety. But is it legal to use a phone in Fly Mode on the airplane?
After switching to Fly Mode, mobile users can still check address book, read existing messages, listen to the music, play offline games or watch videos without signal interrupting, which is also able to save some power. But it is controversial whether it is permissible to use an electronic gadget on the plane in Fly Mode, because there is no obvious evidence to prove that there is completely no any single at all in Fly Mode. So please first follow the instruction and ask for the permission of the on-site air hostess or other working staff on the plane.
Digiarty Software does not advocate ripping copy-protected DVDs for any commercial purpose and suggests referring to the DVD copyright laws in your countries before doing so. Still have question on ripping DVD for playing on the plane/boat/train? Please feel free to Mail Us >>