HandBrake Tutorial: How to Convert PAL DVD to NTSC Format on PC/Mac
PAL and NTSC are two different analog television systems. A PAL formatted DVD is unable to play in NTSC player. Therefore, if you have gotten a European DVD during trip, it's probable to encounter not playing issue at your American home. The way to smoothen everything is to convert PAL to NTSC using HandBrake.
Part 1: What Is PAL?
PAL is a color encoding system initially introduced in the 1950s to solve the issue - "color tone shifting under poor transmission conditions" – caused by NTSC standard used in European. It generally mentions to 625-line/50 Hz television system and labels on DVD referring to the line count and frame rate (25/fps).
Part 2: What Is NTSC?
NTSC is another color encoding system commonly used in most of the Americas, some Pacific island nations and territories. Different from PAL, NTSC is used with a frame rate of 60i and 30p. And each frame is made up of 525 individual scan lines. Referring to DVD, the system uses the same lines/frame rate – 525/29.97 is a NTSC disc.
As a matter of fact, most PAL players feature compatibility with NTSC discs while NTSC platforms can't handle PAL format. That's the exact why we have to change DVD format from PAL to NTSC.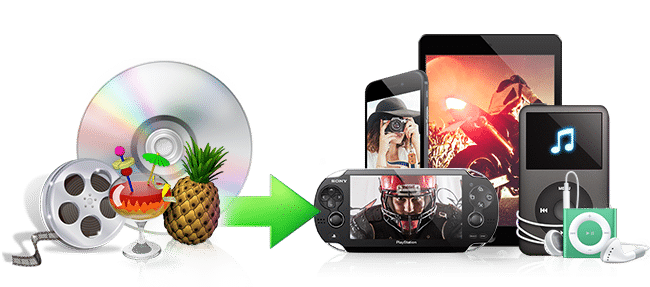 Part 3 How to Convert PAL DVD to NTSC with HandBrake?
HandBrake, a well-known free DVD ripper, is the program giving the help. As we mentioned above, the big differences between PAL and NTSC is the scan line and frame rate. Through frame rate settings, HandBrake can change the DVD format from PAL to NTSC. But how? Let's check the detailed guide.
Step 1. Insert the PAL formatted disc into DVD drive. Launch HandBrake.
Step 2. HandBrake will ask you to select the source you'd like to encode. Choose the disc.
Step 3. Soon, HandBrake loads the disc and lists basic information of DVD videos including resolution, frame rate, audio/subtitle tracks. You are allowed to select title, angle and chapters for later ripping. Then, you can select a preset as output format.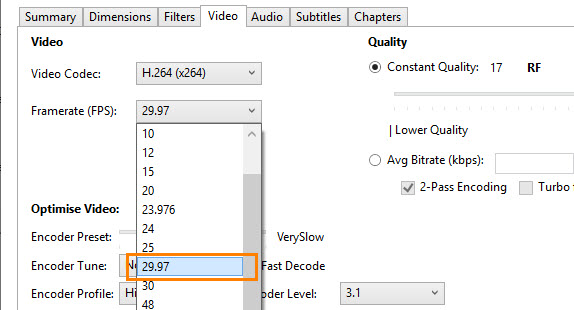 Step 4. Move to the setting panel. Click Video tab and change the frame rate to 29.97.
Step 5. Click Start Encode to rip the disc.
After the ripping process is completed, you will get a NTSC video.
Learn more about how to use HandBrake: tutorial, best settings, troubleshooting tips >>
Part 4: Fail to Convert PAL to NTSC using HandBrake? How to Fix?
Some people give the reply - "It works" - following the guide, while some others are bothered with the failure. Why? HandBrake is only able to handle unprotected discs. If your PAL DVD is encrypted, unexpected errors may happen. What's more, you may still get a blur poor quality when playing the resulting NTSC video.
WinX HD Video Converter Deluxe offers a much easier way to convert PAL to NTSC. It is an all-in-one video processor with a built-in DVD ripper to digitize virtually all types of DVDs, from old/scratched discs to the latest new DVDs protected by complex schemes. Instead of manually adjusting the frame rate, it gives a NTSC DVD profile with fully fitting resolution and frame rate. Therefore, it will deliver a perfect resulting file with original quality for later burning a disc playable on NTSC player.
Download and install WinX HD Video Converter Deluxe on your computer. Then, you can convert PAL to NTSC with this HandBrake alternative as easy as pie.
Step 1. Open WinX HD Video Converter Deluxe and click DVD button.
Step 2. Click DVD Disc to the PAL DVD. Other DVD source like VIDEO_TS folder, ISO image can be imported as well.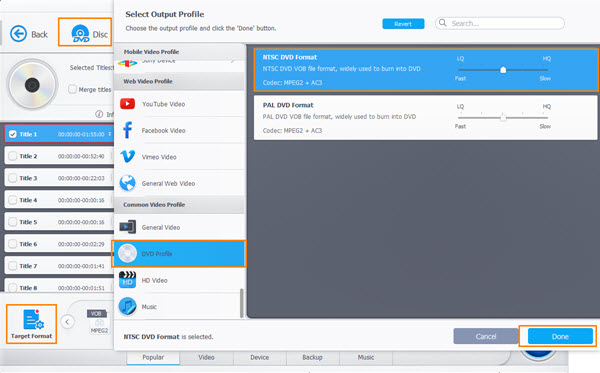 Step 3. All titles are listed. The main title is automatically detected and check for later conversion. Move to the bottom of the window. Click Target Format to access to the full list of profiles. Find DVD Profile and then select NTSC DVD Format. Click Done.
Step 4. Click Browse button to set a new output folder if necessary. At last, click RUN button to start conversion.
Disclaimer: Digiarty Software does not advocate ripping copy-protected DVDs for any commercial purpose and suggests referring to the DVD copyright laws in your countries before doing so.
To Sum Up
Compared with HandBrake, WinX HD Video Converter Deluxe is a better choice for newbies because it offers a much easier operation and presets a fully accurate NTSC DVD profile. You don't need to manually change the frame rate and worry about whether the resulting file is actually playable on NTSC player. In addition, WinX HD Video Converter Deluxe can support more DVDs. Although here's a protected PAL DVD, you can decrypt and convert it to NTSC in a breeze.