How to Crop A Video on Android in Top Free Ways
When you record a video on Android and want to share it with your friend, but find some improper pixels on the video image, you need to crop your Android video image at this time. When you download some funny video clips from tiktok or instagram but find the annoying brand logo on the video picture, you need to resize the videos on Android, as well.
To crop your videos on Android, a video cropper software is a must have. Which one is better? Here we single out the top free video cropping software for Android for your reference. All of them can crop and resize videos on Android without watermark. Check them out!
Part 1. How to Crop a Video on Android with Google Photos app
Google Photos app is able to help you crop video clips from any Android phone or tablet, irrespective of Samsung devices, HTC, Sony or Google pixel phones. When it comes to crop a video footage on Android, Google Photos app always comes to your first option. Download and install Google Photos app from the Google Play store. Be noted that leave at least 2GB of RAM and run on Android 6.0 and up for video cropping. Then, follow the below instructions to crop your video clips if needed:
Step 1. Open the video you want to crop in Google Photos app.
Step 2. Tap Edit at the bottom of Google Photos app's screen > choose Crop again at the bottom of the home screen. Step 3. Now crop your video clip on Android with the below options to choose from.
Drag the white circles on the corners of your video to freely crop the video however you want.
Tap the square icon with two arrows inside it to quickly crop the video using a preset ratio.
Tap the icon that looks like a flat square with no sides to crop your video footage to an irregular shape, like a triangle or trapezoid. The finished product will still be a rectangle, but the video will stretch itself so it only covers whatever you kept inside of the crop. Step 4. Tap Save copy at the bottom-right corner when you finish all the cropping work. Your final cropped video clip will save as a new file in the Photos app, separate from the original.
Part 2. How to Crop Video Clips on Android with Crop & Trim Video App
On top of Google photos app, another useful video cropping application - Crop & Trim video app is also widely recommended. Though its users review its interface a tad bit clunky, it wins users' heart back with its simplicity. Only 4 steps, you can easily get your video cropped on Android phone or tablet. It's also a walk in the park to trim your video length, blur video or enhance your video colors.
There is one big gripe - annoying ads, popping up each time you touch the screen. Certainly, the annoying part will vanish once you upgrade to its Pro version. Bear this drawback if you don't have the budget plan. Here's how you do that:
Step 1. Open the app after installation and select the video you are meant to crop.
Step 2. Tap the "Crop" option. Step 3. A rectangle appears around the video. Everything outside of the rectangle will be cropped out. You can free adjust the rectangle to crop out the image pixels you don't want to save.
Step 4. Once you are done with the crop, hit the check-mark on the top right corner of the screen. That will save your video.
Part 3. How to Online Free Crop Video on Android with freeconvert.com
Android video cropper applications need to consume your storage space more or less. In terms of Android phone with insufficient space, you can resort to online free video cropper service like freeconvert.com to crop and resize your video on Android without watermark.
This online video cropping website accepts whatever video format you feed, MP4, AVI or MKV. But you need to pay attention to the input file size, no more than 1GB. Or you need to sign up for bigger video size.
Step 1. Open and access to this online free video cropping service.
Step 2. Tap the purple button "Choose Files" to load your video clips from Android, or Dropbox, google drive, URL. Step 3. Free adjust the white marquee on the video image to select the video image you want to save. Anything outside of the marquee will be cropped out. Moreover, the settings on the right-hand side are available for you to adjust video aspect ratio, width&height and output format. The default format goes to MP4. More video formats are accessible, like FLV, MKV, AVI, MOV, 3GP, F4V, WMV, M2TS, etc. Step 4. When you're happy with your cropping, hit the "Crop Video" button to begin cropping your Android videos online.
Part 4. Video Cropper Apps Crash? Try Cropping Android Videos on Windows PC
Free video cropper applications or online video cropping services are convenient, indeed. Yet, they often cause app crashing, frozen, stucking issues, let alone the awkward input file size limitation. In such case, you can try to crop your videos, especially large-sized 4K Ultra HD videos on Windows PC with more powerful GPU graphics card and stable performance.
Give WinX HD Video Converter Deluxe a shot. The video toolbox works on both Windows and macOS. It crops (4K/8K) video to any desired frame size with a simple cropping letterbox without software stucking or crashing issue, nor limited input size issue. It allows you to change video size (resolution, aspect ratio, other parameters, video file size, to name a few). Thanks to the advanced GPU hardware acceleration tech, it can easily crop any large-sized Android video or hi-def 4K/8K videos on Windows PC at 5X faster speed, without CPU overuse/overheating issues.
Step 1. Free download the video cropper, install, and run it on your computer. Load your Android video footages by clicking the + Video button at the top menu bar. An Output Profile window appears when the video is loaded. Select a video format for the output video. MP4 H.264 is recommended if you have no idea what format to choose.
Step 2. Click the Edit button to open the video editing toolbox. Click the Crop & Expand tab and check the Enable Crop to enable the cropping option. Set the aspect ratio(16:9, 4:3, or 1:1) and then drag the border of the letter box to crop the video with the ideal aspect ratio. Alternatively, enter desired values near the boxes of Left, Width, Top, and Height. Click the Done button to save the editing and close the cropping screen.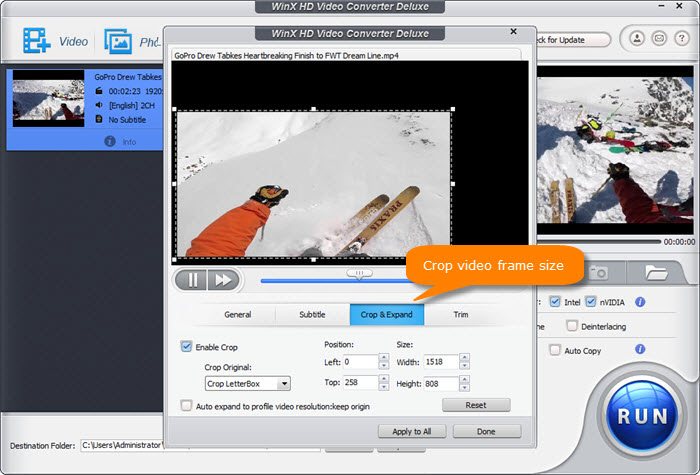 Step 3. After you've all set, click the RUN button at the bottom right corner and it will start cropping your Android video. When the cropping process finishes, the cropped video is exported to your computer.