iPod Won't Sync Music with iTunes on Windows 10/11? Fixed!
The reasons that iPod cannot sync music audio or video files to Windows 10/11 computer with iTunes vary from situations, and here're some main causes and troubleshooting ideas.
Question from discussion.apple.com: My iPod (6h Generation in 160GB) won't sync to my iTunes library! Every time I try syncing my iPod to my iTunes library on Windows 10/11, it doesn't show anything and nothing changes. Please help, thanks a million!
No matter what iPod model you own: an iPod touch, nano, shuffle, or an iPod classic, this music carrier must store hundreds, even to thousands of songs. Syncing and backup music files regularly with the Apple-branded tool iTunes is really a good habit. But thing does not always go in your way, for example your iPod won't sync with iTunes on Windows 10/11. Tired of asking help online, just keep reading ahead to find iPod won't sync error tricks piece by piece.
Fast Way to Fix iPod Won't Sync to Computer with iTunes
Try stable & intuitive iTunes alternative WinX MediaTrans
Adding newly-downloaded or purchased music from PC to iPod in any format. It can auto convert audio to iPod music formats.
Edit, create, delete music (playlist) for syncing on iPod at desk. Also remove DRM from iTunes music for limitless playback.
iPod Won't Sync Music with iTunes on Windows 11/10/8 Reasons and Solutions
Firstly, we should make it clear that if a normal iPod won't sync music file with iTunes on Windows (11/10) PC, even after rerunning the computer and iPod, there could be a problem. Any of the three components involved in music syncing: iTunes, iPod and the USB cable connecting the former two. Then do the corresponding ways to fix iPod cannot sync error:
1 - Fix iPod won't sync to iTunes problem caused by iTunes
Make sure the iTunes you are using is updated to the latest (12.10.2.3) version. Then log in with the same Apple ID with iPod, "Authorize This Computer", check whether the Sync Music option is turned on. If it is already on, you can also turned it off and on again. Four options in iTunes for music syncing. Check one that meets you most: Sync "Entire music library", Sync "Selected playlists, artists, albums and genres", Sync Music "Include music videos" and Sync Music "Include voice memos".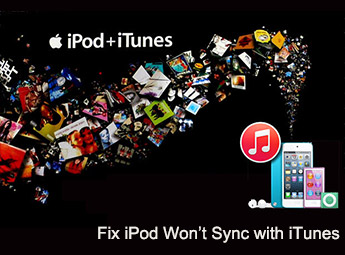 2 - Fix iPod won't sync to iTunes problem caused by iPod
If it's the first time you connect you iPod to iTunes on a new computer, it will ask for your trust on the screen to access all media files. If your iPod does not show in iTunes, see the solution for "iTunes not recognizing iPod". According to many questioners' online response, it's possible to try all the possible ways out through hours only to find they just did the silliest thing: forget turn on "Sync Music" at iPod -> Settings -> Music.
3 - Fix iPod won't sync to iTunes problem caused by USB cable
If you want to have the physical-damaged USB cable worked, you're obviously chasing the rainbows. Also, the cheap knockoffs or non Apple-certified iPod USB cable can lead to no reaction on file syncing after being plugged in. Borrow another cable from friend or colleague to check whether it's the root of iPod cannot sync problem.
All the tips failed or have no patient on trying them? Download iTunes alternative here.
We can draw a conclusion that any iPod model has its own syncing issues of various causes with iTunes after searching piles of iPod won't sync questions on Apple discussion. To avoid time wasting and unexpected data loss during the fixing process, it's faster and more secure to seek for an iTunes alternative tool for iPod syncing. WinX MediaTrans happens to be one of the best 5 iTunes alternatives and takes the first spot, because it's a completely iTunes alternative without installing iTunes, or any component like Apple Application Support or Apple Mobile Device Support.
With this richly-featured iOS file manager, it's as easy as a-b-c to sync music files between iPod and computer, to delete/edit music and create/manage music playlists on the iPod storage. iPod storage status bar helps to a large degree to prevent adding music from computer to iPod without enough space.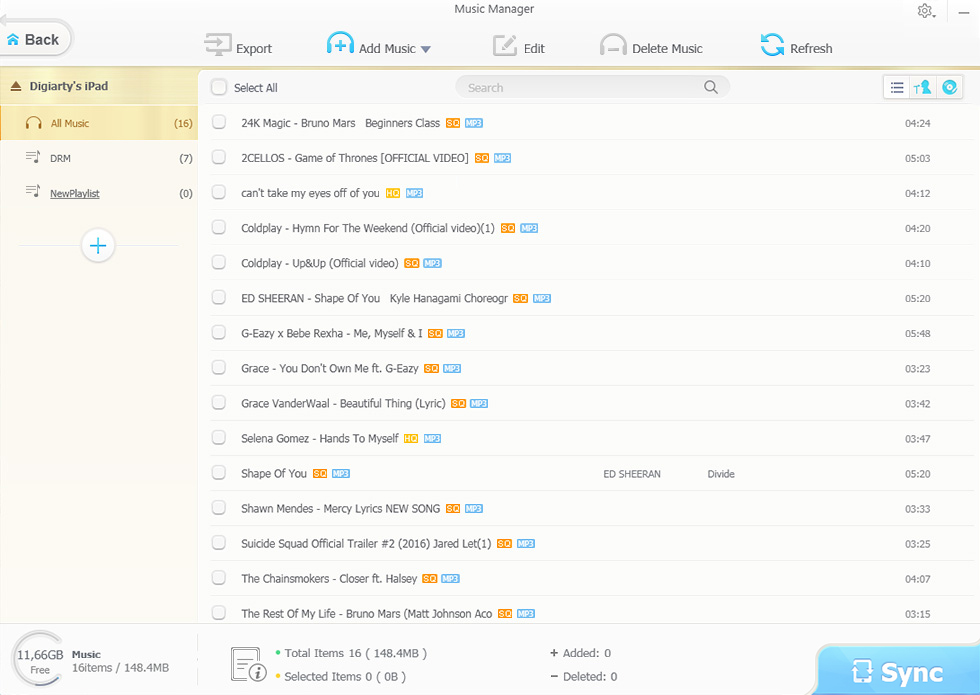 Other Features Overview:
iOS Photo Backup to Computer | iOS 16 Video Transferring between iOS and Computer
iOS e-books Manager | Act as USB Drive | Ringtone/Voice Memos/iTunes U/Podcast Manager
If you think the post useful, please kindly share it!
If you still have problems about how to solve iPod won't sync with WinX MediaTrans on Windows 10, just feel free to Email us >>