3 Ways to Copy and Transfer Music from iPod to PC Computer
"Hi, does anybody know of a free program or way for iPod to PC transfer? I want to transfer all my music from my iPod onto my Windows 7 PC, or to my iTunes library. I know there are programs to do this but I cannot find one to transfer all 1095 songs I have."
There are still a great majority of music lovers keeping an iPod to listen to favorite songs on the road or while exercising. And, it's indeed a big need to copy music files from iPod to computer in order to make a copy of precious collection or mix/edit tracks via professional audio editor for sharing online. Here, we sum up 3 methods with the purpose of helping demanders transfer music from iPod to Windows (11/10/8/7) PC efficiently.
WinX MediaTrans – Easy Free iPhone/iPad/iPod Music to PC Transfer Tool
Guarantee no music file loss, WinX MediaTrans is the best too to transfer all your music, including MP3, AAC, M4P, etc. songs purchased from iTunes Store or Apple Music app, from iPod, iPad, and iPhone to PC.
Fast transfer songs/playlists from iPod to PC/Mac, & vice versa.
Edit music metadata, create new playlist, delete songs, make ringtones, etc.
Transfer videos, files, books, Podcasts, voice memos, etc.
Table of Contents
Why Do You Need to Copy Music from iPod to PC?
Does iPod seem a faded gentility? Once an MP3 player of all the rage, it is now likely to be replaceable by a single iPhone by a long way. But the fact is, NOT completely! There are still more than 400 million people own an iPod (despite not all of them are frequent and regular users). Some may still need to transfer music from iPod to computer, as they more or less are experiencing some of the following situations for iPod music storage.
iPod cannot keep one more song due to no free space.
It's time to refresh the playlist for adding some new songs.
Compared with permanently deleting old songs to free up space, it is better to make a copy of existing iPod music to computer in case someday you want to get those songs back. Well, how to transfer iPod music to computer for a backup? Does iTunes meet the requirement perfectly, or can other third-party software makes better performance? Read on and all what you want to know will be revealed.
Part 1. How to Transfer Music from iPod to PC Free with WinX MediaTrans?
WinX MediaTrans is new-rising file transfer software for iOS devices, which can copy music, photos, videos, e-books etc, from iPod (Touch), iPhone, iPad to PC and vice versa. It has an intuitive interface leading you to learn functions of every button without guesswork.
When going to music transfer, it allows you to copy songs from iPod to PC selectively, from single one to multiple to all. For iTunes purchases songs, it can decode them from M4A/M4P/M4B to MP3 with DRM-free so that you can play or edit them on unauthorized players/devices. It delivers a very stable process so that you can get desired music copied to PC without file missing or quality loss.
Step 1. Free download, install and launch WinX MediaTrans on your PC.
Step 2. Plug in iPod to your computer with USB. Once the connection is done, WinX MediaTrans will automatically access to your iPod and the main interface with feature modules pops up.
Notice: WinX MediaTrans will suggest you to check "Prevent iPods, iPhones and iPads from syncing automatically" option in iTunes Devices Preferences with the purpose of stopping precious data being eliminated accidently.
Step 3. From the main UI, click Music Manager button to enter the interface where all your iPod music files are listed.
Step 4. Select the songs you want to transfer. You can either select one or more than one songs to sync.
Step 5. Click the Export button and it will start transferring iPod music to PC immediately. After all selected songs are exported, the folder which saves copied songs will pop up automatically.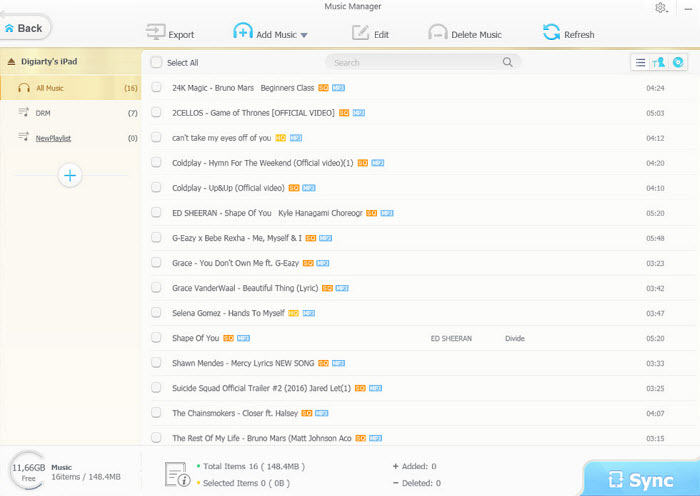 Tip 1: If you want to define a folder where you copy music from iPod to, go to Main UI and click gear-liked button on the top right corner. Select Settings > Options > click pen-liked button in Music line and select a folder.
Tip 2: If you just want to copy and transfer local music files in your iPod to PC, it is no need to install iTunes. But if you need to sync iTunes purchases songs, iTunes is essential.
What makes this music transfer tool better than iTunes is that only the selected files will be synced to PC, and the original files will be in your iOS device as well. In this way, no data loss will be caused.
Part 2. How to Transfer Songs from iPod to Computer Free via Windows Explorer?
iPod can be used as a disk drive to store and transfer data files. Enable disk use of iPod and then we can get iPod music transfer to PC through Windows Explorer. Note, this way needs iTunes.
Step 1. USB connect iPod to PC and open iTunes.
Step 2. Go to Edit in iTunes > Preference > Device and then check "Prevent iPods, iPhones and iPads from syncing automatically" option.
Step 3. Back to iTunes main interface. Click iPod icon and select Summary.
Step 4. Scroll down Options panel and check "Enable disk use".
Step 5. Enable "Show hidden files and folder" in Windows Explorer.
Windows 10/8: Open File/Windows Explorer > View > check Hidden itmes
Windows 7: Open Windows Explorer and click Organize button on toolbar. Select Folder and search options from drop-down list. After Folder Options dialogue box appears, select View tab and click Show hidden files, folder and drivers. Click OK.
Step 6. Find iPod folder . Double click it and go to iPod_Control > Music.
Step 7. Create a new folder on your hard drive and then copy all songs under Music folder to this new folder.
Part 3. How to Sync Music from iPod to PC Free with iTunes?
Many iOS users transfer iPod to PC using iTunes as it is the default Apple tool to sync media files. It is also an all-in-one app that allows you to download, purchase music play music directly on PC and manage the songs downloaded from iTunes Store, which will recommend you various music, songs and albums according to your preferences and let you know newest music information and ranking list.
iTunes enables you to sync iPod (Touch) to PC computer including contents like songs, albums, playlists, audio books and more.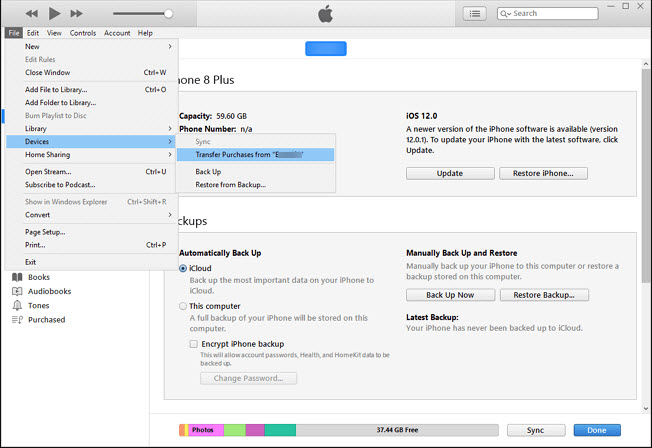 Step 1. Plug in your iPod into PC via a USB cable.
Step 2. After iPod is well connected, open iTunes and click iPod icon in iTunes.
Step 3. Select Summary under Settings on the left side.
Step 4. Move to Options panel and check "Manually manage music and videos".
Step 5. Click Apply button to begin syncing music from iPod to PC.
Note: You should know there are some disadvantages when using iTunes to transfer music from iPod to PC computer.
All music files in your iPod will be synced to PC without selection.
The PC should be authorized for ensuring a smooth syncing process.
Your iPod can be only synced with one iTunes library at a time. If you try to transfer music from iPod to a new PC, you will get an "Erase and Sync" message asking you to remove contents synced from previous PC.
In conclusion
iTunes can only sync purchased music, like albums, songs, playlists, from devices to computer. And, it transfers all contents at once without an option to select certain items. What's worse, iPod not syncing music with iTunes issue appears here and there. As for Windows Explorer, it requires iTunes installation.
WinX MediaTrans, is the new trending program featuring music, photo, video transfer between iOS devices and computer. It points out a pretty simple way to export one or more or all songs in a playlist as well as all playlists from iPhone, iPad, iPod to computer. In addition, this iPod music transfer software also integrates a music editor allowing users to modify metadata of a song (including title, artist, album, year etc.); delete unwanted or broken songs, create/manage playlists, etc. As the best iTunes alternative, WinX MediaTrans can rescue you from various iTunes syncing errors and deliver the most efficient solution for file transfer between iOS devices and PC.