2017 Best 5 iTunes Alternatives to Transfer Data Between iPhone/iPad/iPod & Computer

iTunes

iTunes Alternative

Last Updated : May 31, 2017
Roundup of 2017 Top 5 iTunes Alternatives for iDevice File Transfer
iTunes is recognized as the essential tool for iDevice data sync and backup but receives quite a lot blames due to troublesome operation, restricted functions, and even some indescribable errors during file transfer. For example:
- "My phone won't sync via iTunes. The "sync" button is grayed out with my used memory being a yellow bar and remaining storage grey. Neither wifi sync or plugging it in work."
- "I can't sync photos onto my iPhone because my iPhone doesn't have the folder "photos" in the library when connected to iTunes on my Mac."
- "I downloaded some videos from iTunes, and for each one the error message: 'The Video' was not copied because the video format is not supported by the iPod! comes up."
Therefore, boatloads of iTunes alternatives show up to the public which give productive solutions to transfer iDevice files. Which program works best and can replace iTunes absolutely? Well, we pick up the following 5 best iTunes alternatives with reviews for your reference.
2017 Top 5 iTunes Alternatives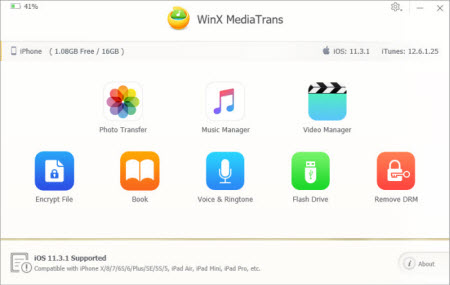 Overview: WinX MediaTrans is a new star in the market. It focuses on offering one-click solution to sync photos, music, videos, e-books and other media files between iPhone, iPad, iPod Touch and computer. User can freely select one or more or all items of every option (Photo, Music, Video, Book, Voice & Ringtone) for single or batch transfer. It also features music management driving users to edit title, album, artist of a song, delete unwanted songs or create playlists to organize music in genres. Additionally, it embeds a ringtone maker to turn any songs as iPhone ringtone within 40 seconds. The other highlight is that WinX MediaTrans can transfer any video to iPhone iPad iPod with auto format conversion for a smooth full-screen playback. In the latest version, it is capable of decoding DRM protected movies/TV shows and music purchased from iTunes/Apple Music to MP4, MP3 for playback on any device. WinX MediaTrans can also turn iDevices as flash drive to storing any type of files, Word, Excel, PPT, TXT and more.
Review: The straightforward and refreshing interface acts as a brief introduction letting users learn how to use it without guesswork. The fast speed to load and transfer files saves us much time while the built-in video converter engine avoids the problem that the imported videos won't play on iPhone iPad iPod because of unacceptable formats. >> Check Detailed WinX MediaTrans Review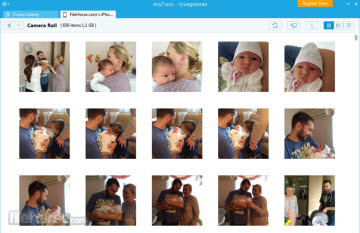 Overview: iMobie AnyTrans is a solid tool to transfer and manage iPhone iPad iPod data, either media files like music, videos, photos, books, or other contents. It offers two-way transfer for media files, from iDevice to PC/Mac or vice versa. Like WinX MediaTrans, it is able to create, edit and manage music playlists, transcode videos to play on iPhone iPad iPod without incompatibility problem while keeping crisp images. What's more, it allows us to copy apps with personal setting, games saves across devices as well as backup important data: messages, contacts, notes, call history, voice mail, Safari bookmarks/history to computer.
Review: AnyTrans is designed as a handy application with ease of use. It actually delivers a fast speed to transfer files between iPhone iPad iPod and PC/Mac, but a little slower than WinX MediaTrans. Although this top iTunes alternative performs well on data backup but errors like file skipped, no device detected may happen sometimes.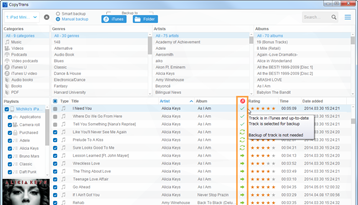 Overview: CopyTrans is another best iTunes alternative which devotes to providing an easy way to transfer music and videos from iDevice to PC or iTunes. It features two backup methods, smart backup and manual backup. The former one enables us to sync all videos, songs, playlists, artworks and metadata to iTunes library once while the repeated contents will be filtered out. The later one gives flexible choice to transfer files that we can export specific videos, songs, playlists from iPhone iPad iPod to iTunes or an assigned path of hard drive on PC. In words, smart backup boasts its convenience for file transfer while manual transfer is more customized.
Review: It is easy to achieve file transfer no matter which backup option we use. Not only hard drive, this file transfer software also meets someone's requirement to keep iDevice media files into iTunes library. But it lacks the ability to transfer photos and cannot import files from computer to devices. And, it seemingly takes a little long time if running batch transfer.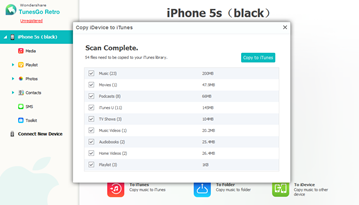 Overview: Wondershare TunesGo is an express iOS transfer program compatible with iOS 9 devices, Windows (10) and Mac. All media files (music, photos, videos, audio books, podcasts etc.) with complete information can be synced between iDevices and computer/iTunes without duplicated contents. Transfer across iOS devices can be realized making us easily copy data from older device to the new one. And, TunesGo can rebuild entire iTunes library from iPhone iPad iPod if the library is lost or damaged. It is also available to convert live photos, videos to GIF images on Apple devices or computer for space-saving or social sharing.
Overview: Like other top iTunes alternatives, TunesGo emphasizes its ease of use so that a beginner can access all features easily. Users can connect multiple Apple devices at one time for direct transfer between devices. However, it is quite slow to load data from iDevices and doesn't allow users to edit playlists. And, some unlucky users find that some functions won't work and even the software goes to force quit.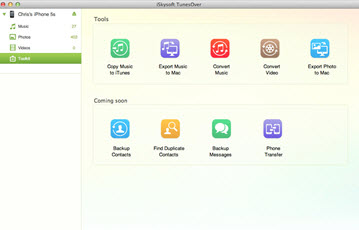 Overview: iSkysoft iTransfer (original name: TunesOver) aims to transfer media files from iPhone iPad iPod to Mac/iTunes to make a copy of music, video, photos, audio books, podcasts etc. In turn, it can import files from Mac to iDevices without iTunes and convert videos/audios to playable formats on Apple devices. Apart from file transfer, it works well on data organization able to create, rename, delete music playlists and photo albums. The same as TunesGo, it can convert iPhone live photos and videos to GIF images. It is fully compatible with Mac OS X 10.11, iOS 9 and lower. There is also a Windows version supporting Windows XP to Windows 10 used to achieve file transfer between iDevice and PC.
Review: All iTunes alternative has much simpler operation than this Apple media software, of course iTransfer included. The all-sided functions can greatly satisfy users who eagerly need a file transfer solution. The file format converting function enables users to directly transfer any videos/audios to iPhone iPad iPod with no worry about playback error. But, some users complain that the transfer speed is not as fast as announced and this tool may slow down system.
Feature Comparison of Best 5 iTunes Alternatives
iTunes Alternatives
System
Supported OS
Copy Files (Photos, Music, Videos etc.)
Make Ringtones
Convert Video to iPhone/iPad/iPod
Performance
Transfer Speed
WinX MediaTrans
Windows
Mac via Mac Ver.
iOS 7 - iOS 10
√
√
√
Best
Fastest
AnyTrans
Windows, Mac
iOS 5 – iOS 10
√
√
√
Better
Faster
CopyTrans
Windows
iOS 10 and lower
√
×
×
Good
Fast
TunesGo
Windows, Mac
iOS 5 – iOS 9
√
×
×
Good
Fast
iTransfer
Mac
Windows via Win Ver.
iOS 9 and lower
√
×
×
Good
Fast
Verdict: The top 5 iTunes alternatives have both advantages and disadvantages. According to the reviews, we believe that WinX MediaTrans is the best for media file transfer in several aspects. First of all, it runs well to transfer files much far away from not working errors. Secondly, it is verified as the fastest file transfer software over other iTunes alternatives. Thirdly, it is developed to support newest operation systems, including iOS 11/10, Windows 10 and macOS (High) Sierra.
Download WinX MediaTrans to sync your media files (photots, movies, music, ringtones, e-books. podcast etc.) between iPhone/iPad/iPod Touch and computer without hassle.
Home | About | Site Map | Privacy Policy | Agreement | News | Contact Us | Resource

Copyright © 2017 Digiarty Software, Inc. All rights reserved
iPhone®, iPod®, iPad®, iTunes®, Mac® are trademarks of Apple Inc., registered in U.S. and other countries. This website is not owned by or affiliated with Apple Inc.