Convert RM (RealMedia) to MP4: Free Online or Desktop
.rm is the filename extension of RealMedia, a multimedia container format created by RealNetworks. It is used for streaming content over the Internet. It boasts the ability to unpack the digital stream while it is being downloaded. RM and RMVB are the same container formats. Players and devices supporting RM file are quite few. To play RM on iPhone or other devices excluding RM from lists of supported file types, you can convert RM/RMVB to MP4 with a RM file converter. Such tool could be online or desktop-based, free or paid.
Since there're many online services claiming that they can convert RM to MP4 for free without downloading additional program, some people can't wait to have a try. Don't rush to open an online converter before you read our roundup of some commonly found limitations associated with online tools.
Part 1. Convert RM to MP4 on Windows or macOS with Desktop Software
- WinX HD Video Converter Deluxe [100% clean]: Far Better than Free Online Tools
As a desktop-based program, it has many merits that online converters lack. It allows you to fast convert RM to high-quality MP4 with optimal configuration, thanks to the support for cutting-edge hardware acceleration technologies to boost conversion speed, High Quality Engine, and a lot of inbuilt MP4 profiles. It's a safe way to convert virtually any video.
How to convert RM to MP4 video with WinX HD Video Converter Deluxe?
Step 1. Download and install this RealMedia converter on your PC or Mac.
Step 2. Load source RM files into this program simply by dragging and dropping or clicking "+ Video" button at the top left corner to browse and select target items.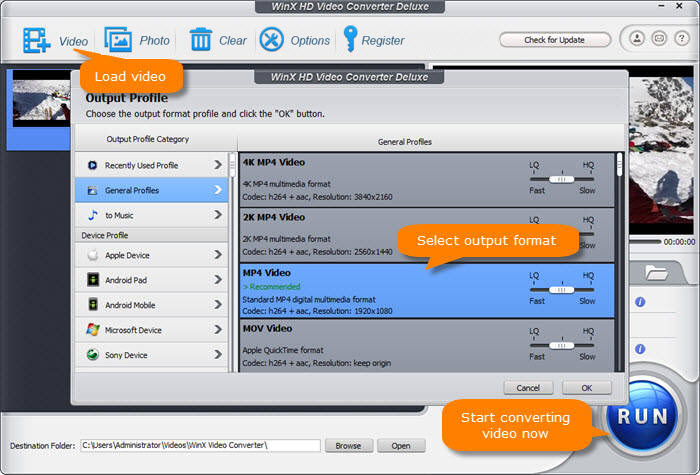 Step 3. Choose a desired MP4 profile from Output Profile panel, and then hit "OK". Before hopping over to the last step, you can make some adjustments based on your own needs, for example, trim video, merge videos, enable High Quality Engine, check Deinterlace, etc.
Step 4. Click "RUN" button to get RM to MP4 conversion started in no time.
Part 2. Convert RM to MP4 Free Online (Max 50MB-100MB, Watermark)
Online video converter services are popular ways to convert RM to MP4. Such web-based services include Zamzar, CloudConvert, Freeconvert, and more. Zamzar allows you to convert multiple files simultaneously, which can be a time-saver if you have numerous files to convert. Zamzar supports a vast array of file formats, including audio, video, image, document, and more. This versatility allows you to convert files between different formats conveniently. Here's how to convert RM to MP4 free online with Zamzar. Note that the max file size you can upload for free is 50MB.
Step 1. To convert RM to MP4 online using Zamzar, you can go to Zamzar free online RM to MP4 converter page. On the page, you'll see a section labeled "Convert Files." In this section, click on the "Choose Files" button. A file selection window will appear. Locate and select the RM file you want to convert from your computer. You can also drag and drop the file directly onto the Zamzar website.
Step 2. Click on the "Convert Now" button to begin the RM to MP4 conversion process. Zamzar will upload your RM file to their servers and convert it to MP4. The conversion process may take some time.
Step 3. Once the RM to MP4 conversion is complete, Zamzar will display a "Download" button. Click on it to download the converted MP4 file to your computer. If you provided your email address, the RM to MP4 freeware will also send you an email with a download link for the converted file.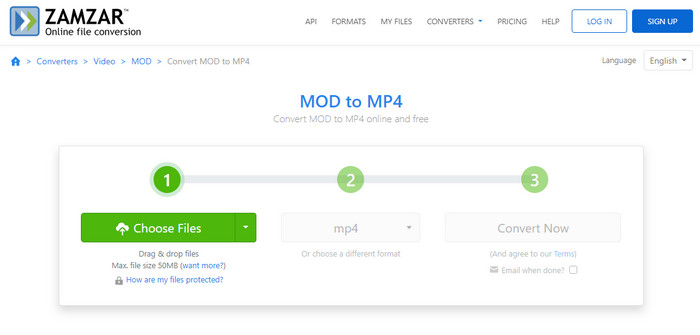 Part 3. Online RM to MP4 Converter vs Desktop RM Converter
Limitations of Free Online RM (RealMedia) to MP4 Converters
Network connection is indispensable. Or, it won't work. Your web surfing experience will be greatly affected while online tool runs.
They often set a file size limitation on your source RM file, say, 50M and 100M. Extra payment is required to break the limitation.
Batch conversion is always not allowed. If you have multiple RM files to convert, you have to do the process one by one.
There may be no response when uploading source file. File upload process may take very long time.
RM to MP4 conversion speed is very slow, because it relies on network connection and lacks speed-up techniques.
There're no advanced settings to adjust resulting file quality, aspect ratio, conversion speed, etc.
Sending your files to the web isn't safe.
If you don't mind above limitations, you can try converting RM to MP4 online. If you do, download a desktop-based MP4 video converter to convert RM to MP4 or process other file formats. Among all video converters in the market, WinX HD Video Converter Deluxe is one of the best choices for Windows 10 and lower. It also prepares a Mac edition for Mac users.
Advantages of using desktop-based RM to MP4 converter vs onlline tools?
It doesn't require for internet connection to upload source RM files and process file format conversion.
You can insert source files as many as you need for quick batch conversion. No limitations on quantity and also file size.
It comes with lots of MP4 presets for using on any device, any video-hosting site and any editing program.
Supporting for the world's most advanced Intel QSV, MMX-SSE, Nvidia CUDA/NVENC, Hyper-threading and AMD 3DNow! tech, it works faster than online tools and even many similar programs.
It also provides many useful options to better meet users' needs, such as, merge, trim, crop, adjust video audio parameters, etc.
It will keep you files and computer as safe as usual, because you don't need to upload file online and download file from a link.
Not only working as a RM to MP4 converter, it is also available to convert videos among other file formats like MKV, AVCHD, AVI, WMV, MOV, edit videos, free download videos from YouTube and other 1000+ sites, make photo slideshow videos with favorite background music, etc.
Part 4. RM to MP4: RM vs RMVB
RM (RealMedia) and RMVB (RealMedia Variable Bitrate) are closely related but not exactly the same. RM is a file format used for streaming audio and video content developed by RealNetworks. It typically uses fixed bitrate compression for audio and video data. RM files are known for their small file size and suitability for online streaming. RMVB is an extension of the RM format. It also belongs to the RealMedia family, but it uses variable bitrate compression for video data. This means that the bitrate can vary throughout the duration of the video, allowing for more efficient compression and smaller file sizes while maintaining good video quality. Here's a comparison between RM and RMVB:
RM (RealMedia):
RM stands for RealMedia and is a file format primarily used for streaming audio and video content over the internet.
It was developed by RealNetworks and gained popularity in the late 1990s and early 2000s.
RM files typically contain audio and video data compressed using RealAudio and RealVideo codecs.
RM files are known for their relatively small file size and the ability to stream smoothly even over low bandwidth connections.
RM files are suitable for online streaming and playback with RealPlayer and other media players that support the RealMedia format.
RMVB (RealMedia Variable Bitrate):
RMVB stands for RealMedia Variable Bitrate, which is an extension of the RM format.
RMVB files use a variable bitrate compression method, which means that the bitrate can vary throughout the duration of the video.
The variable bitrate allows for more efficient compression, resulting in smaller file sizes compared to standard RM files.
RMVB files are known for their high video quality at lower file sizes, making them popular for distributing video content over the internet.
However, the variable bitrate encoding can make RMVB files more CPU-intensive to decode during playback, potentially requiring more processing power.
See also: How to Convert RMVB to MP4 Format on Windows/macOS
In summary, RM and RMVB share the same underlying technology and are part of the RealMedia format. However, RMVB is an extension of RM that introduces variable bitrate compression for video, enabling higher video quality at smaller file sizes compared to standard RM files.