How to Convert VCD DAT Video Files to MP4 with Good Quality
I have a DAT file and need to convert to MP4 format for better compatibility. What's the best program to use? VLC does not convert DAT files to MP4 successfully. I'm using a PC running Windows 10.
This article mainly concerns how to FAST convert VCD DAT video to MP4 format with best preserved quality. By assistance of the versatile DAT to MP4 converter software - WinX HD Video Converter Deluxe, you can freely convert video from DAT to MP4 format and get enhanced video quality in extraordinarily short time. You can also find answers to frequently asked questions like "How do I convert DAT to MP4 with VLC", "How do I convert DAT to MP4 using Windows Media Player" in the FAQs part.
Download the Best DAT to MP4 Converter - WinX HD Video Converter Deluxe
Rating: ★★★★★ | OS: Windows & Mac
WinX HD Video Converter Deluxe is highly-recommended for you to convert VCD DAT videos to MP4 (H264, MPEG-4, H265) for smooth playback on Windows, macOS, iPhone, iPad, Android, TVs, or uploading to YouTube and the alike. Its embeded HQ engine ensures nearly original video and sound quality output. Hardware acceleration tech makes it the fastest DAT to MP4 video converter tool.
Unlike VLC or Windows Media Player transcoding DAT to MP4, this tool enables you to adjust DAT files with max flexibility, resolution, aspect ratio, frame rate, bit rate, audio channel, subtitles, trim, crop...
For Windows and Mac only. If you are a mobile user, please click here.
Why Choose WinX HD Video Converter Deluxe?
Different from converting online, WinX HD Video Converter Deluxe is more secure and stable to convert DAT to MP4 as it doesn't require email to receive converted files.
While converting DAT to MP4, it converts DAT video from interlaced to progressive scanning. It achieves better image quality than original.
Unique DAT to MP4 converter supports multi-track video, helping you play and watch MP4 video with the language track you preferred.
Fully support Multi-core CPU (i3, i5, i7), Hyper Threading Tech & GPU hardware acceleration tech (maximumly accelerating the video conversion speed). That is why it can convert DAT to MP4 at the speed of 250-350FPS.
Built-in more than 370 video/audio codecs, it supports converting/compressing all 8K/4K/HD videos to MP4 or other formats.
Apart from converting DAT to MP4, it can also convert DAT to portable devices, such as DAT to iPhone 11/Pro, iPad Pro, Samsung Galaxy Note/S, HTC, Sony Xperia, Windows 10 Mobile, Surface Pro/Book, Apple TV and other fashionable gadgets.
[How-to-guide] Steps to Convert DAT Files to MP4
Advantages of Converting DAT to MP4
Converting DAT to MP4 with proper parameter settings, you are allowed to play DAT on iPhone, iPad, Android, Windows Phone, Surface Pro, PS3/4, Xbox etc. Since MPEG-4 technology has been developed to provide DVD quality audio and pictures in an extremely small file size, it is ideal for playing on portable MP4 players.
Converting DAT video to MP4 format, much more supported media players and a wider range of video editor software options are available.
After converting DAT to MP4 format, you can easily play VCD DAT videos on Windows 10/8/7, macOS (MP4 format video is friendly to both Windows Media Player and Mac QuickTime Player) and Sony/Samsung TVs. Use steps below to get started.
At the beginning, please DOWNLOAD and install this WinX HD Video Converter Deluxe on your Windows (10) PC. If you try to convert DAT to MP4 on Mac, please switch to the Mac version.
Step 1: Launch this WinX DAT video converter and hit "+Video" button to import the target VCD DAT video or directly drag and drop the file into the window of the program.
Step 2: Output Profile dialogue pops up once the video is completely loaded. Move to General Profiles category and select MP4 Video (Codec: h264+aac) or MPEG4 Video (Codec: mpeg4+mp3) as output format. Then, click OK.
Step 3: Set destination folder by clicking Browse button and start DAT to MP4 conversion by clicking RUN button.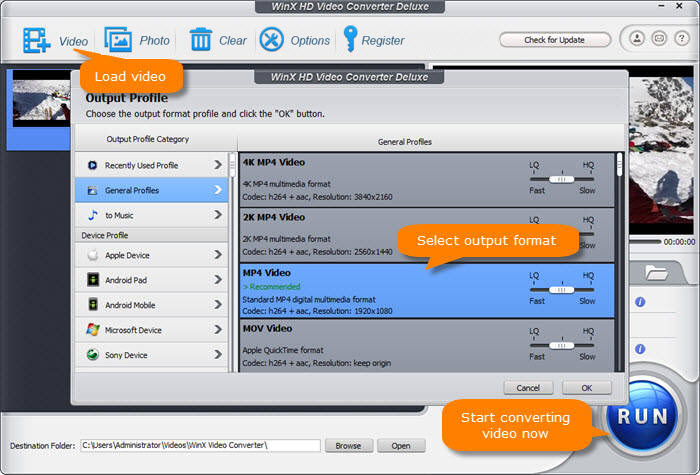 Still have question on how to convert DAT to MP4, please feel free to Mail Us >>
Related external sources:
DAT & MP4
Files with .dat extension may contain various types of data, like program data, game data, image or attachments used in email. When coming to a DAT video, it is stored in MPEG-1 movie file on Video CD (abbreviated as VCD) optical disc. As a video format for film distribution, VCD DAT playback is supported by VCD/DVD/Blu-ray player and Windows XP/Vista/7, Mac OS computers. However, the limited support by mainstream software (Windows Media Player prior to version 9 and QuickTime which can only play DAT video files with plug-ins) makes users to seek for a new way to watch DAT videos, like converting to other formats more compatible with media players, computers and devices.
MP4 (MPEG-4 Part 14) is a video container format for audio, video and other data like subtitles, images storage. It may also be referred to as MPEG-4 AVC (H.264) used for high quality videos. Thanks to high compression ratio, MP4 becomes one of the most popular formats natively supported by almost all media software and portable devices. To convert DAT video to MP4, you can not only have DAT files played on your computer/devices, but enjoy the same excellent video quality comparing to original.
Video CD: Video CD is a home video format and the first format for distributing films on standard 120 mm (4.7 in) optical discs. The format was widely adopted in Southeast Asia instead of the VHS and Betamax systems...
DAT to MP4 Conversion FAQs
How do I convert DAT to MP4 with VLC
Open VLC on Windows or macOS, click on Media > Convert/ Save, and the Media window appears. Click the Add button to choose a DAT file you wish to convert. Click the Convert/Save button and select the output file type (H.264 with MP3 audio). Hit Browse, select a location to store the output file, and click on Save. Click the Start button to begin the DAT to MP4 conversion.
How do I convert DAT to MP4 using Windows Media Player
Windows Media Player can not handle DAT to MP4 conversion well. Some users reported DAT compatibility issue with Windows Media Player. If you need to convert DAT files to MP4 format, resort to a DAT file converter program.
What software can opens .dat files?
A .dat file can be a video file, an image, or a video file. If it's text, it can be opened with text editor. If it's a video file, try VLC media player. Windows Media Player can fail to open .dat files on Windows 10. DAT file format can not be found on the list of media types supported by Windows Media Player.