How to Free Convert H.264 to H.265 for Small Size & No Quality Loss
Trying to reduce the size of MP4 H.264 files to HEVC H.265 format in order to save the storage space? Make sure you get the best video converter for the job. H.265 can save 50% the space than H.264, so it's particularly important for 4K video, which takes up a huge amount of space with H.264. However, H.265 is much more demanding than other video codecs. Therefore, you need to get the best way to convert H.264 to H.265. If you don't want to waste a lot of time and not gain much space save, keep reading.
Before you start: H.264 is already highly compressed. Unless the source H.264 file has a very high bit rate, you will lose some quality in the conversion, and you won't save much space for all the cpu and resouce utilized in the conversion. Long story short: compress h.264 to H.265 is the best option for raw H.264 source at 4K or higher resolutions.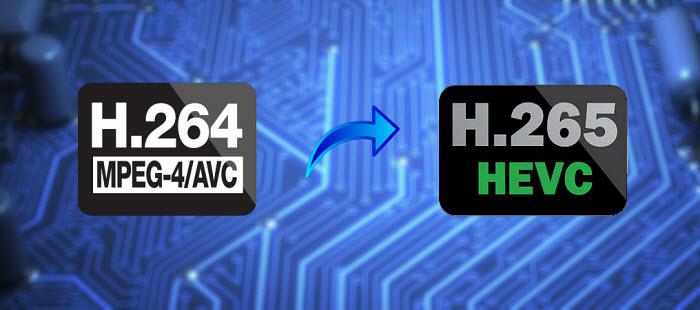 How to Convert H.264 to H.265?
Free Convert 4K/HD H.264/AVC to H.265/HEVC with the Fastest Speed
Try the free H.264 to H.265 converter - Free Video Converter
Easily convert 8K/4K/HD videos from H.264 to/to H.265 HEVC with no quality loss, and MP4, AVI, MPEG, WMV, MOV, FLV, and 370+ output formats.
5X faster AVC to HEVC converting speed accelerated by Intel QSV, Nvidia CUDA/NVENC GPU acceleration. Convert H.264 to H.265 without any high CPU usage or overheating, freezes, stutters, or long-time conversion.
High quality engine will ensure the best output quality. Flexible options to adjust the bit rate, resolutions, trim, crop, etc.
How to Free Convert H.264 to H.265 Fast in Clicks
First, free download and install the free AVC to HEVC converter on your computer. Then launch it and let's get started.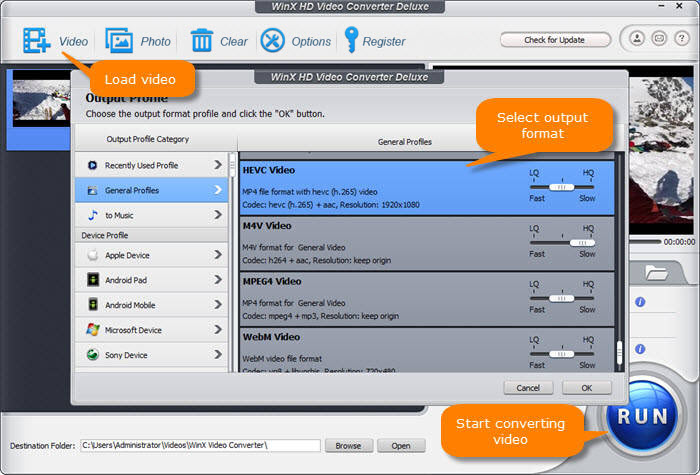 Step 1: Click the "+ Video" button to load source H.264 4K video. You can add multiple H.264 files at one time for batch conversion.
Step 2: On the pop-up Output Profile window, click: General Profiles -> HEVC Video (Codec: HEVC + aac). It will convert the H.264 video to H.265 in an MP4 container format.
Step 3: Click Settings or Edit button to custmoze the AVC to HEVC conversion settings. For example, you can change video bit rate, frame rate, aspect ratio, crop and trim videos, choose/add subtitles, adjust audio volume, etc.S
Step 4: Back to the main interface, check the Hardware Encoder Intel or Nvidia to speed up the 4K H.264 to HEVC encoding process. Then click "RUN" to start. The H.264/AVC videos to HEVC/H.265 conversion will be accelerated by your computer hardware has a native GPU H.265 encoder.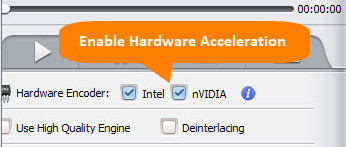 2 Free Convert H.264 to H.265 using Handbrake
Handbrake is a free and open-source video transcoder. It contains both software and hardware H.265 encoders to let users make H.265 videos from H.264 files. Since H.265 requires longer time to transcode, HandBrake's support for AMD VCE, Intel QSV, and NVIDIA NVENC hardware encoders can help greatly. They will speed up the H.264 to H.265 converting speed at the expense of some quality and larger file sizes.
How to Compress H.264 to H.265 at Superfast Speed using Handbrake?
Go to the official site of Handbrake at http://handbrake.fr/ and download the correct version on your computer.
Open Handbrak and load the source AVC H.264 video or videos.
Under Preset, choose the desination platform where the output H.265 files will be used. You can leave it as default.
Next, under Summary, choose the output format. You can convert the H.264 video to H.265 in MP4 or MKV.
No go to Video > open the Video Codec dropdown menu and choose H.265 (x265). If your computer hardware supports GPU acceleration, you will see options like H.265 (VideoToolbox), H.265 (Nvenc). If you want to speed up the H.264 to H.265 conversion, select a hardware H.265 encoder.
Click Browse and set an output folder and then click the Start button.
That's pretty much how you can convert AVC to HEVC using Handbrake. If you're interested, also see the best Handbrake H.265 encoding settings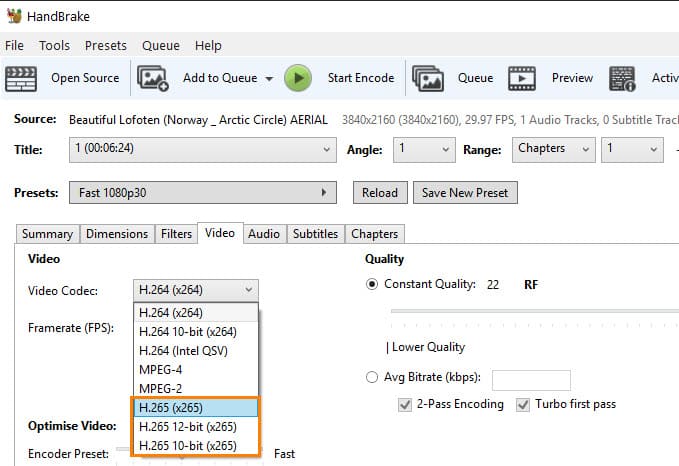 3 Free Convert H.264 to H.265 using FFmpeg
FFmpeg is a free and open-source command line tool. It's very flexible to handle different video tasks. FFmpeg supports encoding HEVC/H.265 with libx265 in MP4 and MOV formats. You can convert H.264 to H.265 freely at different quality settings, encoder parameters, etc. using various FFmpeg lines. The downside of FFmpeg is the steep learning curve, which may be daunting for beginners.
How to Free Convert AVC to HEVC with High Quality using FFmpeg?
Go to the official site of FFmpeg at http://ffmpeg.org/ and download the zip file on your computer.
Unpack the zip filex, extract the the FFmpeg.exe and save it to the same folder where you store the AVC H.264 videos.
Open up the FFmpeg command window: click [windows+r] and type CMD then hit enter. 
Then, enter the ffmpeg commands to compress H.264 to H.265 and hit enter to start. You can easily find the HEVC encoding command lines online, below we'll show you some basic ones:
Convert MP4 H.264 to H.265 MP4: ffmpeg -i input.mp4 -c:v libx265 -vtag hvc1 output.mp4
Set the H.265 output quality: ffmpeg -i input.mp4 -c:v libx265 -crf 28 output.mp4
Enable hardware acceleration: ffmpeg -i input.mp4 -c:v hevc_nvenc -rc vbr_hq -cq 18 -b:v 0k -2pass 0 output.mp4
Here are the detailed steps to transcode HEVC with FFmpeg.