Windows 10 vs Windows 8: New Features and Huge Improvements
Questions: Windows 10 vs Windows 8: Comparing Win 10 with Win 8 to see the differences, improvements and the value of updating to Windows 10
I have already learned about the new features Windows 10 has compared with Windows 7. I am wondering if the differences between Windows 10 and Windows 8 are still so huge and positive that I should go through these troubles updating to Windows 10.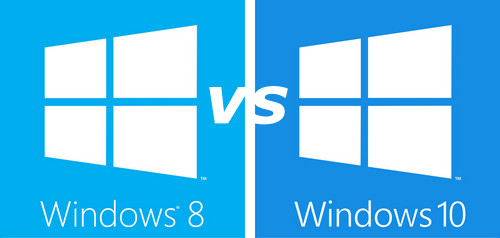 Best Answer:
Windows 10 vs Windows 8 has been a hot topic instantly after Microsoft raised the curtain on Windows 10 last year. Though still in the early phase of its development, Window 10, as far as we know, has some significant differences compared with Windows 8.
Windows 10 vs Windows 8: the Start Menu
A lot of people complained about Microsoft forsaking the classic desktop and Start Menu in Windows 8. Good news is that the Start Menu is back in Windows 10, with a support of Live Titles from Windows 8 and being customizable.
Windows 10 vs Windows 8: Windows Store
By combining the style of Windows 7 and features of Windows 8, Microsoft is trying to build Windows Store into an tool endearing to all the users, which was being condemned for ignoring Windows 7 users.
Windows 10 vs Windows 8: Platforms
In vivid contrast with its predecessors, Windows 10 is going to be compatible with PCs, mobile phones, tablets and other embedded products. Microsoft is aiming to gather all the resources to create satisfying experience that is suitable for all the users on all the platforms.
Windows 10 vs Windows 8: Multiple Desktop
The Start Screen in Windows 8 seems to be a signal that Windows is going to focus on single desktop management. However, Windows 10 is supportive of multiple desktops, which enables you to have access to Multiple Desktop from whatever screen you are at.
As highlighted above, Windows 10 is obviously a product of Microsoft listening attentively to consumers' feedback. It takes everything that made Windows 7 so appealing and does away with all the clunkiness in Windows 8 (let's hope Windows 10 brings back the DVD playing function. If not, I recommend a tool such as WinX DVD Ripper Platinum for you in advance). In short, you should seriously consider about updating to Windows 10.