Windows 10 Price: How Much Will Windows 10 Cost You?
Question: What is the price of Windows 10? Am I qualified for Windows 10 free update?
I am a Windows XP users and i know Windows 10 will be free for some users. However, What I don't know is which group of people this Windows 10 free update is aiming for and how much I need pay for the full version of Windows 10 if I am not entitled to this free upgrade. In addition to the two questions above, I am also curious about Windows 10 release date and whether the new Windows 10 features are worthy of the bucks I pay.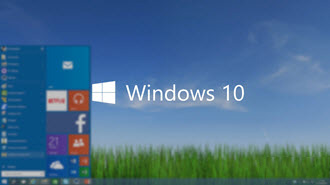 Best Answer:
Billed as the "best Windows OS", Windows 10 is ambitious to win favor with every Windows user. To help achieve that goal, Microsoft took a big step out of their comfort zone when they decided to let some of Windows users get this OS for free.
Windows 10 Free Update
During the first year of availability, upgrade licenses for Windows 10 will be available at no charge to those who own a genuine copy of an eligible edition of Windows 7 or Windows 8.1. All users running non-genuine copies of Windows, and those without an existing Windows 7 or 8 license, are not entitled to freely upgrade to Windows 10.
Windows 10 Price
Since you, unfortunately, fall under the "unqualified" label, you have to pay some price for Windows 10. Microsoft has confirmed the pricing for its new operating system: Windows 10 Home will have an estimated retail price of $119. The Pro version will be around $199, and upgrading from Home to Pro will cost $99.
Windows 10 Release Date & Features
As for Windows 10 release date, Microsoft announced at the beginning of June that the new Windows OS will launch on 29 July 2015, which echoes with the previous statement by the company that the release would come this summer.
Windows 10 is jam-packed with exciting new features deemed essential to redeem the reputation damaged by Windows 8. Here is a short list of the changes and improvements: a Start Menu hybrid with Live Tiles of Windows 8; Cortana as an answer to Apple's Siri virtual assistant; a new browser called Microsoft Edge; Continuum and multiple desktops; Windows 10 universal app... the list goes on. In short, Windows 10 will be absolutely worth the toll you pay for it.