Is WinX DVD Ripper & DVD Video Software Safe to Download and Use?
Q1. Is WinX DVD Ripper Safe?
Yes, WinX DVD Ripper is 100% legal and safe without any malware, spyware, adware, plug-ins, or user tracking. WinX DVD Ripper is the free DVD conversion software produced and released by Digiarty Software in 2006, as a HandBrake alternative. All users can feel safe downloading and using WinX DVD Ripper to rip a DVD to MP4 or other formats. Just download it and try.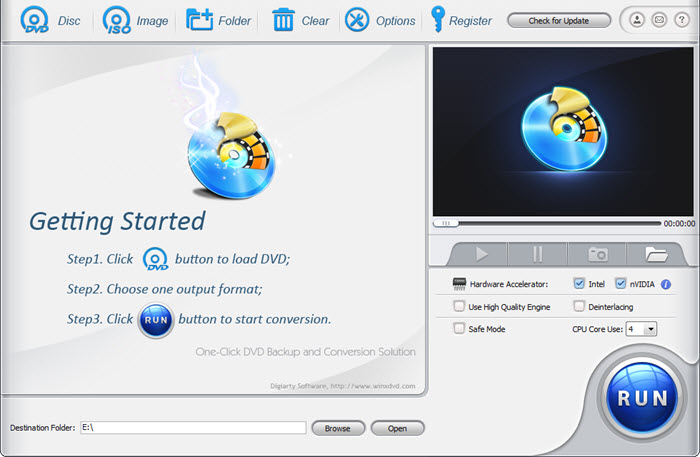 Now, WinX DVD Ripper has been welcomed by millions of users and recommended by editors of well-known tech sites! You can find detailed reviews on famous software review and download sites such as TechRadar, Cnet, PCMag, Softonic, Guru99, Digitaltrends, and more. It earns an average rating of 4.5+ out of 5 among different tech sites. There is feedback from users all over the world. Q2. Is Other WinXDVD Software Safe and Trustworthy?
Yes. For the security issue: hand on heart, all the WinX DVD video software is safe to download and use on your computer, whether it is rechargeable or free, as long as you get it through legal and normal ways.
By "legal" and "normal" I mean downloading WinX DVD Ripper Platinum, WinX Video Converter, WinX DVD Copy Pro, and WinX MediaTrans from their official sites or courtesy of special giveaway & sale activities held by Digiarty Software. Don't download and use a cracked version of WinX DVD video software which is not protected by Digiarty Software and possesses potential threats to your hardware and other software.
Q3. What is WinX DVD video software? Who is the manufacturer?
I am a DVD collector and I need professional DVD ripping software to get a digital copy of my discs. A friend of mine recommended WinXDVD to me. However, I don't know much about WinX DVD video software. So, what on earth is WinX DVD video software and is WinX DVD Video Software Safe to Download and Use? Please let me know.
Best Answer:
In fact, WinX DVD video software is a collective name of all the multimedia applications manufactured by Digiarty Software, which is a great multimedia software provider focusing on DVD/Video converting and backup solution since the foundation in 2006. WinX DVD video software is mainly about DVD conversion, DVD backup, DVD copy/burning, HD/4K video conversion and compression, iPhone file transferring, etc.
All the software you can find on Digiarty Software's official website can be divided into two categories: retailed software and freeware. Outside of the aforementioned WinX DVD Ripper Platinum, you have to pay for VideoProc, WinX MediaTrans, WinX DVD Copy Pro, et al if you want to enjoy the services offered by them. On the flipside, Digiarty Software also provides a plethora of freeware programs for your sake, such as WinX DVD Ripper, and WinX Video Converter.