How to Fix WinX DVD Ripper (Platinum) Outputs Audio Out of Sync with Video Error
Q: WinX DVD Ripper audio out of sync issue error happened. Any solutions to fix this problem?
I recently got WinX DVD Ripper Platinum to rip my DVD as digital file. It's unbelievably great in every way, except one: the audio gets out of sync with the video. The video will be a 1/2 second to 1 second off. Any ideas why?
Best Answer
The following solutions will be available to fix issues like:
WinX DVD Ripper audio out of sync;
WinX DVD Ripper audio and video delay;
Every DVD it converts to avi (or other formats) is out of sync;
The audio gets out of sync after using WinX DVD Ripper.
If you are experiencing problems like those, could you please do as follows to have a try?
Solution 1. Use "Safe Mode" in the advanced setting. If your original audio is out of sync with movie, the Intelligent A/V Synchronizer can help you solve the problem. Solution 2. If your DVD is NTSC, please change the "Video Frame Rate" to 29.97 and if PAL, 25. Plus, the software can auto-analyze whether the DVD is NTSC or PAL, please take a look at the File List Window.
Solution 3. Try 'DVD Backup' function. 'DVD Backup' function enables you to back up your DVD with original video, audio. You can copy DVD to ISO file, DVD folder, and copy main/full title content as MPEG2 file.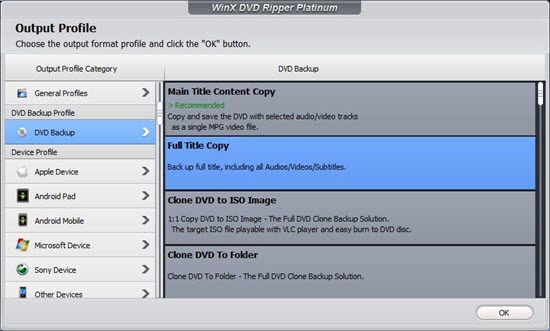 Solution 4. When this audio track information is not intact, or our product can't read the full information of it, please try to use VLC Player, and adjust parameter in "Tools -> track sync" to sync the output video and audio.
Solution 5. Contact the support team of WinX DVD Ripper Platinum for help. You'd better provide as many details as you can, like DVD name, video audio parameter settings, screen shots and more, in order to get help ASAP.
See also:
WinX DVD Ripper Platinum Tech FAQ
WinX DVD Ripper Platinum User Guide