MP3 vs MP4 - Understanding the Differences
Lots of users want to download some music online, but some songs come with MP3 extension while some are in MP4 format, which makes them feel extremely confused. So, what are the differences between MP3 and MP4, which music format should you save? MP3 vs MP4, which format has better sound quality? Scroll down to understand the differences between MP3 and MP4 format. Also learn how to extract MP3 audio file from MP4 video file without losing sound quality.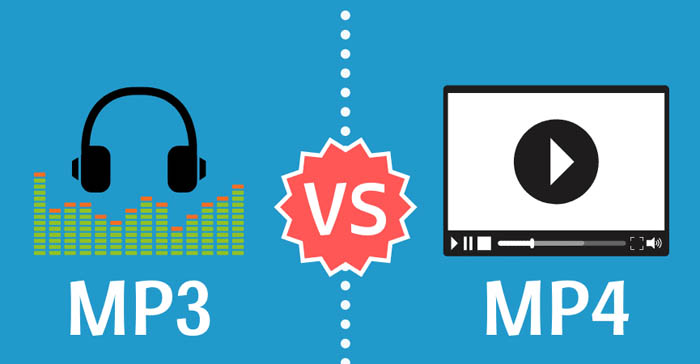 Convert MP4 Video Files to MP3 Audio without Losing Quality
With WinX HD Video Converter Deluxe, you can convert MP4 video to MP3 audio format on Windows 10/8/7 and macOS. Its built-in High Quality Engine can make the program output original audio quality. The transcoding process won't decrease the sound quality. It can also convert MOV/AVI/WMV/FLV etc. to MP3, AAC, FLAC, and convert between tons of video formats.
MP3 vs MP4: Detailed Format Comparison
It is a difficult task to tell the difference between two file formats (for example, MP3 and MP4) for non-tech-savvy people. To answer your question - "what're the differences between MP3 and MP4", we've made a wide range of search and have compiled the major differences in the following section, covering format types, audio quality, features, common misunderstandings, and more.
MP3 vs MP4: type of format
MP3 is extended from MP2, while MP4 is extended from Apple QuickTime .mov and MPEG-4 Part 12. MP3 (short for MPEG-1 Audio Layer 3) is an audio coding format. The audio format is widely accepted because of its simplicity, lack of errors, and computational efficiency. While MP4 (original name: MPEG-4 Part 14) is a digital multimedia container format. They are totally different file types. MP3 is used to store music/audio data and is a standard audio format for music apps, digital audio players, and music streaming sites.
MP4 video container format contains video, audio, still image, subtitles, and text. MP4 can be encoded with different video or audio codec formats, such as video codec H.264, HEVC, VP9, MPEG, audio codec MP3, AAC, FLAC, AC3, to name a few.
MP3 vs MP4: quality and file size
Although MP3 applies a form of lossy data compression, the audio quality remains virtually the same. The format keeps a good balance between file size and audio quality. And compared with MP4 video file, MP3 has smaller file size since MP4 format contains more data, including video, audio, subtitles, etc. So, if you want to listen to music only on MP3 player and don't want to store files with large file size, pick up MP3. When you don't have enough storage, try converting MP4 to MP3 audio format for much smaller file size.
MP4 can have better audio quality, compared MP3 audio format. If MP4 video is encoded with other high-quality audio codec such as AAC, MP4 has higher audio bitrate, which means better audio quality but also larger file size. Anyway, MP3 is a better quality in terms of audio quality and file size when you only want audio file.
MP3 vs MP4: functions and features
MP3 is used for storing, transferring and playing audio files only on digital audio players. MP3 files can deliver near-CD quality. Nowadays, MP3 has become the most popular audio format because it can hugely compress the data without damaging quality.
Superior to the audio-specific MP3 format, MP4 can be used for handling digital audio, digital video, text and also image. It allows streaming over the internet, just like other modern container formats. MP4 format accepts nearly all the video and audio formats, HEVC, H.264, MPEG, VP9, VP8, AAC, ALS, SLS, TTSI, MP3, and ALAC, and many more. The support for wide of video and audio codecs make MP4 format have much better flexibility than MP3 audio format.
MP3 vs MP4: common misunderstanding
1. MP3 ≠ MPEG-3 and MP4 ≠ MPEG-4, So don't confuse "MP3 vs MP4" with "MPEG-3 vs MPEG-4".
2. MP4 files are not just for video. Actually, they are multimedia. MP4 can be used for audio, video and other media.
3. MP4 can have higher audio bitrate than MP3, which doesn't mean MP4 audio quality is better than MP3.
In conclusion: According to the analysis above, there are essential differences between MP3 and MP4. MP3 files are mainly audio files, whereas MP4 files are for multiple digital files. Obviously, it is an unfair debate whether the MP4 is better than the MP3 or whether MP3 has an advantage over MP4.