Reddit App Slow Laggy Sluggish on Android iPhone iPad? Fixed Now!
When you access to redditmobile subreddit (if you can successfully enter to it without waiting), you'll be greeted with oddles of posts on complaining "Reddit app loads terribly slow or not at all", "reddit keeps stopping for multiple seconds and videos won't start properly, and when they do they're in 144p or 280p", "Reddit app gets really slow and eventually crashes after viewing numerous gifts and images.".
This reddit laggy issue is not new to its users. Instead, it appears since couples of years ago. That means it not only exits on your newest app version, but also the every version of the past. Therefore, don't waste time uninstalling or re-installing Reddit app with the latest version. Re-installing makes no difference at all. Instead, check the below solutions to tackle your Reddit app slow/laggy issue on Android/iPhone iPad.
Top 5 Solutions to Fix Reddit App Slow/Laggy/Buggy Issue
The ranking order doesn't answer to the significance of solutions. You don't have to try them one by one. Just skip to the solutions you didn't try before if your time is urgent. Before you go, remember to exit the background apps on your Android gadgets or iOS iPhone iPad. Then, nonsense aside, let's cut to the chase:
Solution 1. Clear Reddit App Caches and Memory Storage
Nothing would be more effective than developing a habbit to clear caches and data at a comparatively higher frequency in coping with any slow/laggy issue on applications. Long-term caches and data will definitely slow down your app speed, reddit app no exception. So the first step is to clear reddit app caches and data and then your phone memory capacity will correspondingly get released. Afterwards, try reddit app on your Android or iOS mobile device again to see if reddit app loads videos or images smoothly.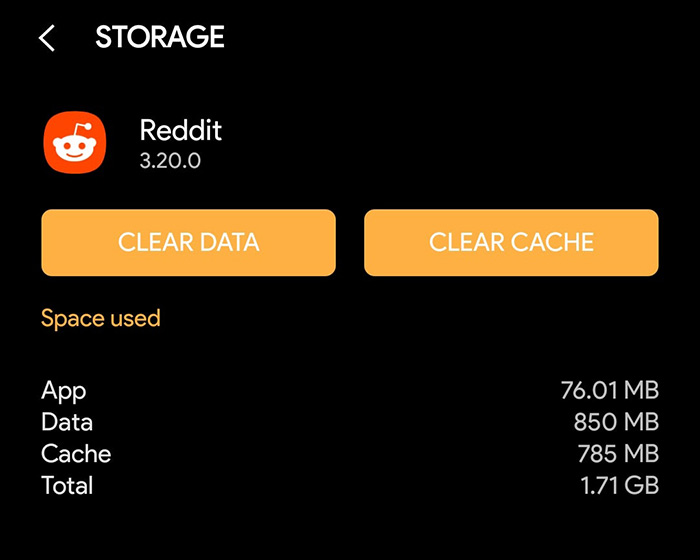 Solution 2. Improve Network Speed
Why does the Reddit app load content so slow on wifi compared to mobile data? Not one user asks the same question. Network speed does matter a lot. If the Wi-Fi network is shared by couples of people at the same time in a room, the bandwidth speed will definitely get descended. Notwithstanding only you is using the Wi-Fi, you still can't enjoy the high-speed network if the router is separated from you by the wall or other building.
Another case is your Wi-Fi network itself to blame. Now the 5G network is prevailing worldwide and there are two standards for 5G network (sub-6 and mmwave). In case your network is under mmWave 5G network (ultra-fast but ultra-short range) and the place you stay is not near by the communication station, the ultra-fast network speed (26.5GHz - 40GHz) is still powerless to reach you.
The key to break the impasse is to improve your 4G network speed (to 25Mbps or higher) or resort to 5G sub-6 network coverage (6GHz).
Solution 3. Change Mobile Device
Some users point out that his (or her) iPhone 12 Pro gets hot when using Reddit Mobile and drains the battery super fast. Actually, it's unfair to let Reddit app take all the responsibilities. It's an often heard and repeated hackneyed iPhone issue about getting hot and whopping poor battery performance, from iPhone 6 to iPhone 12 Pro. When you open and use other apps like twitter, FB, tiktok on iPhone 12 Pro, you'll have big chance to encounter these issues, as well. So just consider using another mobile device.
As for Reddit app running slow on Android phone/tablet, some users also indicate that reddit app works fine and fast on the expensive (yet higher configurations) tablet but much slower on the cheap phone. Upgrade your mobile device to the one with higher configuration if your budget is adequate.
Solution 4. No Beta Version.
As we mentioned before, no matter the newest version or older version of Reddit app you're using, they're all exposed to have slow loading problem. Honestly, it's common, cuz every software has some bugs, right? That being said, you're still advised not to use its beta version, and upgrade beta version to official formal version. This might not solve reddit app slow loading content issue permanently, temporarily effective.
Solution 5. Use the 3rd Party App
Boost or Relay is recommended for Android users while Apollo is for iPhone iPad quicker response. For instance, when your Reddit application is stuck on loading, laggy or crashes again, resort to Boost. This free app allows you to access to Reddit content and to select different view modes per subreddit: Cards with big pictures, Slide show to swipe between posts, Image gallery for image subreddits, etc. Give them a whirl!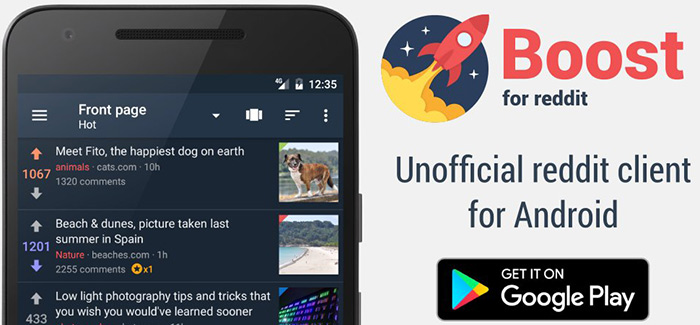 So far, the workarounds are all here. Hope they're helpful for you. And you can also share with us your effective methods if they are not covered here yet. Please send us Email or comment on our official Facebook, twitter account and we'll update your precious ideas to this post to help more users out of this reddit app slow trouble.