100% Working Fixes to Reddit No Sound Errors
On Reddit mobile app, beside other things, you can contribute and stream videos. Reddit maintains up to 10 different video players across different platforms and contexts. Now, Reddit adds short-form video capabilities similar to the TikTok video format. Reddit mobile app users will find a button on the right side of the search bar to scroll through the Reddit feed. However, the Reddit app no sound error still continues. In this post, we have all the reported fixes if you can't hear videos on Reddit mobile app (Android and iOS), including fixes to Reddit GIF, NSFW, and short videos no sound issues.
Check fixes to all no sound errors during video playback >>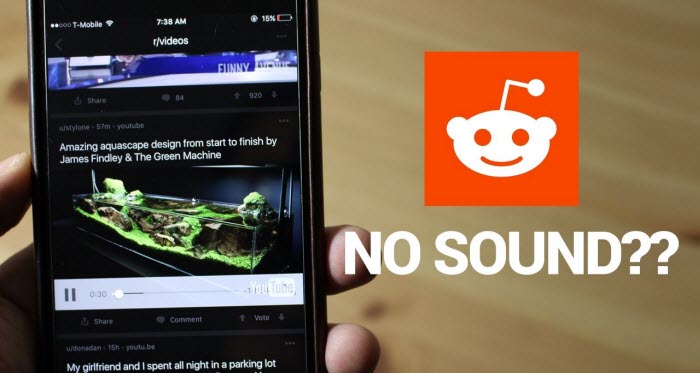 Why is there no sound on Reddit videos in mobile app?
Reddit app videos do not have sound on Android or iOS devices for many different reasons. One of the main reasons is that the video and audio are stored in separate tracks on Reddit. So the app is unable to download a stream containing both, unless it re-encodes the video or something, which is much more work than downloading a file, and requires significant more time/CPU. Therefore, Reddit mobile app will not play sound when you stream videos on a mobile with old hardware or occupied storage.
How to Fix Reddit App No Sound Error?
Currently, Reddit hasn't offered an official fix to the Reddit app only video no audio problems. But Reddit users have provide some clues to fix them. Below are all the solutions that are useful to bring the audio back for some users. Try them.
Videos on Reddit app are muted by default and you have to enable the sound manually. If you can't hear videos on Reddit mobile app, find the mute icon in the bottom left on the video you're viewing and tap on it to bring the sound back.
Reddit app won't play sound if you set the Reddit video setting "never play vs play on tap" to "never play". Find the setting and change it to "play on tap".
Some users don't have sound on Reddit mobile app with all their feeds and short video streaming when their phones are on silent/vibrate, just switch off the silent/vibrate mode and try again.
Instead of tapping on the video to stream feeds directly, click on the source next to the title to watch the Reddit videos with sound.
Make sure your Reddit app is not set to the quiet audio mode. Tap your profile picture/avatar > Settings > under Advanced, turn off the quiet audio mode.
Update the app to the latest version or re-install the application.
Clear the Reddit mobile app cache.
If the Reddit mobile app videos still have no sound, try the Reddit in browser like Chrome mobile or Safari.
Some subreddits have a feature called "Image Only" in which it will automatically turn your mp4 into a GIF. That's why there is no sound on your Reddit upload videos. You'd need to upload the video with a link instead. 
The Reddit Official App does not currently support sound on Gfycat files. To hear sound on GIF, you can click on the source link of the GIF and redirect to the Gfycat, where you can view the gifs with sound.
If there is still no sound on Reddit videos or gifs, try a different app to access Reddit, like Boost or Apollo.
To fix NSFW videos don't play sound in the Reddit app, change to ALLOWED NSFW on the phone setting: SHOW NSFW (18+) CONTENT on iOS and I am over 18 on Android.
For not safe for work (NSFW) content, sometimes the app can't read the sound channel of the site where those videos are hosted, so you will need to tap through to that site to hear any sound.
If Reddit app won't play audio with short videos, NSFW, GIFs with all the above tips, check if there is any hardware issue with your mobile speaker.