How to Change Netflix Region and Watch Netflix from Other Countries
Netflix has gone global allowing content streaming over 190 countries, except for China, Crimea, North Korea and Syria. However, Netflix doesn't make the content the same in every country due to the different licensing agreements in each region. Different country users will see different titles and a big difference in the volume of the Netflix catalogue. So in this article we'll show you how to change Netflix region so that you can watch Netflix from other countries and watch Netflix while you're traveling and relocating to a new country.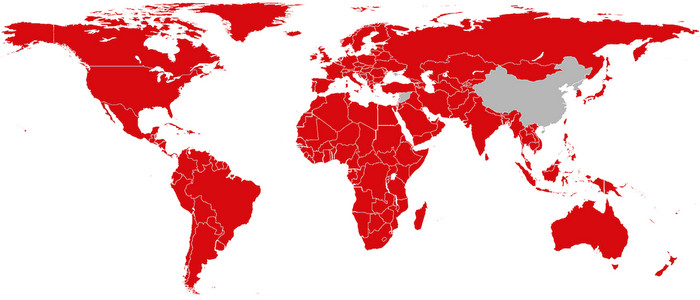 Part 1 How to Change Netflix Region or Country
Netflix can see your IP address when you connect to Netflix. It knows your location based on your IP address and provide corresponding Netflix library. So if you want to change Netflix region, you need to mask your IP and replace it with one from your chosen country, which VPN can do.
Now let me show you how to change Netflix region or location with VPN?
Step 1. Choose a VPN that can work with Netflix.
Here're some important things you need to consider while choosing a VPN for changing region on Netflix:
Can it circumvent Netflix's geoblock system?
Can it provide a large selection of IP addresses and update them regularly?
Does it cover servers of the country or region you want to change to?
Is it compatible with your device?
Can it provide fast and stable internet connection?
The most recommended VPNs for Netflix include NordVPN, ExpressVPN, Surfshark, and more. Check them, test them, and choose a preferred one.
Step 2. Download and install the VPN on the device you want to watch Netflix from other countries.
Take NordVPN as an example. It can be installed on Android, iPhone, Windows, Mac, Linux, Android smart TV, Firefox, and Chrome.
Step 3. When you open a VPN, you will find a list of server locations to choose from. Simply choose one in your desired country/region.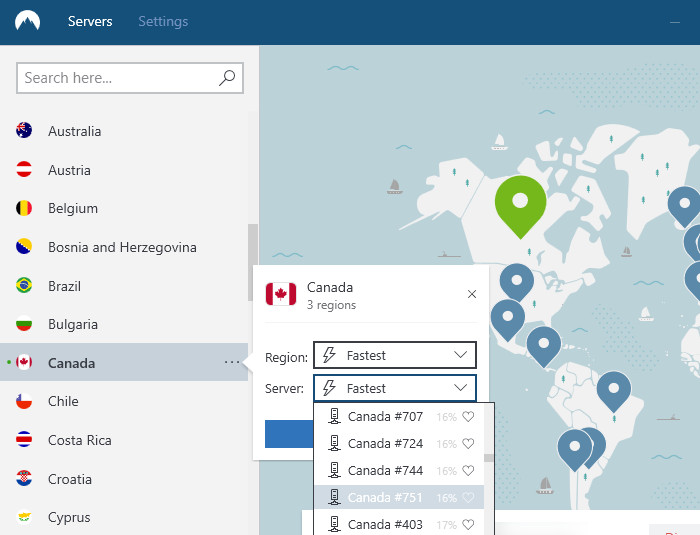 Step 4. Go to Netflix and now you'll find the content has been changed accordingly.
And besides VPN, you can also DNS proxy to unblock Netflix. Watch this video tutorial>>
Part 2 10 FAQs about Netflix Region
1. Why Netflix is not the same in every country?
There's an official answer in Netflix YouTube channel. "It is all about location, popularity, and purchasing rights. Programming on Netflix is different from region to region because of how TV shows and movies are licensed. Organizations that own the rights to those shows license the rights by geography. So this means that we have to acquire rights on a territory by territory basis".
2. Is it legal to change country on Netflix?
It's not illegal. Changing Netflix country will not put your Netflix account in danger. Till now, Netflix hasn't canceled a subscription or completely banned a user for the behavior of changing Netflix location.
3. How do I change my Netflix country without VPN?
You can use a DNS proxy. But compared with VPN, DNS proxy is easier to be blocked by Netflix and is dangerous to use because it doesn't provide encrypted security.
4. How to change Netflix region for free?
You can search for a free VPN or proxy to make a change to your Netflix region. However, free VPN always has limited server options and doesn't update the IP addresses regularly. As consequence, it is easier to be blocked by Netflix's VPN detection system.
5. How to fix Netflix proxy error after changing region?
6. What is the best Netflix region?
If you're looking for the region with the largest Netflix library, the answer is the United States. According to a study from SurfShark, the US has 5,879 titles in total including 4,035 movies and 1,844 TV series.
7. How do I know my Netflix region?
You can go to Global Netflix API and check geolocation,country to determine your Netflix region.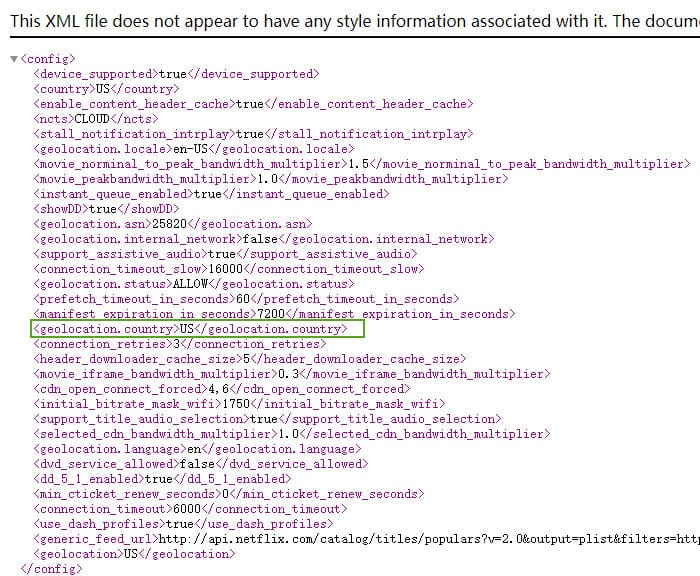 8. Why has my Netflix change region?
Netflix will change region when it detects your IP address is changed. So when you go abroad or use a VPN server from a different country, Netflix will change region.
9. What countries does Netflix work in?
Netflix can work in more than 190 countries, including Canada, United Kingdom, Australia, Japan, and more. But it is still not available in China, Crimea, North Korea and Syria.
10. How to watch US Netflix in India for free?
You can download a free VPN that has an US server to access Netflix US version successfully.