How to Fix Netflix Low Quality on PC, TV, PS4, Xbox, Chrome, iPhone...
Netflix supports HD and even 4K video streaming, but the video quality might be very poor when we try to watch something. Why Netflix is so low quality on your PC, TV, Apple TV, Android smart TV, Chromecast, Chrome, PS4, Xbox, iPhone, iPad, or with ExpressVPN, NordVPN? There are a few different potential causes of a low quality on Netflix.
1. The streaming plan and settings you choose doesn't cover HD support.
2. Your Internet connection is weak, unstable, or set to block Netflix streaming.
3. The web browser you use doesn't provide good quality.
4. Your hardware doesn't meet the requirements for HD/UHD video streaming or aren't set properly.
For these reasons, we have worked out the troubleshooting steps to increase Netflix quality. Just read on.
How to Change Netflix from Low Quality to High Quality
If you notice low quality right after you start playing a video, I suggest you wait for a while before conducting the troubleshooting steps. Netflix may initially play a video in a lower resolution and deliver higher resolution as the title continues to stream, in order to get your streaming fast. But if you don't see any quality enhancement as you continue to stream, try our steps below.
Step 1. Check your Netflix plan and quality settings.
Netflix has three plans to choose, including Basic, Standard, and Premium[1]. If you choose the Basic plan, you can only watch video in SD. If you want to watch HD video, you need to choose Standard or Premium. The Premium option also supports 4K UHD.

If you are sure that the right plan is chosen but still get a low quality, you need to adjust your Netflix playback settings following our steps.
Go to Netflix.com and login in.
Select your profile.
Select Account.
Under My Profile, choose Playback Settings.
Under Data usage per screen, select High. This option will allow high-quality streaming but also means massive data usage. It could consume 3GB per hour for basic 720p streaming or up to 7GB per hour for 4K Ultra HD streaming.
Click Save.

Change Netflix playback settings to High
Note: Changing this quality setting won't resolve your problem immediately, as it takes up to 8 hours to take effect. So, you have to wait for some time to see this change.
Step 2. Check your network.
Is your connection weak or unstable? You can open fast.com to test your internet speed or do the test within the Netflix app.
To check the connection speed within the Netflix app, you should go to Netflix home screen -> Settings -> Get Help -> Check your Network. Then, Netflix will start verifying whether you can connect to the internet, reach the Netflix servers, and check your connection speed.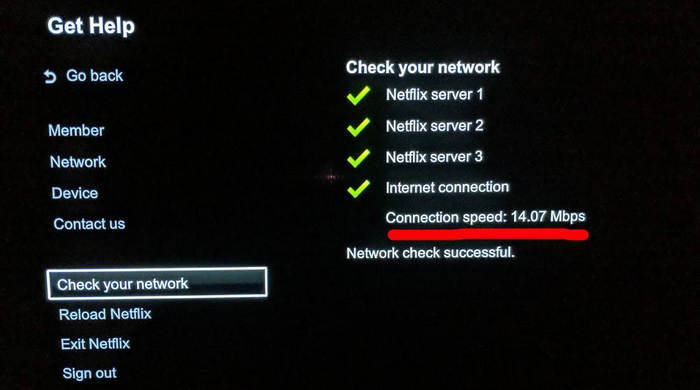 Once you have done speed test, you need to check whether it can meet the Netflix's internet connection speed recommendations:
3.0 Megabits per second - Recommended for SD quality
5.0 Megabits per second - Recommended for HD quality
25 Megabits per second - Recommended for Ultra HD quality
The internet could be very slow during peak time, such as the night.
And there's a chance that video streaming isn't even allowed at all by your network, especially if you're using a public Wi-Fi network at school, work or some other public places.
If Netflix low quality is a problem with internet connection, we have a few suggestions for you.
If you're using a home network, turn off and unplug your devices (streaming media player, modem, and wireless router), 30 seconds later plug them and turn on your device to try Netflix again.
Try a different internet connection. For example, you can try a cellular data network or your neighbor's.
Improve your Wi-Fi signal. You can move your router to a new location, move wireless devices such as microwave oven away from your router, and elevate your router off the floor.
Contact your ISP to find your network issues. Maybe your ISP has throttled your speed at rush hours in order to keep network congestion at a minimum.
Contact your VPN provider if you use VPN to access Netflix and get low resolution.
Step 3. Check your browser supported resolution.
Browsers support Netflix streaming in different resolutions[2].
Google Chrome up to 720p
Internet Explorer up to 1080p
Microsoft Edge up to 4K
Mozilla Firefox up to 720p
Opera up to 720p
Although all these browsers support HD, how HD it is will vary between them. So if you get Netflix low quality, on Chrome for instance, you can try a different browser.
Step 4. Check your hardware.
Why do you still face Netflix low quality issue after you have paid for Standard or Premium plan, change playback settings to High, use a fast internet speed, and open a HD-compatible browser. In this case we guess that your hardware doesn't meet the requirements for high quality streaming or aren't properly configured.
For example, if you want to stream 4K Netflix content on Microsoft Edge on a Windows computer, you need an HDCP 2.2 compliant connection to a 60Hz 4K-capable display, Intel's 7th generation Core CPU or newer, and the latest Windows updates.
So check whether your device supports HD video output. If not sure, you can check with your manufacturer or owner's manual.
Besides checking your device's compatibility with HD/UHD, you also need to make sure your streaming device is properly configured for HD output. Some devices can connect to TV via multiple video outputs. So you should choose an output method that supports HD, such as HDMI. Additionally, you need to configure the video output settings on your device to HD options.
Well, above are the troubleshooting steps of how to resolve low quality issue on Netflix. Hope it works for you.
References
Netflix Plans and Pricing, netflix.com
Using Netflix on your Windows computer or tablet, netflix.com