Can VLC Stream to Chromecast? How to Cast VLC to Chromecast?
VLC users have been requesting Chromecast support for a long time. And it's finally available in VLC version 3.0. Now you're able to stream audio and video files from VLC media player to your Chromecast connected TV. Here's how to cast VLC to a Chromecast device.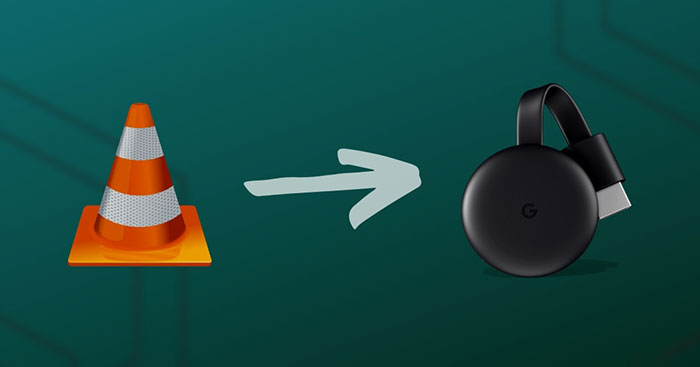 Part 1: How to Stream Videos to Chromecast with VLC
In this way, you have something to do before you start:
Make sure your Chromecast and computer are connected to the same network WIFI.
Upgraded VLC to version 3.0 or above.
Now let's get started.
Step 1: Open VLC Media Player on your computer.
Step 2: Click Playback on the menu bar. Hover your mouse on the Renderer option, then choose your Chromecast connected device.
Note: If your Chromecast device is not showing in the list, click Scan. Wait for a second and go Playback > Renderer again. If it's still not there, please check whether your computer and Chromecast devices are connected to the same network WIFI.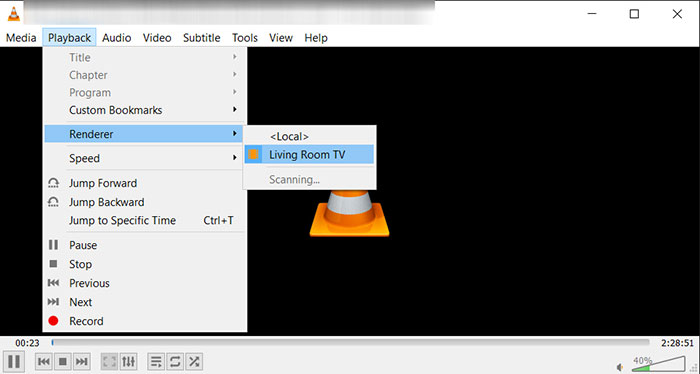 Step 3: Open a video or audio file. Then you may see a prompt of Insecure site, click View certificate to view your Chromecast security certificate. And then click Accept Permanently to accept your Chromecast's certificate. The video should be played immediately on your Chromecast connected TV after you agree the certificate.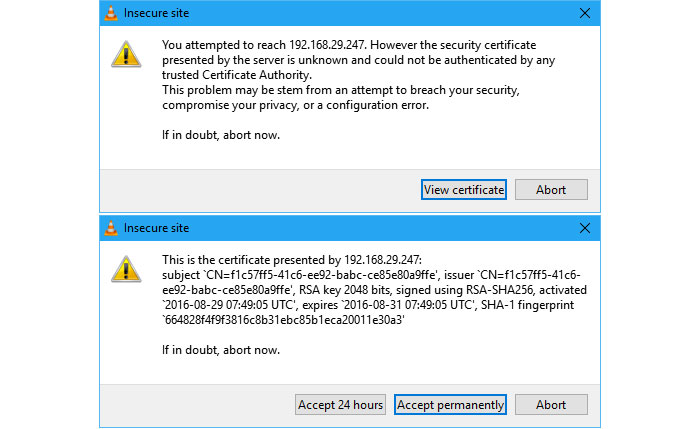 Part 2: How to Cast VLC to Chromecast with Google Chrome
In general, the above way should work for streaming video from VLC to Chromecast. But it's not ruled out that VLC Chromecast might not work for you personally. If you still want to stream your videos from PC via VLC and watch them on Chromecast connected TV, you have another choice -- with Google Chrome browser.
Step 1: Open VLC Media Player and ensure VLC is loaded.
Step 2: Open Google Chrome Browser and click the Chrome setting menu to find Cast... button.
Step 3: Select the drop-down list of Cast to, and change the source from the Chrome tab to Cast Desktop. Then select your Chromecast connected TV device.
Step 4: Click Play in VLC and maximize your screen. The video should be streamed to your TV. Enjoy it.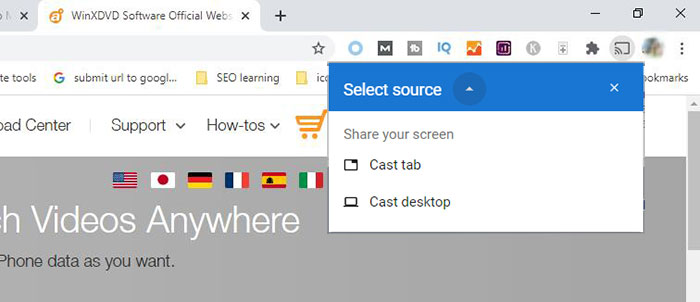 Part 3: What If VLC Chromecast Not Working? Try VLC Alternative for Chromecast
If you still cannot cast VLC to Chromecast, it's time to consider a VLC alternative for Chromecast. There are many choices, like a video player with airplay feature, or a video converter to convert video to Chromecast connected TV directly. Here I'd like to talk about the latter.
WinX HD Video Converter Deluxe is an excellent VLC alternative for Chromecast to some degree. It allows users to convert videos to Chromecast connected TV in formats like MP4, MOV, AVI, WMV, H.264, and 420+ more. After you've done, you can directly watch your videos on Chromecast TV without any issue.