Post by Kaley Torres - Contact Author

Troubleshoot Amazon Prime Video Error Code 9068
Amazon Prime Video error code 9068 appears on Samsung TV. I've just tried to put my Prime Video app to watch Preacher and got the error code 9068. How can I fix the error?
The error code 9068 Prime Video (unable to process your request) always appears when you try to access Prime Video channels or the Settings menu. The Amazon error code 9068 pops up on devices including Roku, Samsung TVs, other smart TVs, PS4, etc. Learn the reasons why the 9068 error occurs and how to fix the problem.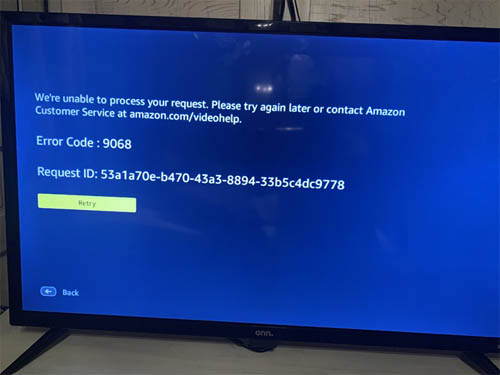 Possible Reasons Why Amazon Error Code 9068 Occurs
Corrupted software or hardware data on your device
Outdated Amazon Prime Video app on your device
Prime Video app bug
Problem with Amazon server
Device compatibility and geographical access issue
Registration glitch
Quick Fixes to Amazon Prime Video Error Code 9068
Deregister and register the device
Open the Amazon website, log in with your Amazon username and password, choose Registered Devices > Deregister, click on Deregister on the popping up message asking if you'd like to Deregister the device. Go back to Amazon website and log in with the correct Amazon username and password, select Registered devices > Register Your Device, and then choose the device you'd like to register. This way also works for Amazon Prime Video error code 5004.
Perform a software/firmware update
Update your device software and firmware. If you don't know how to do it, contact device support.
Update your Prime Video app when there's a new version available.
Reboot your Prime Video streaming device
Rebooting a device is easy. Amazon Prime Video 9068 error code is more relevant to Roku and Samsung TV. Here're steps to reboot Roku devices. On the Home menu, select the Settings, scroll down the Settings menu, choose the System option, scroll down to the System restart option, and press OK on your remote to reboot your Roku device. Open Amazon Prime Video again to see if the 9068 error still exists.
Factory reset your device
Go to the settings menu and factory reset your device with which you stream Amazon Prime Video. Steps vary on different models. Since Amazon Prime Video error code 9068 frequently occurs on Samsung TV, here we take Samsung TV as an example. To factory reset Samsung TV, go to Settings > General > Reset, enter your PIN (0000 by default), click OK, and your Samsung TV will restart automatically.
You can do nothing when there's a problem with the Amazon server
Sometimes, the Amazon server has issues. You can contact Amazon support or ask other Amazon Prime Video subscription members to ensure whether the Prime Video server is down. When this happens, there are a few things you can do. Just wait for Prime developers to solve the problem.
Change wifi network to which your device is connected
A Prime Video member said he got the Amazon 9068 error code when his TV was connected to the 5GH wifi network. The app worked fine again after he changed to the standard 2.4gh Wifi network.
When you have any other problems when using Amazon Prime Video app, such as Prime Video not loading/responding, bandwidth error, black screen, no options to download, etc. check Prime Video not working troubleshooting tips.