Post by Kaley Torres - Contact Author

Troubleshoot Amazon Prime Video Error Code 5004 - Quick Solution
Problem occurred
We're unable to process your request. Please try again later or contact Amazon Customer Service at amazon.com/videohelp.
Error code: 5004
What is Amazon Prime Video error code 5004? The Prime Video error code 5004 indicates a sign-in issue, which means that you can't sign into Amazon Prime Video with your account and is a reoccurring issue. When Amazon error code 5004 appears, this error message will display on your device.
Error Code 5004 Prime Video can occur on any device, including Apple/Samsung/LG Smart TV, Roku, Xbox, game consoles, etc. The error code 5004 on Amazon Prime Video can be caused by a problem with an internet connection, expired Amazon Prime account or app, VPN or proxy, antivirus and security software, cookies and cached data, or Amazon Prime app issue.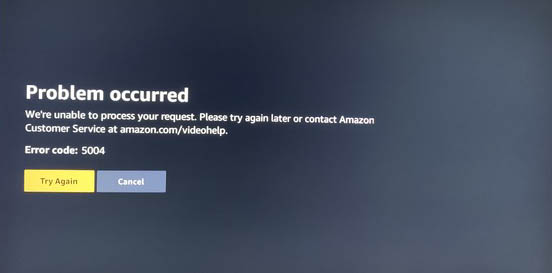 Amazon Official Fixes to Prime Video Error Code 5004
1. Ensure that you enter the correct email address and Prime Video password to log in.
2. Deregister and re-register your device for Prime Video. To do so, go to the Amazon website, click on Manage Your Content and Devices, sign-in again using your account, choose Device > Deregister, log back into Prime video on your device. After deregistering, you can register your device to your Amazon account again. It also works for Amazon Prime Video error code 9068. This way should work, if it doesn't, check more common troubleshooting tips below.
Other General Solutions to Amazon Prime Video Error Code 5004
1. Contact Amazon customer service to make sure if there's a server issue. If the error code 5004 Prime Video shows on multiple devices, there might be an Amazon Prime server issue. When this happens, you can do nothing. All you can do is identify the cause and wait for Amazon to fix the issue.
Also Check Fixes to Amazon Prime Video Black Screen with/without Sound
2. Check your internet connection. The problem with internet connection such as slow or unreliable internet connection can lead to Amazon Prime Video authentication issues. Ensure your connection and speed are good. You can test your internet connection using a third-party internet speed test tool or other streaming services.
3. Disable any VPN or proxy, firewall, antivirus, or other security software you are using. Check if Prime Video is an exception to your firewall program. Such programs always cause connectivity issues. They may block your internet connection, preventing you from signing in to the Amazon Prime server. Try disabling these blocker programs to get rid of Error Code 5004 Prime Video.
4. Clear cookies and cached data. If you are streaming Prime Video on your computer, clear cached data, and cookies that can cause Amazon Prime Video error code 5004. Clearing the cache and cookies can help clear corrupted data and solve Prime Video sign-in failure.
5. Make sure your Amazon Prime account or app is not expired. Check if you are using the latest version of Prime Video. If not, update to the new version of the Amazon app to get some bugs fixed. On the other hand, make sure your Prime Video account is active. You can't sign in to Prime Video when your Amazon Prime account fails to work. Head to the Amazon Account page, and go to Prime Video Settings to check if your account is active or not, and pay for it when your account is expired.
6. Issue between Amazon services and the Nvidia Shield TV models. If you are streaming Prime Video on an Nvidia Shield TV and the error code 5004 appears, it's likely because of the Nvidia Shield TV model issue. Amazon customer services say that there's an issue between Amazon services and Nvidia Shield TVs. Try uninstalling the update and re-registering the device on amazon.com/mytv.
If you have any other problems when streaming Amazon Prime Video, such as Prime Video not loading/unable to play, bandwidth error, no options to download, etc. check Prime Video not working troubleshooting tips.