Comparison: WinX DVD Ripper Platinum vs WonderFox DVD Ripper
Since many people want to know the differences between some well-known DVD ripping apps, like WinX DVD Ripper and WonderFox DVD Ripper. Both software tools have similar features, available for users to rip DVD to various video formats, like MP4, MOV, AVI, WMV, etc. Given that, we make some detailed comparison between WinX DVD Ripper Platinum and WonderFox DVD Ripper.
Fast Convert DVD to Digital MP4, H.264, HEVC, AVI, WMV, MPEG, MOV, ISO
WinX DVD Ripper Platinum - [100% clean program] Easily convert DVD disc to digital video file in MP4, H.264, HEVC, MKV, AVI, WMV, MPEG, MOV, M2TS, ISO Image, iPhone, iPad Pro/Air/Mini, Samsung, etc. on Windows (10/11) or Mac in about 5 minutes with original quality. Support ripping protected movie DVDs, newest 99-title DVDs, scratched DVDs, etc.
For Windows and Mac only. If you are a mobile user, please click here.
Table of Contents
Part 1. Side by Side Comparison: WinX DVD Ripper Platinum vs Wonderfox DVD Ripper
1. Interfaces
Some puzzled users don't know exactly about WonderFox, considering that the interfaces of WonderFox look similar to others. They asked such questions:
- Is Wondershare Video Converter Ultimate the same as WonderFox HD Video Converter Factory Pro? The interfaces are almost identical.
- I'm starting to get suspicious that many of these converter softwares are just buying the same converter engine from someone. Does anyone know?
The answer is absolutely no! They are not relevant at all. For example, both being DVD and video software developers, Digiarty (also known as WinXDVD), more of a creative originator, was established in 2006, while WonderFox in 2010.
WinX DVD Ripper Platinum features a modern and intuitive interface, with which users can finish the DVD ripping job within just 3 simple clicks. Here is the interface.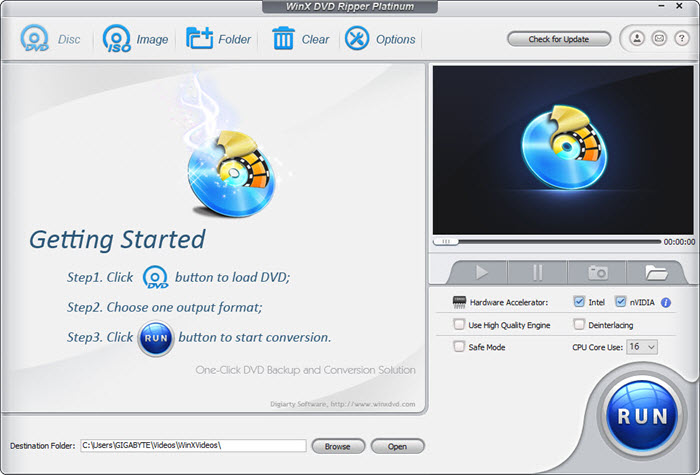 Wonderfox DVD ripper is another DVD ripping software that is in cool black.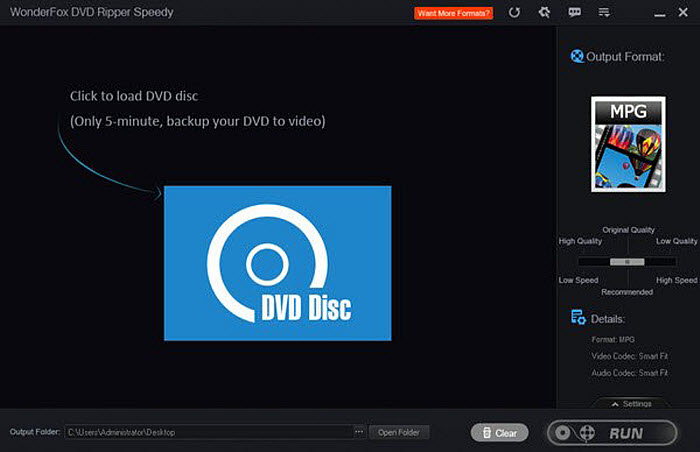 2. Decrypting ability.
We found that WonderFox DVD Ripper Pro has a striking similarity to WinX DVD Ripper Platinum in terms of product feature promotion. On their official webpage, WonderFox claims to support converting any encrypted DVD. But in our test, we discovered that it couldn't rip but show error messages. The following error prompted when we tried to rip a DVD Divergent using Wonderfox DVD Ripper Pro: While we had no problem ripping DVDs like Divergent using WinX DVD Ripper Platinum. We also tested some workout DVD, classic DVD, kids DVD. It can well handle them all without any problem.
3. Speed
We found that WonderFox is very similar to WinX DVD Ripper Platinum in certain aspects, such as the ability to convert DVDs in just 5 minutes. So we did some tests here in order to know the exact ripping speed.
It is important to note that both of the DVD rippers run in an extreme fast speed.
"We were pleased to discover that WinX DVD Ripper Platinum ripped an entire DVD in 6 minutes. The actual transfer time varies depending on your CPU and DVD driver speed. But as this software supports Multi-core (up to 8) CPU and Hyper-threading, the median time for such a task is 10 minutes or less. We didn't find any quality degradation in the output video."
– How-to Geek
Now let's do a speed test of ripping a copy-protected DVD under the same situation on the latest versions of both programs:
Source for Testing: DVD Movie: Wreck it Ralph; Duration: 01:40:38
Computer Configuration: Intel(R) Celeron(R) 2.60GHz 4GB RAM, Windows 7
Output Parameters: MPEG (mpg) with default settings (720*480)
It needs our attention that the Platinum of WinX DVD Ripper has a special DVD copy mode to support ripping the main title of DVD movie and save it as .mpg file. It is faster than common DVD to MPEG2 ripping. Please choose "DVD Backup" and click "Main Title Content Copy".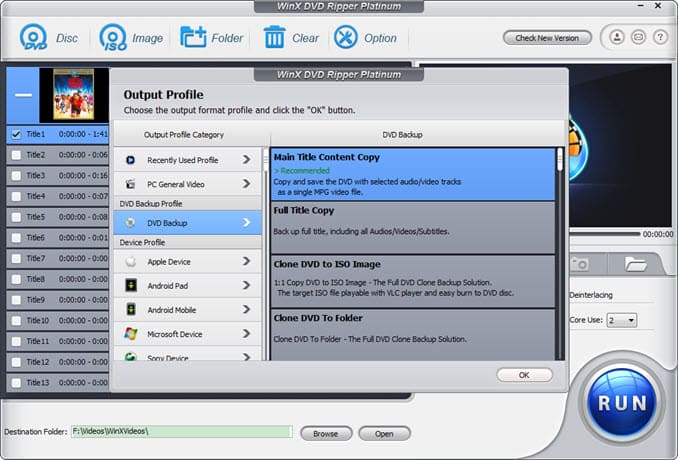 According to our test, it took about 20 minutes for WonderFox DVD Ripper to rip a 1.4h DVD to a standard MPEG file,
but only cost less than 10 minutes on WinX DVD Ripper Platinum.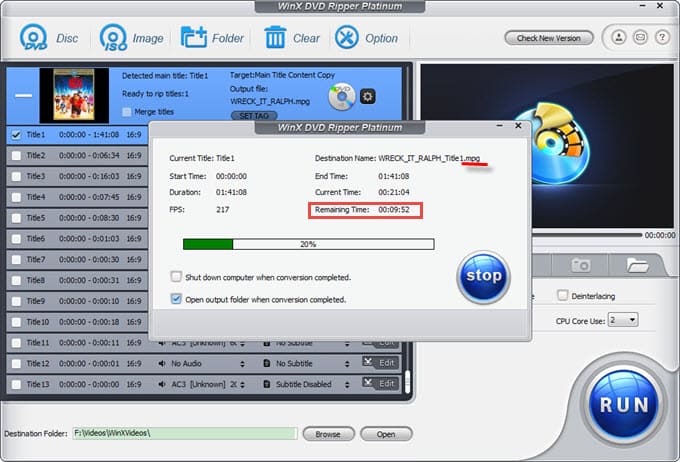 It is worthy of note that the actual time is way shorter than the "Remaining Time" it displays on the UI. And the fastest time we got is 5 minutes. (And the "Current Time" means the converted time of the movie, not the used time.) However, the "Remaining Time" shown on WonderFox during conversion is inaccurate, always longer than the actual time, along with the original file's duration and size in some cases.
According to Softpedia, "In our tests, one video had different length and dimension values displayed in Windows 7 and Windows 8.1 and Windows 10. The output file has a large size after conversion. Speedy has some bugs. Sometimes it marks lengthy clips as being less than a second long, thus prohibiting us from applying filters. The filters do not have names assigned. It crashed a couple of times out of the blue while we were tinkering with the titles in the queue."
WinX DVD Ripper Platinum vs WonderFox DVD Ripper in Total:
For an all-sided differences, we'd like to illustrate in a table:
| | | |
| --- | --- | --- |
| Features | WinX DVD Ripper Platinum | WonderFox DVD Ripper |
| Support DVD disc, folder and ISO image | Yes | Yes |
| Rip all kinds of DVDs | Yes | No |
| Extra DVD copy modes: DVD to ISO image, DVD to MPEG2, main title copy and full title copy | Yes | No |
| Output video formats | 350+ | 116 |
| Rip DVD to VCD Format | No | Yes |
| User Friendly | Yes | Hard to find where to choose or change the output format |
| Room for customization | Yes | No |
| Help Document | More detailed and helpful | No |
| Hyper-Threading tech, Super Encode Engine and Multi-core CPU use for speed acceleration | Yes | No |
| High Quality Engine and De-interlacing Engine for quality enhancement | Yes | No |
| Options of Safe Mode, High Quality Engine and CPU Core Use to get better image quality, faster speed and more smooth conversion process | Yes | No |
| Preserve original 5.1 Channel AC3/DTS Dolby Audio | Yes | No |
| DVD title merge | Yes | No |
| Video edit features | Merge, trim, crop, expand videos, add external subtitles | Crop, Brightness, Contrast, Mosaic, Blur, Sharpen, Emboss, Noise, Old Film, etc. |
| Price | $39.95 | $39.95 |
Part 2. Conclusion: WinXDVD vs WonderFox
They are not all the same in functions, performances and technologies applied, so you may feel free to choose following your bent. To sum up, WonderFox has more video editing features and output audio formats. But if you need a fast, stable, high-quality and more wildly accepted DVD ripping and copy software, WinX DVD Ripper Platinum that has been recommended by more authorized technical websites such as CNET, PCWorld and Softforall, as well as more users may be your better choice.
Disclaimer: Digiarty Software does not advocate ripping copy-protected DVDs for any commercial purpose and suggests referring to the DVD copyright laws in your countries before doing so.
Free Download WinX DVD Ripper Platinum to Have a Try
Best fastest DVD ripper and converter to convert DVD disc to digital video as MP4, H.264, HEVC, MKV, AVI, WMV, MPEG, MOV, iPhone, iPad, Android, etc. at fastest speed. Also enable you to 1:1 copy DVD to ISO image/folder/MPEG-2 file with original quality by accessing all DVD protections.
For PC and Mac only. Go to mobile page.