CUDA HEVC Encoder | 2023 Best CUDA H.265 Video Converter
As the successor of H.264/AVC video compression standard, HEVC (also named H.265) brings about twice as efficient as H.264, which contributes to its rising support on desktop and mobile systems, online streaming sites (e.g. Netflix & YouTube), video shooting devices like GoPro action camera and media player like VLC. Handling HEVC video on Windows computer has much requirement on hardware performance. But if your PC has equipped with HEVC-supported GPU like CUDA, things will become much easier.
Fast Convert (4K/8K) Video with CUDA HEVC Video Converter
WinX HD Video Converter Deluxe is the first HD video converting tool that supports both CUDA HEVC/X265 encoder and decoder. It's able to convert 4K/8K/HD videos under CUDA HEVC hardware acceleration, which boosts video conversion to 47x real-time faster but with the same high quality output.
Part 1. What Is CUDA?
CUDA, full name Compute Unified Device Architecture, is a parallel computing platform developed by Nvidia to do more effective processing and deliver more convenient programming environment for both software developer and engineer. In early years, graphics/video cards are only in charge of displaying 2D, 3D images to screen, relieving the heaving task of CPU. But nowadays, CUDA-enabled graphics processing unit (commonly known as GPU) is not only able to accelerate graphics rendering, video interconversion, but also used even for physical simulations, molecular dynamics, mining cryptocurrencies and so on.
Part 2. Top NVIDIA Graphic Chips That Support CUDA HEVC Encoding
The NVIDIA CUDA (Compute Unified Device Architecture) allows the NVIDIA GPU to take the responsibility to participate in the computational tasks which should be handled by the CPU formerly.
In 2014, with the release of Maxwell architecture GPU, the GTX 900 series, NVIDIA officially announced their GPU will provide support to HEVC hardware encoding/decoding function. Consumers with their NVIDIA GPU can encode/decode also do online streaming up to 8K HEVC codec videos. NVIDIA named their new technology as "NVENC Support", which means hardware-based decoder and encoder(s). And NVIDIA acclaimed that their new GPU will keep on supporting hardware encoding/decoding function in the future update.
Supposedly, the RTX 3000 series will unleash formally in August 2020. The newest NVENC technologies will be released accordingly. Before we look into the future, let us do the review of the graphic cards that support CUDA hardware acceleration now.
NVIDIA GPU that support CUDA Hardware acceleration (NVENC)

Series

Architecture

GPU models

Transistor count

GeForce 900 Series

2nd Maxwell

GeForce GTX TITAN X
GeForce GTX 980
GeForce GTX 980Ti
GeForce GTX 970
GeForce GTX 960
GeForce GTX 980M
GeForce GTX 970M
GeForce GTX 965M

28NM

GeForce 10 Series

Pascal

GeForce GTX TITANXp
GeForce GTX 1080Ti
GeForce GTX 1080
GeForce GTX 1070Ti
GeForce GTX 1070
GeForce GTX 1060Ti
GeForce GTX 1060
GeForce GTX 1050Ti
GeForce GTX 1050
GeForce GTX 1070M
GeForce GTX 1080M

GeForce GTX 1050/1050Ti:

14nm FinFET


GeForce GTX 1080/1080Ti:

16nm FinFET


GeForce GTX 1070/1070Ti:

16nm FinFET


GeForce GTX 1060/1060Ti:

16nm FinFET


GeForce TitanXp:

16nm FinFET


GeForce TitanV:

12nm FinFET


GeForce 20 Series

Turing

GeForce RTX 2060
GeForce RTX 2060 super
GeForce RTX 2070
Geforce RTX 2070 super
GeForce RTX 2080
Geforce RTX 2080 super
GeForce RTX 2080ti
GeForce Titan RTX

12NM


Detailed Log on Nvidia (CUDA) HEVC Encoder & Decoder

- In September 2014, the world's first HEVC encoder NVENC came out with the releasing of GeForce GTX 980 (GM204) and GTX 970 (GM204).
- In 2015, Nvidia launched GeForce GTX 960 and 950 (GM206) respectively with fully support for HEVC( Main/Main10) hardware decoder.
- In 2016, Nvidia released GeForce GTX 1080/1070 (GP104), GeForce GTX 1060 (GP106), GeForce GTX 1050Ti and 1050 (GP107)with full fixed function HEVC Main10/Main12 hardware decoder.
- In 2017, another three were out including full fixed function HEVC Main10/Main12 hardware decoder, and they are GeForce GTX 1080 Ti (GP102), GeForce GT 1030 (GP108), and GeForce GTX 1070 Ti (GP104). ...
- In 2018, Nvidia announce that an major improvement of CUDA-NVENC will be adapted on their newest Turing architecture GPU…
Part 3. How to Fast Convert Video from/to HEVC with CUDA HEVC Encoding?
We have to do video conversion regarding HEVC codec in many situations, such as:
Q1: Most of my acquired video files are x.264 or .mkv. However, some are encoded HEVC x.265.... Which my media player won't accept. What's the easiest way to convert HEVC to MP4 or equivalent, so I can put the video file on a USB stick and play it on my TV ? (FROM VideoHelp)
Q2: I'm trying to find the best video converter for transcoding video to x265. I've tried Handbrake. It's nice but I could not figure out how to enable GPU Acceleration. System Specs: GeForce GTX 970, i5-3570k @4.3Ghz, 16GB RAM, Windows 10 Pro x64 (FROM tom's guide)
Hardware trancoding is unquestionably faster than software transcoding. Compared to open-sourced HandBrake with Intel Quick Sync Video support to accelerate HEVC to H.264 video conversion speed, WinX HD Video Converter Deluxe gives more options. If our computer has embedded with Nvidia CUDA/NVENC graphics card with HEVC codec, be it any of the Maxwell-based GeForce products (GM20X), WinX HD Video Converter calls CUDA to decode and encode video from or to H.265 in boosted speed.
Now let's turn to how to use WinX HD Video Converter directly.
Step 1. Free download

and install it following the wizard.

Step 2. Open it and click either of the "+ Video" icon to browse, select and click Open to load video. This video converter supports batch convert videos, so you can select multiple video sources to load.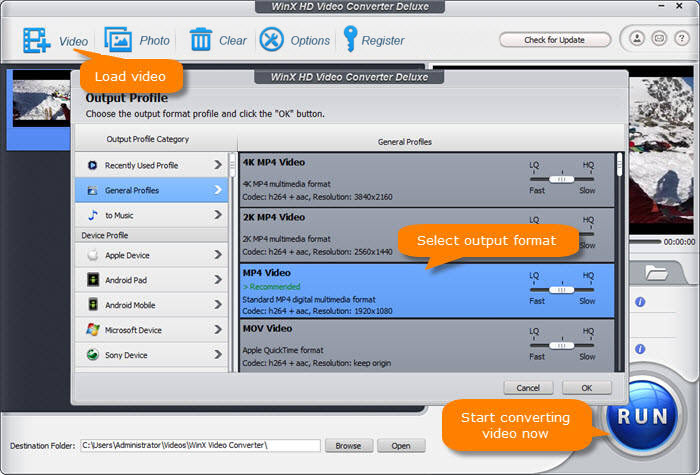 Step 3. Choose output video format at the well-organized "Output Profile" list.
If you're converting HEVC video to H.264 MP4, just choose "MP4 Video" at General Profiles.
If you're changing video to HEVC in .mkv format, just choose "HEVC Video" at PC General Video.
Step 4. Once the output video is confirmed, you would go back to the main UI of software, where two hardware encoder options - Intel and nVIDIA are listed right below the video preview window. WinX program can auto-detect and check what your PC supports.
If you want to change video bit rate in VBR or CBR mode, adjust video resolution/aspect ratio etc., do it in setting dialog box by clicking sawtooth icon. If you'd like to add some external subtitle, or do video cropping/trimming, just open Edit option to do so.
Step 5. Press "RUN" to start accelerated video conversion.
Why WinX HD Video Converter Deluxe is your right choice?
More and more video converter software starts to add support for CPU (Intel QSV) and GPU (Nvidia CUDA/NEVNC) hardware acceleration. But most of them only take advantage of hardware to do video encoding. Only WinX passes the whole video transferring process from decoding to encoding to hardware, shortening conversion time greatly. Although we cannot figure out a specific number for time saving (because it varies from video types/sizes and PC specs), we deliver the most real hardware accelerated video conversion solution.