How to Free Convert MPG/MPEG to DVD without Quality Loss?
Both ".mpg" and ".mpeg" file extensions are used for video files that comply with MPEG compression standards. ".mpeg" is essentially the same as ".mpg," and the choice of extension can vary depending on the naming convention used by the file creator. In practical terms, there is usually no functional difference between ".mpg" and ".mpeg" files. Videos with .mpg or .mpeg file extension are typically compressed using either MPEG-1 or MPEG-2 compression.
If you want to play MPG or MPEG files on DVD players, you need to burn MPG/MPEG to DVD. In this article, we will introduce a free and powerful MPG/MPEG to DVD converter and show you how to use it to burn MPG/MPEG to DVD.
WinX DVD Author - Best Free MPG/MPEG to DVD Burner
WinX DVD Author is the best free MPG/MPEG to DVD converter for Windows 11, 10, 8(.1), 7, etc. It is fully compatible with MPG/MPEG files. It allows users to create DVD menu, add subtitles, trim videos, etc. It helps you to create a professional-grade DVD without costing a penny.
In addition to MPG/MPEG, WinX DVD Authot can also burn MP4, AVI, WMV, DivX, Xvid, MPEG, MOV, FLV, H.264, M4V, MKV, M2TS, as well as camcorder video, webcam clips, YouTube videos to high-quality DVD disc, no disc-burning freezing or not working mistakes.
How to Free Burn MPEG/MPG Videos to DVD Disc?
Step 1. Get Free MPEG to DVD converter software. To begin your DVD creation process, you should firstly download this MPEG to DVD converter on your Windows PC.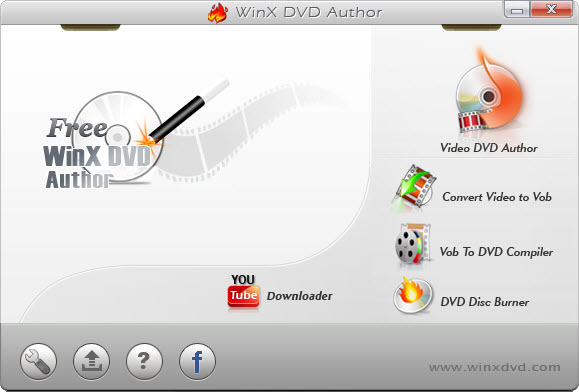 Step 2. Collect MPEG video files to make DVD creation
1. Click "+" sign to add source MPEG video clips. Batch adding MPEG videos are allowed. You can also delete, move up, move down listed MPEG video clips by clicking relevant button or just by right clicking them.
2. Click ">>" to continue.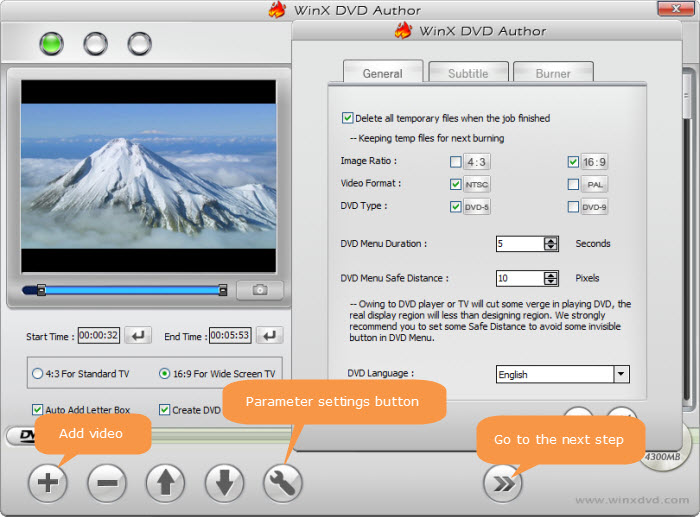 Step 3. Create DVD menu and chapter menu to self define your DVD file.
In the left lane are the images available for use as background, but you can add the image you want by clicking
To create title menu and chapter menu, you only need to click Title Menu/Chapter Menu button or to edit.
Add Background Music - Click , and use the window that opens to locate the desired file to the soundtrack of the menu.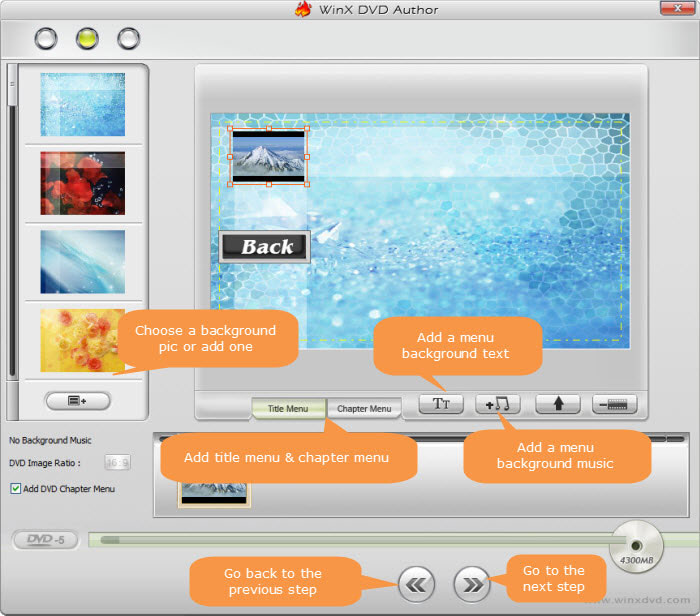 Step 4. Burning MPEG/MPG to DVD.
Insert a blank DVD, choose Output Folder, Output Format, and Encoder Engine, and then hit "Start" button to begin burning your MPEG files to DVD.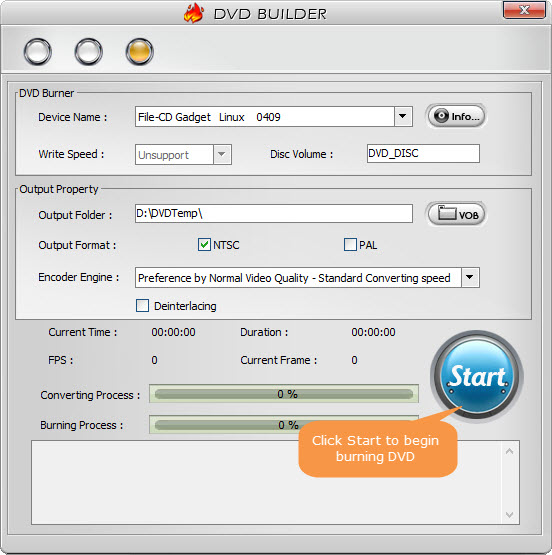 WinX DVD Author
WinX DVD Author is a free and all-round DVD creation and burn tool. It can convert and burn almost all videos to DVD, such as MKV, M2TS, M4V, AVI, MP4, MPEG, WMV, 3GP, DviX, Xvid, ASF, MOV, FLV, H.264, RM, RMB, OGG, QT, etc with top quality and fast speed.
Extended Knowledge about MPEG:
The Moving Picture Experts Group (MPEG) is a working group of experts that was formed by ISO and IEC to set standards for audio and video compression and transmission. It was established in 1988 and its first meeting was in May 1988 in Ottawa, Canada. As of late 2005, MPEG has grown to include approximately 350 members per meeting from various industries, universities, and research institutions.