Best Free 2021 Christmas Party Games for Kids and Adults
The new study shows that those people who love playing games are happier and more creative. Not only because game can relief one's inner pressure and bitterness, but also because when one is playing his favorite character as superhero in a game, he will feel that he is embodied with the same idiosyncrasy and will become stronger. Here on the occasion of 2021 Christmas, we pick up the good Merry Christmas games for playing with your kids on christmas holiday:
Table of Contents:
Part 1. Best Free Christmas Games Online
We are not referring to the top 5 NBA Christmas Day Games, Sega's new football game, nor the new games for Xbox One, PS4, Wii U and other big consoles, but free little online Christmas themed puzzle games designed for kids to play on computers.
All free Christmas games online 2021 are cute in style and bright in color and all related to Christmas elements like Santa Claus, Christmas trees, sleighs, snowman and snowballs. The best free new online Christmas Games for children can be played, for example, on Primarygames.com and Flashgames.com, such as Snowline, Deep Freeze, Santa Puzzle, Christmas Party, DuckLife4, Crazy Santa Racer, Santa Puzzle. See more about top 10/top 20/top 50/top 100 kids games for Christmas online.
Part 2. Ideas for Good 2021 Christmas Party Games for Kids
1. Guess Christmas movie name
A game which you can play with friends and kids at Christmas party requires at least four people sitting in a circle, among which one is appointed as Question Master and one the Guesser. After everyone writing down a Christmas movie name on a paper, the Question Master reads out all the answers in a random order. The Guesser must guess which answer belongs to which person. One point is awarded to the Guesser for each correct guess.
2. Fill the Christmas stocking
Participants are divided into teams and race to fill their team's hanging stocking with a spoonful of small Christmas gifts. It is easy and meaningful.
Part 3. Convert Christmas Party Game Videos
Do not forget to record and shoot videos when your families and friends are playing Christmas games on the parties. WinX HD Video Converter Deluxe is an all-in-one video converting software program running on Windows (10/8.1/8/7/XP) to convert and manage all your videos as you wish. No matter the video source is recorded by a mobile phone or HD camera, it can help convert it into any other video/audio format and play on Apple TV, PCs, tablets and mobiles. It perfectly supports converting 2019 Christmas party game videos M2TS/MTS to MP4, AVI, WMV, MOV, MKV to H.264, M4V, FLV, 3GP. It also has a Mac edition of HD video converter that meets your needs of downloading online YouTube videos.
The operation of converting Xmas party games videos are as easy as a-b-c if you use WinX HD Video Converter Deluxe:
Step 1. Click "+video" button on the software UI to add the source video file from your hard drive.
Step 2. Choose any output format according to your own needs. The Christmas party game videos can be converted to MKV, MTS, MPEG, MP4, MP3, AVI, FLV, etc., or transferred to iPhone, Android, iPad, WP8, Surface Pro 3, Xbox One, PS4, USB, smart TV and so on stably and quickly without much quality loss.
Step 3. Just hit "RUN" to start the conversion.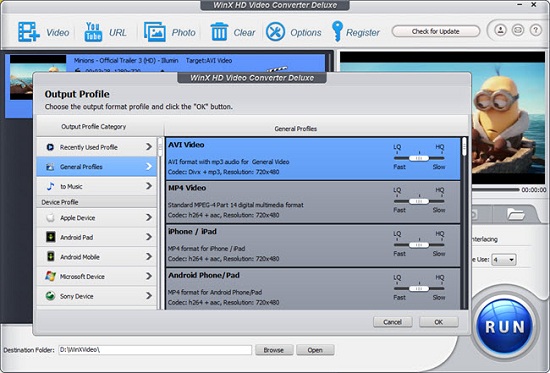 Still have question on Convert Christmas Tree Ornament Videos? Please feel free to Mail Us >>