Best Christmas Movies of All Time & Best New Xmas Films 2021
This page collects list of best Christmas movies ever from very early age 1898 to 2021, genres varying from kid, adult, family to animated, horror, funny, etc.
Merry Christmas! If you're running out of ideas on how to spend a special Christmas, why not watch Christmas movies with family? Christmas movies always grab a hold of us like a real magnet. Watching Christmas movies at home is not the whole of Christmas holiday, but is truly indispensable nevertheless. Watching Christmas movie DVD is a hard-won chance to gather with families, and a good channel for foreigners, both grownups and children, to learn English while enjoying fun.
Have you ever watched the top 10 Christmas movies of all time such as It's A Wonderful World, White Christmas, Miracle on 34th Street, A Charlie Brown Christmas, A Christmas Story and Elf? If you have already watched all these, see what are best Christmas movies to watch this year. Below is a round-up of must-see Christmas movies of all time, in which 10 examples are shown in each type.
Best Solution to Watch and Keep Best Christmas Movies from Christmas DVDs
WinX DVD Ripper Platinum – Digitalize Xmas DVDs to avoid kids' scratches or disc missing issue. Fast rip (latest) Christmas DVD movies to MP4, H.264, AVI, WMV, MOV, iPhone, iPad, Android, Windows Phone, Surface Pro, PS3/4, Xbox etc, with crisp images and hi-fi audio for playback on PC/Mac/devices whenever wherever. It is also available to copy DVD to ISO/folder and backup main/full title to single MPEG2 file at 1:1 ratio helping you preserve best Christmas movies in digital files for a long time. Supports any input disc supported, be it 99-title DVD, damaged or scratched DVD, DVD with bad sector, region code DVD, PAL/NTSC DVD, workout DVD.
Part 1. Best New Christmas Movies 2021
If you need some fresh taste, the new Christmas movies coming out in 2021 are the best choice.
You, Me and the Christmas Trees (October 22, 2021)
Christmas in Harmony (October 29, 2021)
Love Hard (November 5, 2021)
The Princess Switch 3: Romancing the Star (November 18, 2021)
Christmas With a Crown (December 8, 2021)
Reba McEntire's Christmas in Tune (November 26, 2021)
The Great Christmas Switch (November 6, 2021)
A Castle for Christmas (November 26, 2021)
A Boy Called Christmas (November 24, 2021)
Single All the Way (December 2, 2021)
Part 2. 10 Best Christmas Movies Classics of All Time
Christmas themed movies vary in genres from fantasy, animation films for kids to comedy, romance films for whole family. Despite of genres, the best Christmas movies always remind us of happiest time of one year and tell what's important underlying the holiday, family, friends and lovers.
1. National Lampoon's Christmas Vacation
Release Date: 1 December 1989 in theater | 18 November 1997 on DVD
Director: Jeremiah S. Chechik
Stars: Chevy Chase | Beverly D'Angelo | Juliette Lewis
Production Companies: Warner Bros. | Hughes Entertainment
Genre: Comedy
Reviews: Clark Wilhelm plans to have a "fun-filled old-fashioned family Christmas" celebration, but bad luck continuously follows him and is worsened by family guests, turning the holiday into a big disaster. It's one of the funniest best Christmas movies, pretty suitable for enjoying on Christmas Eve with family.
2. Miracle on 34th Street
Release Date: 2 May 1947 in theater | 1 November 2004 on DVD
Director: George Seaton
Stars: Edmund Gwenn | Maureen O'Hara | John Payne
Production Company: Twentieth Century Fox Film Corporation
Genre: Comedy | Crime | Drama | Family
Reviews: Kris Kringle is hired as Macy's Department Store Santa to lead Thanksgiving Day parade replacing the drunken Santa actor. In order to prove that he is a real Santa Claus, Kris goes to court and finally get Doris the Macy's executive and her daughter Susan believe in him.
3. It's a Wonderful Life
Release Date: 25 December 1946 in theater | 19 September 1995 on DVD
Director: Frank Capra
Stars: James Stewart | Donna Reed | Lionel Barrymore
Production Company: Liberty Films (II)
Genres: Drama | Family | Fantasy
Reviews: The guardian angel Clarence visits earth on Christmas Eve to help George Bailey who gets involved in suicide for considering himself as a failure after receiving prayers to from George's friends and family. Clarence shows the terrible future of the town without George and makes him realize that the life is wonderful.
4. Love Actually
Release Date: 14 November 2003 in theater | 27 April 2004 on DVD
Director: Richard Curtis
Stars: Hugh Grant | Martine McCutcheon | Liam Neeson
Production Companies: Universal Pictures | StudioCanal | Working Title Films | DNA Films
Genres: Comedy | Drama | Romance
MPAA: R for sexuality, nudity and language
Reviews: Love Actually is the only Romance film of best Christmas movies. It is themed "Love is All Around" and tells loosely interrelated ten stories about love happened one month before Christmas in England. Someone is looking for the right person. Someone meets the wrong one. Someone is falling in love, while some others break up.
5. The Nightmare Before Christmas
Release Date: 29 October 1993 in theater | 2 December 1997 on DVD
Director: Henry Selick
Stars: Danny Elfman | Chris Sarandon | Catherine O'Hara
Production Companies: Touchstone Pictures | Skellington Productions Inc. | Tim Burton Productions | Walt Disney Pictures
Genres: Animation | Family | Fantasy | Musical
MPAA: PG for some scary images
Reviews: Jack Skellington, Pumpkin King of Halloweentown, gets tired of monotonous life, wondering deliver more joys to his town. Stumbling upon Christmastown, he decides to share idea of Christmas with Halloweentown citizens..
6. Elf
Release Date: 7 November 2003 in theater | 16 November 2004 on DVD
Director: Jon Favreau
Stars: Will Ferrell | James Caan | Bob Newhart
Production companies: New Line Cinema | Guy Walks into a Bar Productions | Gold/Miller Productions | Mosaic Media Group | Shawn Danielle Productions Ltd.
Genres: Comedy | Family | Fantasy | Romance
MPAA: PG for some mild rude humor and language
Reviews: Buddy was brought to North Pole with Santa's sack of gifts and grew up as an elf. Buddy determines to go to New York City in search of his birth parents when he is aware of his human identity.
7. Home Alone
Release Date: 16 November 1990 in theater | 5 October 1999 on DVD
Director: Chris Columbus
Stars: Macaulay Culkin | Joe Pesci | Daniel Stern
Production Companies: Hughes Entertainment | Twentieth Century Fox Film Corporation
Genres: Comedy | Family
Reviews: McCallister family plans a Christmas vacation to Paris and accidently leaves 8 year old Kevin alone in home. Instead of feeling unhappy, Kevin enjoys the hard-won freedom until two burglars Harry and Marv plans to rob his house on Christmas Eve. Indeed, it is one of the best Christmas movies appropriate for sharing with your kids.
8. A Christmas Carol
Release Date: 6 November 2009 in theater | 8 November 2010 on DVD
Director: Robert Zemeckis
Stars: Jim Carrey | Gary Oldman | Colin Firth
Production Companies: Walt Disney Pictures | ImageMovers | Reel Chefs Catering
Genres: Animation | Drama | Family | Fantasy
MPAA: PG for scary sequences and images
Reviews: On Christmas Eve, miser Ebenezer Scrooge is visited by three ghosts of his dead business partner Jacob Marley, who show Scrooge his youth, current situation and fates awaiting him. Suddenly awakening on Christmas Day, Scrooge takes on a journey of self-redemption.
9. The Polar Express
Release Date: 10 November 2004 in theater | 22 November 2005 on DVD
Director: Robert Zemeckis
Stars: Tom Hanks | Chris Coppola | Michael Jeter
Production Companies: Castle Rock Entertainment | Shangri-La Entertainment | Playtone | ImageMovers | Golden Mean | Universal CGI | Warner Bros.
Genres: Animation | Adventure | Family | Fantasy | Musical
MPAA: PG for scary sequences and images
Reviews: Besides A Nightmare Before Christmas and A Christmas Carol, The Polar Express is the third animation film in best Christmas movies list, presenting a hero boy's adventurous journey to the North Pole and Santa Claus's home by the powerful magical train called the Polar Express.
10. A Christmas Story
Release Date: 18 November 1983 | 28 September 1999 on DVD
Director: Bob Clark
Stars: Peter Billingsley | Melinda Dillon | Darren McGavin
Production Companies: Metro-Goldwyn-Mayer (MGM) | Christmas Tree Films
Genres: Comedy | Family
Reviews: 9-year-old Ralphie Parker is refuted with his mother, teacher and Santa of department store because he asks for a Read Ryder Range Shot 200 BB gun as his Christmas present. Eventually, he receives this dream gift from his father when the big day is arriving. It is believed that this best Christmas movie can recall Christmas days in everybody's childhood.
Part 3. 10 Best Christmas Movies on DVDs
The Grinch (Movie release date: 9 November 2018)
Fantastic Beasts: The Crimes of Grindelwald (16 November 2018)
Creed II (21 November 2018)
Ralph Breaks the Internet (21 November 2018)
Spider-Man: Into the Spider-Verse (14 December 2018)
Second Act (21 December 2018)
Aquaman (21 December 2018)
Welcome to Marwen (21 December 2018)
Holmes & Watson (25 December 2018)
On the Basis of Sex (25 December 2018)
Part 4. Top 10 Christmas Movies on Netflix, Hulu, Amazon Prime…
White Christmas (14 October 1954)
The Muppet Christmas Carol (11 December 1992)
The Santa Clause (11 November 1994)
Jack Frost (11 December 1998)
Mickey's Once Upon a Christmas (9 November 1999)
Bad Santa (26 November 2003)
Fred Claus (9 November 2007)
Krampus (4 December 2015)
Daddy's Home (25 December 2015)
Bad Santa 2 (23 November 2016)
Part 5. Top 10 Christmas Movies for Kids and Adults
1. Wonder Woman 1984 (December 25, 2020) | Action, Adventure, Fantasy
Plot from IMDb: Fast forward to the 1980s as Wonder Woman's next big screen adventure finds her facing two all-new foes: Max Lord and The Cheetah.
2. Parallel (December 11, 2020) | Action, Adventure, Sci-fi
Plot from IMDb: A group of friends stumble upon a mirror that serves as a portal to a "multiverse", but soon discover that importing knowledge from the other side in order to better their lives brings increasingly dangerous consequences.
3. Pitch Perfect 3 (December 22, 2017) | Comedy Movie
Plot from IMDb: Following their win at the world championship, the now separated Bellas reunite for one last singing competition at an overseas USO tour, but face a group who uses both instruments and voices...
4. Rogue One: A Star Wars Story (December 16, 2015) | Action, Adventure, Sci-Fi
Plot from IMDb: The Rebellion makes a risky move to steal the plans to the Death Star, setting up the epic saga to follow.
5. Sing (December 23, 2016) | Animation, Comedy, Drama
Plot from IMDb: A koala named Buster Moon has one final chance to restore his theater to its former glory by producing the world's greatest singing competition.
6. The Peanuts Movie (March 8, 2016)
The Peanuts Movie tells the classic incredible funny story of Charlie Brown, Snoopy, Lucy, Linus and the rest of the cute "Peanuts" crew. Charlie Brown, the world's most lovable underdog, embarks on an epic and heroic quest, while his best friend, the most endearing beagle Snoopy, takes to the skies to chase his enemy, the Red Baron. The Peanuts Movie will prove that every underdog has his day.
7. Point Break (March 29, 2016)
Point Break (2015) is tagged as a fast-paced, high-adrenaline action thriller movie on 2015 Christmas, presenting audience fantastic action adventure feats performed by world-class athletes. We will see big-wave surfing, wingsuit flying, sheer-face snowboarding, free rock climbing, and high-speed motorcycling.
8. Concussion (March 29, 2016)
Best Christmas movie 2015 Concussion starring Will Smith is a dramatic sports thriller based on the incredible true story of American immigrant Dr. Bennet Omalu against National Football League (N.F.L). Medically, the brilliant forensic neuropathologist discovered CTE, a football-related head trauma or subconcussive blow, was inside a pro football player which makes himself have an urge to commit suicide. Then Bennet Omalu fought for the truth to be known. Joy is the story of a family across four generations and the woman who rises to become founder and matriarch of a powerful family business dynasty.
9. Star Wars: Episode VII - The Force Awakens (April 5, 2016)
As a high-profile Christmas movie of 2015, Star Wars: Episode VII – The Force Awakens is released in theaters on December 18. And its popularity is evident in its trailer views on YouTube. On November 28 th, 2014, the first teaser trailer of Star Wars 7 was released on YouTube. Surprisingly, this video received about 72 million hits within one week, exceeding that of Jurassic World (53.9 million hits) and Avengers 2: Age of Ultron (50.6 million hits), as one of the 2014 hottest trailers in YouTube.
10. Joy (May 3, 2016)
Joy is an American comedy-drama Christmas movie released by 20th Century Fox and written and directed by David O. Russell. This best Christmas movie is about a struggling single mom of three children, Joy Mangano, who invented the "Miracle Mop" and is the President of Ingenious Designs, LLC. It stars Jennifer Lawrence as Mangano, Bradley Cooper, Robert De Niro, and Édgar Ramírez.
Part 6. Best Way to Keep Your Christmas DVD Collection Better - Backup as Digital Files
There are multiple reasons to rip and backup best Christmas DVD movies for kids, protecting from being broken/scratched, playing them on portable devices during Christmas vacation and so on. WinX DVD Ripper Platinum, a powerful DVD ripping tool, enables you to rip best Christmas DVD movies (including ripping copy-protected DVDs) to any popular formats (MP4, AVI, MOV, WMV and more), devices (iPhone, iPad, Samsung Galaxy, Windows Phone, Surface Pro etc.) at a very high speed and deliver possible highest quality due to built-in High Quality Engine. It also allows you to backup best Christmas DVD movies at 1:1 ratio in 4 modes, DVD to ISO, DVD to VIDEO_TS Folder, main/full title to a single MPEG 2 file.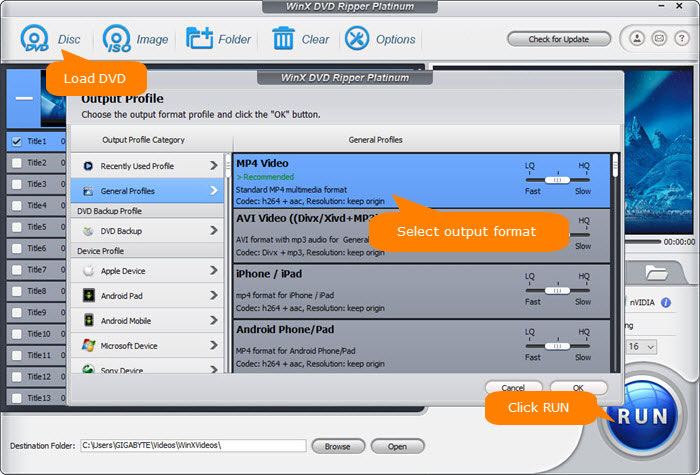 How to Backup Christmas DVD Movies?
At the beginning, you need to download and install WinX DVD Ripper Platinum on your (Windows 10) PC. Mac user please switch to the Mac version.
Step 1. Import DVD in DVD drive. Launch WinX DVD Ripper Platinum and hit DVD Disc button. Alternatively, you can import ISO image or DVD folder as movie source.
Step 2. All titles of the Christmas DVD will be loaded. And, main title will be automatically selected. Meanwhile, Output Profiles pops up.
There are many profile category supported, General Profiles, Backup Profile, Device Profile, Web Video Profile, Music Profile etc. Select the most appropriate profile according to your needs. It is recommended to select MP4 as output format because it is widely compatible with diverse players and devices.
Step 3. Hit Browse button to set destination folder and click RUN button to start ripping your Christmas movie DVD.
Note: The software developer only advocates ripping/copying Christmas movie DVDs for personal use and suggests referring to the DVD copyright laws in your countries before doing so.
Still have trouble about how to rip and copy Christmas DVDs? Please feel free to Email Us >>