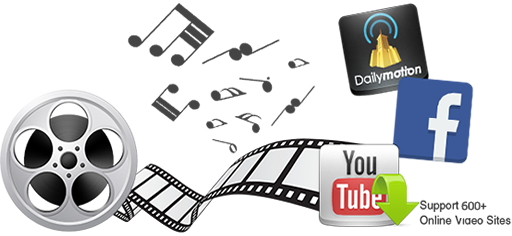 How to Free Download Foreign Movies?
WinX YouTube Downloader -
Free download foreign/English movies from YouTube, Dailymotion, nicovideo.jp, youku, etc.

VideoProc -

Download & convert foreign/English movies to common formats/devices.

WinX HD Video Converter can save (and convert, natch) videos from the likes of YouTube, and output presets for every portable device from Android to Windows Phone.
- Rick (CNET Editor)
Best 5 Foreign Movies around Christmas
There're many fantastic foreign language movies, such as Winter Sleep, the Golden Palm winner at the 67th Cannes Film Festival. Are there any great foreign movies around Christmas? When the foreign films, if any, are released in USA? And can I watch the foreign movies online or download them to my iPhone, iPad or other mobiles? All questions will be answered one by one.
No.1 Best Foreign Movie around Christmas
- Die geliebten Schwestern(Beloved Sisters)
Country: Germany
Language: German
Director: Dominik Graf
Plot: Two sisters named Caroline and Charlotte vow to share everything. When both of them fall in love with Schiller, a controversial young poet and playwright, they decide to share their love with Schiller...
Watch it because: Its premiere is in the competition section of the 64th Berlin International Film Festival and it has been selected as the German entry to compete for Best Foreign Language Film at the 87th Academy Awards.
>> Watch and Backup Best Oscar Motion Pictures Winners and Nominees 2016
No.2 Best Foreign Movie around Christmas
- Deux jours, une nuit (Two Days, One Night)

No. 3 Best Foreign Movie around Christmas
- Mommy

Country: Belgium, Italy & France
Language: French
Director: Luc Dardenne, Jean-Pierre Dardenne
Plot: A young mother Sandra discovers that her 16 co-workers have determined to make Sandra redundant to get monetary bonus. And then she must make use of a weekend to persuade her colleagues to reject the bonus and keep her job.
Watch it because: This is another entry for the Best Foreign Language Film at the 87th Academy Awards. And it once competed for the Golden Palm at the 2014 Cannes Film Festival and won the Sydney Film Prize at the Sydney Film Festival.

Country: Canada
Language: French
Director: Xavier Dolan
Plot: Diane Després is a windowed single mother. It is very difficult for her to raise her troubled and violent son until her mysterious neighbor Kyla comes to help.
Watch it because: This foreign movie won the Jury Prize at the Cannes Film Festival. Like the first two foreign movies, it is also one of the Best Foreign Language Film entrants at the 87th Academy Awards.
No. 4 Best Foreign Movie around Christmas
- Song of the Sea

No. 5 Best Foreign Movie around Christmas
- Zero Motivation

Country: Ireland
Language: Irish, English
Director: Tomm Moore
Plot: This animated movie follows young Ben and his little sister Saoirse on a fantastic journey. Saoirse is the last of the selkies. She holds the power to bring the ancient stories their mother told them to life. To keep these tales alive, Saoirse needs to find her voice, and Ben needs to overcome his deepest fears.
Watch it because: This foreign movie has received many highly positive reviews. According to Hollywood Reporter, "Song of the Sea is another satisfying smack in the face of computer-generated 3D animation from Irish director Tomm Moore, after his earlier, Oscar-nominated The Secret of Kells."
>> Free Download Classic Funny Cartoons Movies Videos on YouTube
>> Free Download Full-length Animation Movies 3D, 4K, 1080P, 720P

Country: Israel
Language: Hebrew
Director: Talya Lavie
Plot: A group of young female soldiers working at a remote desert base. Every day, they do chores and play computer games to pass the time. And all of them are looking forward to returning to civilian life.
Watch it because: Opinions to friendship, love and country are perfectly handled with humor and sharp-edged wit. And it has got 8 wins and 6 nominations at the Israeli Film Academy Award.
Also read: Best New Christmas Movies on Netflix, Best Christmas Movies for Kids, Christmas Party Ideas
How to Free Download Foreign Movies from YouTube or Other Sites for 2018 Christmas?
It is very easy to free download foreign language films, say, "Beloved Sisters", "Two Days, One Night", and "Mommy" from YouTube and other 1000+ video-sharing sites with VideoProc, Only several mouse clicks are required to free download SD, 720p, 1080p, 4K UHD and 3D movie videos on Windows and Mac computers.
Step 1. Click "Add Video" to add the URL referring to a foreign language movie address.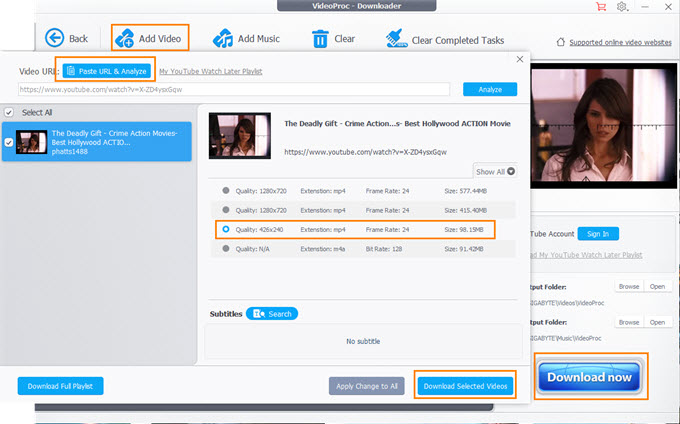 Step 2. Analyze URL and then choose video resolution for your movie.
Step 3. Hit "Download now" to move to the process of foreign movie downloading.
Besides downloading Beloved Sisters and other foreign movies, Christmas movies, you may also want to use VideoProc to convert videos to MP4, H.264, H.265, AVI, WMV, MOV, etc. or Apple/Android/Sony/Microsoft devices playable formats, extract audio from videos, edit videos, and record video.
VideoProc - All-in-one video converter, video editor, video music downloader and recorder.