5 Methods to Fix 0xc10100be Video Error Code on Windows 10/11
You'll find possible solutions here if you get the following error message: "This file isn't playable. That might be because the file type is unsupported, the file extension is incorrect, or the file is corrupt. 0xc10100be".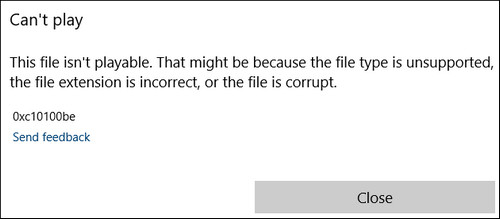 0xc10100be is a very common error code when you try to play a video with Windows Media Player or Movies & TV app on Windows 10 or 11. This error code will show up even if you try to play a mainstreaming video format like MP4 and MOV. But don't worry, it's easy to fix.
Table of Contents
Part 1. Why Does 0xc10100be Error Code Appear?
Actually, the reasons for 0xc10100be have been detailed in the error message:
The file type is unsupported.
The file extension is incorrect.
The file is corrupt.
Your video file may get corrupted due to various reasons, such as virus infection, sudden interruption during video transfer, editing, viewing, saving or uploading, sudden power off, corrupt storage drive with bad sectors, etc.
Another possible cause for 0xc10100be is that copy protection feature of Windows Media Player is on.
Part 2. How to Fix Video Error 0xc10100be?
Based on the reasons above, we suggest you try the following methods to fix 0xc10100be video not playing error.
Method 1. Try a different video player
When the default media player gives 0xc10100be error code due to unsupported file type, you can download and install a third-party video player such as 5KPlayer, VLC media player, and Media Player Classic. There are many video players that support a wide range of file formats.
Method 2. Install required codec
Since 0xc10100be may be a result of codec missing, you can check your video codec and download and install the required codec. We suggest you try K-Lite Codec Pack which can help you play almost any video file type.
Method 3. Convert your video
Changing video file format can also fix 0xc10100be caused by incorrect extension and unsupported format. A great video converter is Free Video Converter. This tool can convert virtually all videos to a format supported by Windows PC, Mac, TV, iPhone, iPad, Android, YouTube, etc. It transcodes video fast without degrading quality. You can download it and follow the steps to try fixing 0xc10100be error.
Step 1. Open WinX Video Converter and click + Video button to load the file that can't play but generates 0xc10100be error code.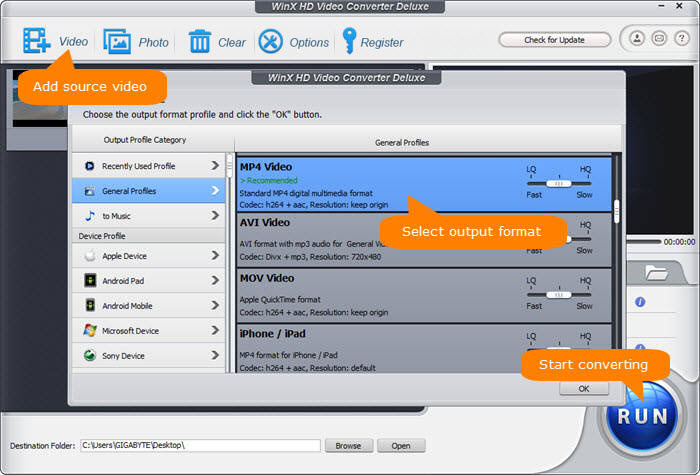 Step 2. Choose an output format based on where you want to play the video. For example, if you want to play the video on Windows, scroll down to PC General Video and choose a desired format such as MP4 Video.
Step 3. Hit the blue RUN button to begin converting video. By default, it will enable hardware acceleration if your computer supports to boost video decoding and encoding. Once done, try playing the new file and see if 0xc10100be disappears.
Method 4. Repair corrupted video
If you have tried above methods but still get 0xc10100be, your video may be damaged. In this case, you can try to repair your video file with dedicated video repair software such as Stellar Repair for Video or with VLC. What you need to know is that VLC's repair feature is for AVI file only, so you may need to change the file extension to .avi first. Then, follow the steps below to try fixing corrupted file with VLC.
Step 1. Open VLC and click Tools -> Preferences.
Step 2. Click Input/Codecs.
Step 3. Click the drop-down menu of Damaged or incomplete AVI file and choose Always fix. And click Save.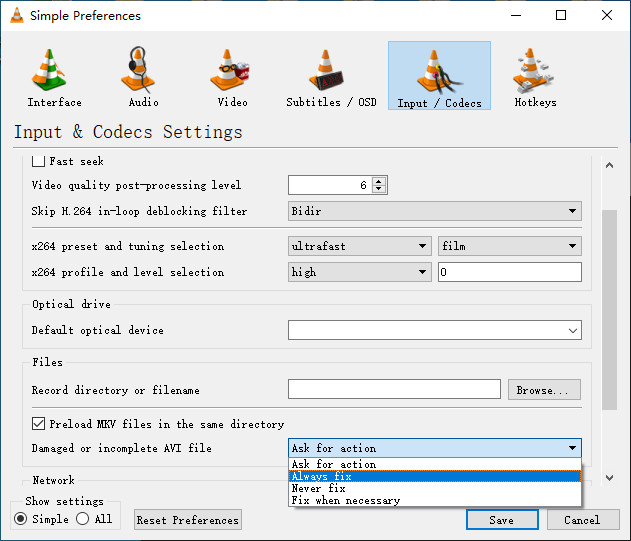 Then, try playing your video again.
Method 5. Disable copy protection feature in Windows Media Player
Sometimes 0xc10100be occurs without any other reason but because the copy protection feature of Windows Media Player is on. You can try disabling it and see if it works.
Step 1. Open Windows Media Player.
Step 2. Tap on Organize and choose Options….
Step 3. Click the Rip Music tab and uncheck the Copy protect music option below the Rip settings. And click OK.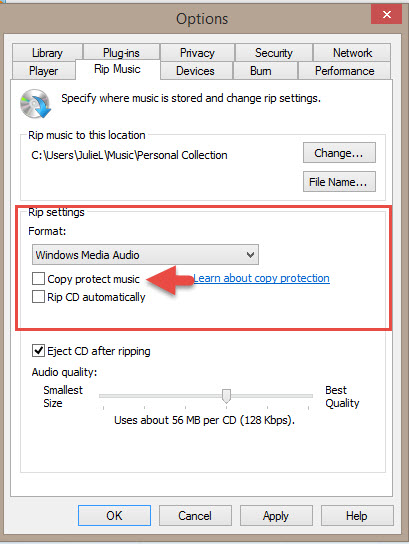 So these are 5 methods you can use to fix video error code 0xc10100be on Windows 10/11. Hope you can play your video without error now!