Posted by Kaley Torres - Contact Author

[Review] Best 4K Blu-ray Player Ranked by Users
The best 4K Blu-ray player products in most review aricles are selected by the writers. Some probably have tested those players on their own, but their conclusion tends to not be convincing enough with just one test for each. Others, who boast themselves with hands-on practice, actually didn't even touch the real 4K Blu-ray player. In such cases, will you still buy the story they offer?
If not, you can consider to listen to the suggestions from the real users. They had used the 4K Blu-ray players and gave the feedbacks on the website. What I do is just sift through the best ones from a heap of 4K Blu-ray players grounded on the users' review.
Review of Top Five 4K Blu-ray Players 2019
#1. Panasonic DP-UB9000
Average User Rating: ★★★★★ (based on 13 votes on crutchfield)
Price: $999.99
Pros: 1. Exceptional audio playback quality for music and surround sound.
2. More tone-mapping options are available for different 4K TV or projector brightness levels.
3. Upconvert standard Blu-ray and DVD to 4K resolution and wireless stream 4K content.
4. HDR optimizer is very useful to optimize HDR content for a 4K TV or projector without HDR.
Cons: 1. Unable to output audio from HDMI and analog simultaneously.
2. The price is high.
3. Not support to play SACD or DVD-Audio discs.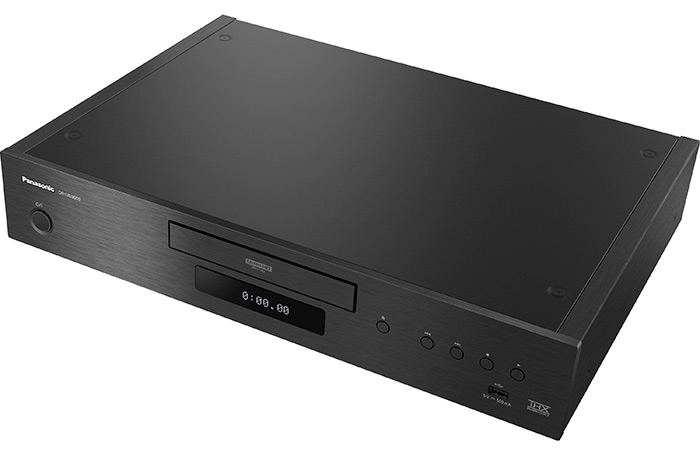 Panasonic DP-UB9000 comes to be our first pick due to various reasons. Chief among them is the extraordinary audio and picture quality. As for 4K/HDR content, Panasonic's HCX (Hollywood Cinema Experience) processor brings you precise HDR and color processing for unexceptionable color, ins and outs. Its built-in HDR (High Dynamic Range) with supports of Dolby Vision, HDR 10+, Hybrid Log-Gamma (HLG), including HDR TV Type, HDR optimizer, HDR-to-SDR conversion, is well-degined to better match your display concerning picture contrast and brightness. And this best 4K Blu-ray player can flawlessly decode audio of Dolby® Digital, Dolby TrueHD, DTS®, and DTS-HD Master Audio. More importantly, the separation and clarity of surround sound would be definitely beyond your expectations.
Beyond that, one of the things we adore this 4K Blu-ray player with Dolby vision is the fact that it supports an expansive library of inputs, be it Ultra HD Blu-ray discs, 3D and standard Blu-ray discs, DVDs, CDs and rewriteable discs, encoded with whatever audio formats like AAC, AIFF, ALAC, DSD (.dff and .dfs files), FLAC, MP3, WMA, WAV, etc. If you need more detailed info, access to the official website to know more.
User Review: Panasonic thought of almost everything. Worth every penny! - Crutchfield customer from Reisterstown, MD on 8/24/2019
#2. Panasonic DP-UB820
Average User Rating: ★★★★☆ (based on 241 votes on bestbuy)
Price: $499.98
Pros: 1. Support most types of DVDs and Blu-ray discs.
2. Support Dolby Vision, HDR 10+, Hybrid Log-Gamma (HLG).
3. The price is acceptable.
Cons: 1. The 3D Blu-ray disc is unsupported.
2. Lack the supports of HDR TV Type, HDR Optimizer and HDR-to-SDR conversion.
3. All movies in Netflix streaming are converted to Dolby Vision, which will result in the negative effects on the original quality of the movie.

Compared with the above Panasonic BR player with Dolby vision, this one is much cheaper, around half of its price. Yet, the basic performance it delivers is marvelous and spotless: remarkable picture and audio quality, alongside with the wide selection of disc and audio formats support, e.g., CD-R/RW, DVD±R/RW, DVD, CD, DVD+R DL, BD-R, BD-RE, BD-ROM, WAV, WMA, AAC, AIFF, MP3, FLAC, DSF, DSD, ALAC, DFF, MPEG-2. This 4K Blu-ray player with Wi-Fi also features the same audio decoding for Dolby® Digital, Dolby TrueHD, DTS®, and DTS-HD Master Audio as Panasonic DP-UB9000.
The biggest gripe from users' review is the lack of HDR TV Type, HDR Optimizer and HDR-to-SDR conversion features, which can maximumly to adjust and optimize HDR content to best suit your display brightness and picture contrast based on different types of 4K TVs.
User review: I came from using an xbox 1 s and the difference is great. I wasnt to sure If I should buy it but I'm glad I did. - from Aztekcortez on bestbuy 1 year ago.
#3. LG UP870
Average User Rating: ★★★★☆ (based on 64 votes on Walmart)
Price: $197
Pros: 1. The price is low.
2. Support HDR10.
3. Upscale 1080p and 4K 2160p.
Cons: 1. HDR10+, Dolby Vision®, and HLG are unavailable.
2. Unable to wirelessly streaming 4K content.
3. Only 1 HDMI output.

You might have this doubt why this 4K HDR Blu-ray player can be placed at the 3rd seat, since it only owns bare-bones features. Yes, this Blu-ray player can't provide you with the advanced features like streaming 4K content via Wi-Fi, playback 4K Blu-ray disc with Dolby vision HDR, double HDMI 2.0a ports connection. However, it wins the market share of 4K HDR Blu-ray players on account of its price advantage, less than half of the Panasonic DP-UB820 price and one fifth of the Panasonic DP-UB9000 current rate.
For those who are budget-minded and all you need is something that plays 4K UHD Blu-ray disc smoothly with all-right PQ and AQ, this top 4K Blu-ray player from LG is worth your investment.
User review: I thought this unit would be cheap because I got it for $99 during the Black Friday sale. It has not disappeared. I am playing burnt dvds on a regular HD TV and the picture quality is amazing. I have two Xbox scorpios hooked to 4K TVs and I think this LG produces a better picture. - from metroatlantacomputers on Walmart, 2 years ago.
#4. Sony UBP-X700
Average User Rating: ★★★★☆ (based on 524 votes on Amazon)
Price: $199.99
Pros: 1. HDR 10 and Dolby Vision support.
2. Hi-res audio playback.
3. 4K Ultra HD upscale and video/DVD upscale supported.
4. Resonable price. And the streaming service/app is available.
Cons: 1. Not so much great for streaming as those dedicated 4K Blu-ray players.
2. Dolby vision is needed to be automatically turned on/off.
3. It's hard to distinguish the buttons on the remote, especially in the dark.

What price, what goods. Generally, it works quite well. But nothing is absolute. There is always something that is indeed good and inexpensive. Sony UBP-X700 is the very one. With superb image and audio processing and seamless support for both HDR10 and Dolby Vision HDR, this awesome 4K Blu-ray player with Dolby vision is the second-to-none option for those meant to make their home theatre to a new height.
As mentioned before, Sony UBP-X700 is compatible with HDR10 (supported by most manufactories and movie studios), Dolby Vision HDR (supported by some 4K Blu-ray discs and streaming services) and Dolby atmos/DTS:X formats. Once your 4K TV displays a 4K resolution with true HDR and WCG support, your 4K Blu-ray disc played by Sony UBP-X700 can look more dynamic and colorful than majority of normal movie theatres. Certainly, one of the extra bonuses we like most about this 4K HDR Blu-ray player is that it upscales HD and standard DVD to 4K resolution in a way that is faster, easier and better than other players in the same price class.
User review: Good user interface, great features, and easy to configure. Only complain is the power supply adapter that comes with it. - from Virginie Gentillet on Amazon, 1 and half years ago.
#5. Pioneer UDP-LX500
Average User Rating: ★★★★☆ (based on 30 votes on Amazon)
Price: $895.49
Pros: 1. Support HDR10, Dolby Vision, HDR10+.
2. Three-block internal layout (power supply, drive/Digital processing, analog audio) and 6-Layered main circuit board for high S/N Ratio.
3. Highest possible quality for image and audio sound.
4. It's much more convenient for users to select from the SDR/HDR preset modes based on their different displays.
Cons: 1. No internal streaming service.
2. The price is expensive.
3. Not the best option for the beginners.

Opening Pioneer UDP-LX500 official product webpage, you would be surprised to find that this 4K HDR Blu-ray player isn't explained like the afore-mentioned 4 players with specs and a concentrated product highlights. Instead, it shows off its uniqueness.
It's a premium version of standard 4K BR player, suitable for users with high demands on video and audio quality. See, this 4K Blu-ray player with Dolby Vision is well-crafted with three-block internal layout to eliminate electrical and magnetic interference among the blocks of power supply, drive/digital processing, and analog audio.The Double-Layered Chassis structure is designed to guarantee a low center-of-gravity and to offer a most stable reading of Blu-ray/DVD disc. And Pioneer's PQLS jitterless transmission delivers the best possible digital-to-analog conversion. That's the reason why music lovers prefer it to enjoy its killer picture & audio quality.
User review: Man I wanted to love this device. I really, really did. It's a gorgeous piece of equipment which looks great on a rack and plays Blu Rays like a boss. The Blu ray aspect of this device is absolutely killer. The picture and audio quality was outstanding. - from Tony Stark on Amazon in April, 2019
Best 4K Video Player for Windows & macOS: The Key: Play 4K UHD video with H264, HEVC, MP4, MKV, VP9, AVI, whatever codec/format

Try with 5KPlayer