iPad Storage Full? Top Methods to Free up iPad Space
iPad Storage Is Full. How to Clear Space on iPad?
Despite that the storage of iPad is larger and larger, users can still run out of the space one day. After all, there're so many Hollywood Bollywood blockbusters to download and watch, so many euphonious songs to download and listen to, so many landscapes and meaningful moments to shoot, and so many apps and games like Pokémon GO to install and enjoy in leisure time. So what to do if some day iPad storage full error message pops up frequently asking you to manage and clear storage on iPad for normal use? Take it easy if you have no ideas. We have compiled the 5 most useful methods to free up iPad Storage.
Bulk Copy Files from iPad to Windows/Mac to Free up Space
Download and try WinX MediaTrans to bulk copy and transfer photos, music, videos (4K movies/TV shows), e-books, Voice Memos, podcasts, iTunes purchases, etc, from iPad iPhone (latest model supported) to Windows/macOS to free up space. It also enables you to backup all the iPhone files or selectively backup iPad iPhone files to computer to avoid file lossing before upgrading to iOS 16.
Best Solutions to Fix iPhone Storage Full Problem
How to Manage Storage on iPad When iPad Storage Is Full?
When you get iPad storage almost full message, you'd better check your available storage space firstly.
Go to "Settings" application, locate "General" and tap it, hit "Usage", then you will see your available storage and used storage under the STORAGE part. Further, you can hit "Manage Storage" option to check which app eats a significant amount of space and decide which measure you should take. Method 1. Transfer photos, music and videos to computer before deleting on iPad
In most cases, Photos & Camera ranks No.1 when we check the iPad storage. Music and Videos are also in the front of the queue. To clean iPad storage, just delete the photos, music and videos instantly? I bet almost all are reluctant to delete them. So before deleting media on iPad to get rid of iPad storage full message, you'd better transfer photos, music and videos to computer via WinX MediaTrans or backup iPad media to cloud storage. Method 2. Delete seldom used apps, and delete and reinstall apps with bloated data
Check all your apps and see if there's an app that is used rarely. If there is, just delete it and you will get dozens of or hundreds of MBs storage in your iPad. Hold the icon of the app you want to uninstall until all the icons on the Home screen begin to wiggle, and then tap on the cross of the upper left corner of the icon. Besides, delete-and-reinstall is also a good way to get more storage on iPad. When check app storage, we can easily find that an app itself may not occupy that much space on your iPad, but the documents & data coming with this app take up a sizable chunk of your iPad storage. So delete this app and reinstall it again, then you will get a slim app and iPad.
Method 3. Clear old messages
Clearing old messages is a helpful way to fix iPhone storage full as well as iPad storage full issue. A large amount of space will be eaten if you send and receive a lot of images and videos via the Messages app of iPad. Therefore, you can increase storage on iPad by deleting old and useless messages.
Open Messages, press the "Edit" button located at the top of the list of conversations, select the conversations you want to delete, and then tap "Delete" at the bottom of the conversation list to erase them at one go. Method 4. Set iCloud Photo Library
After upgrading to iOS 8, iPad users can get a new feature - iCloud Photo Library which is designed to automatically upload and store all of your photos on your iCloud Drive, thus making them instantly available on any of your devices. That is to say, every device with this feature enabled will download a copy of each photo onto the device's local storage.
To use iCloud Photo Library without taking massive iPad storage, you're suggested to store smaller versions of the image on your local storage while keeping full-quality versions on iCloud Drive. Go to "Settings", tap "iCloud", tap "Photos", ensure iCloud Photo Library is on and select "Optimize iPad Storage". Afterwards, your iPad will store optimized versions of photos only. It is a very effective way of solving iPad storage full error. Method 5. Clear browser cache and offline reading list
If you devote too much time to surfing the internet, your browser probably has much cache and should be responsible for iPad storage full error.
To clear Safari cache: Settings -> Safari -> Clear Cookies and Data. Optionally, you can hit "Advanced" to delete data selectively.
To clear Chrome cache: tap Menu icon, go to Settings -> Privacy -> Clear Browsing Data.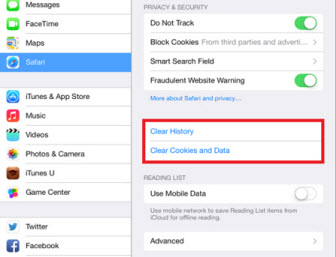 What's more, deleting offline reading list can also free up some space on iPad. To delete it, go to Settings -> General -> Usage -> Safari -> tap on "Edit" button on the top right -> tap the red delete button.
Besides, there are many other tips to help you stay far away from iPad storage almost full prompt, such as disable Background App Refresh, reset iPad. If your iPad keeps saying that storage is almost full after deleting photos, apps and trying other methods recommended above, please reboot your iPad and see if it works normally.