Can't Download Pokémon Go on iPhone in Your Country? This Issue Comes to an End!
How to Free Download and Install Pokémon Go on iPhone in Any Region/Country Without Jailbreak?
These days, you must be surrounded by Pokémon Go. Pokémon Go appears when you read news, browse YouTube videos, open Twitter, Facebook or any other social networking app, walk on the road, etc. It is no exaggeration to say that the whole world is playing Pokémon Go, or on the way to get Pokémon Go because this highly popular game isn't available in all countries. So, if you're not live in one of the supported areas, you can't download Pokémon Go on your iPhone or other Apple devices from App Store or Android from Google Play Store in a regular way. However, there's a will, there's a way. People from other countries can still get Pokémon game downloaded in a special solution.
In this post we will show you how to download Pokémon Go on iPhone for free. For Android users who want to embrace Pokémon Go craze, please switch to download Pokémon Go for Android.
How to Free up Space of iPhone to Download Pokémon Go?
Move iPhone Files to Computer via WinX MediaTrans
Copy photos, videos, music, etc from iPhone to computer quickly;
Later, allow you to delete media files in batch easily.
Available for all iPhone models for clearing storage.
How to Download and Install Pokémon Go for iPhone in Any Location?
Before we clarify how to get Pokémon game on iPhone, we'd like to let you know:
Pokémon Go is free to play and offers in-game purchases;
Network connection and GPS capability are necessities;
Pokémon Go can be downloaded to iPhone with iOS Version 8 - 17 installed. iPhone 4s or earlier iPhone aren't supported.
How to download Pokémon Go on iPhone if you aren't in launch countries?
Step 1. Sign out of your Apple ID on iPhone.
Go to Settings of your iPhone, locate iTunes & App Store and tap it, tap on Apple ID: **@**.com (your current email), and then hit Sign Out.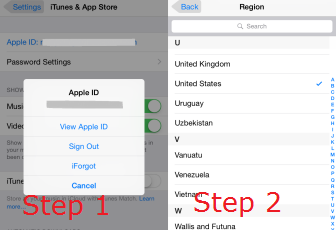 Step 2. Change the region on your iPhone.
Back to Settings, hit General, tap on Language & Region, and then tap on Region and check off a country that is in the Pokémon Go supported countries list, for example United States.
Step 3. Create new Apple ID on iPhone.
Back to App Store on your iPhone, search for Pokémon Go, "GET" it and hit "Install". (Tap Change Store if it says the item isn't available in the current store or it stays stuck on your previous region.)
Check "Create New" in the pop up. Then, you should fill out the required information. Address and phone number should be from the region you set before. Don't worry about this. You can google out easily. Tap on "None" if credit card details are required, otherwise you need a credit card from the specific region chosen.

Shortly, a confirmation email asking you to verify Apple ID will be sent to you. Just verify it according to instruction.
Step 4. Download and install Pokémon Go for iPhone.
This is the final step. You just need to download Pokémon Go as people in U.S. or other supported regions do: search for Pokémon Go ->tap Get -> tap Install -> login in your new U.S. iTunes Account if you aren't already signed in.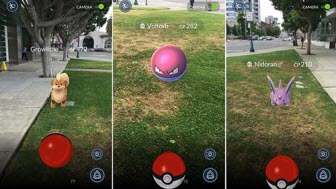 Later, you can play the highly popular Pokémon game on iPhone, discovering and capturing the Pokémon all around you in the real world.
Notes and Warnings:
When you need use your existing apps and games, you should change the region back to your local country and your iTunes account back to your local account. When you want to play Pokémon Go, switch to U.S. and U.S. account.
Once Pokémon Go is available in your region, you can sign back in with your old Apple ID. But you may need to re-download Pokémon Go on your iPhone. Luckily you'll be able to play Pokémon Go where you left off, because your data is saved to the cloud.
Make sure you have enough data to play Pokémon Go, because this graphically-rich and always-on game will consume a fair amount of data.
One of the most important tips for Pokémon Go players is turn on Battery Saving mode built in this game app. It helps you save much battery without missing a nearby Pokémon.
Keep yourself in a safe place while playing Pokémon Go outside especially on the road.
For more information about Pokémon Go, you can refer to Pokémon Go at Wikipedia or Pokémon Go official site.