Pokémon GO Countries Availability List: Can You Download and Play?
Please check this Pokémon GO countries/regions list for the free download and availability.
- "Pokémon GO is soooo hot on the internet, but it seems that I could not download it. Is it already available in my country, or due to the server issues?"
Pokémon GO is a fast-rising Virtual Reality mobile game that needs going to the real world for gameplay. This Pikachu game soon becomes the phenomenally big hit in 2016. It is something that combines global people together and also that makes the players even crashed their cars and had other traffic accidents. >>See the Pokémon GO Guide and Tips
By far, Niantic, the developer, is struggling to make it online in more places. The most recent launches were in Japan on July 22nd, France on July 24th, and Hong Kong on July 25th. Extensively, there are over countries where Pokémon GO game is available so far. This article is going to show you the list of countries with Pokémon GO availability. Beyond all question that the San Francisco-based developer made the debut stateside in the U.S. on July 6, 2016. Just check out what else countries have had the arrival.
Already Downloaded Pokémon GO? Make More Space for It Then!
Movie out Media Files in iPhone with WinX MediaTrans
Export pictures and photos from iPhone to PC (Windows 10);
Transfer all or part of videos and movies to computer/hard drive;
Sync and manage music files and playlists on iPhone.
Pokémon GO Country List
Is Pokémon GO Downloadable in Australia?
Yes and first. Pokémon GO first became available in Australia and New Zealand (on July 6). Lucky for them!
Is Pokémon GO Playable in Belgium?
Slowly but yes. Pokémon GO officially became available in four more countries including Belgium on July 15.
Is Pokémon GO Out in Canada?
Positive at last! Canada is the last country to have the official release of this mobile gaming sensation until July 17 (on Sunday afternoon). But the server of the app is still unstable, so it'd better if players in Canada wait a longer time.
Is Pokémon GO Out in China?
No, sadly for the biggest gaming market. But Chinese players have long since tried every means to give a touch. They downloaded Pokémon GO from third-party websites or buying it via overseas app stores, then buyed IDs for Apple's Australia-based app store from Taobao, and then used a VPN and also a virtual GPS.
But it is believed that there'll be a knockoff, customized version or similar Pokémon GO game in China sooner or later.
Has Pokémon GO Released in Dubai?
No, not yet in the UAE. But it seems to have made its way over to Dubai, and is slowly beginning to take over. How? Please read on.
Can People in Greece Play Pokémon GO?
Yep, since Greece is one of European counties.
Is Pokémon GO out in India?
No. Until now, there's no elfin to catch in the vast land with area of 1.269 million square miles.
Is Pokémon GO out in Iceland?
Yes, on July 16. And before that when the mobile game was not released in Iceland yet, the popular mobile game is already taking off here.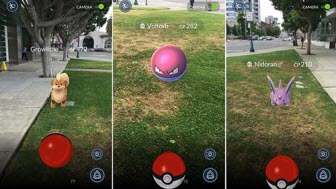 Pokémon GO in Japan
[Updated today] Japanese citizens and residents are finally able to download and play "Pokémon Go" today! Just imagine how crazy it will be. It was odd that Pokémon GO had not been landed earlier in Japan, the birthplace of the Pokémon, the original Nintendo games and also Pikachu animation. Actually, the July-20's launch was canceled and postponed all because of the sponsorship (McDonald) Email leak.
Pokémon GO Korea
No. Major markets yet to have official access to the game include the majority of Asian countries.
Pokémon GO Malaysia
No. The recent news shows that Southeast Asia region gets servers, including Hongkong, Japan and India, but Malaysia is not on the list yet.
Pokémon GO Mexico
Pokémon GO is not officially accessible in Mexico, and people there and also in other countries and regions are turning the game into brilliant political satire.
Pokémon GO South Korea
No. The rival game is not technically live in South Korea. But the Fishing Town is considered as Pokémon GO haven.
Is Pokémon GO Downloadable in Taiwan?
Taiwan is not in the white list of Pokémon GO country availability. It has to wait a longer time.
In conclusion, this mania firstly came to U.S, Australia and New Zealand on July 6, before the official release in Germany (July 13), and UK (July 14). Ten days later, the massive European rollout happened and 26 new countries are included in the Pokémon GO available list. There are rumors that it'll be coming out in Asia sometime this week, but the trusted Pokémon GO Asia release date hasn't been confirmed. The server issues are being tried to be settled.
>> Pokémon GO Regional Availability, List of Asian Countries using Pokemon GO APK File
How to Play It if Pokémon GO Is Not Yet Available in Your Country?
Players who can't download from the Play Store can try their luck by the following method without having to wait for the game's staggered launch to hit your region finally:
Side-loading the app from APK Mirror, or specifically, bypass Apple's location settings so you can download the game anywhere worldwide.
iPhone users for example, can make the phone believe that you are in a country where the game is already available.
Step 1. Launch "App Store" and sign out of your own account;
Step 2. Enter "Settings" from home screen and go like Settings > General > Language & Region. Select the US, Australia or any country that has the official release of the game.
Step 3. Go to App Store and search for "Pokémon GO" and hit it for downloading. It will be a slow process. Please wait in patience.
Note: If it says that the item does not exisit in your current store, click Change Store, or choose to download any free app and select "Create New Apple ID".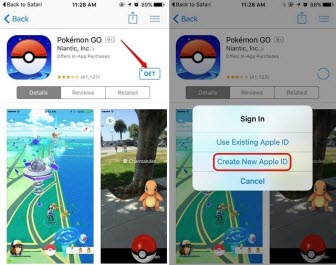 Step 4. Launch your Mail application to verify the email address you have just used for your new US account.
Step 5. Go back to the Pokémon GO listing on the App Store, tap get, install and login to your new US iTunes account.
However, unsupported regions may not have any Pokémon or Pokestops. Scilicet, you may only download the game but not play it. So, you may have to get a VPN or other virtual network service.