Best App for Cleaning iPhone - Clear Useless Data on iPhone
The storage of iPhone is invariably a pesky issue. Day by day, users are prompted with the message "no enough free space available" and to "manage storage". To get rid of this, some will spend around $100 for a higher GB version. But most people think it's not worthy. They prefer to use an iPhone cleaner app to clear useless data and free up space. There are many such apps in the market. Well, what is the best app for cleaning iPhone? Check out our picks for the best iPhone cleaner apps.
No More Deleting Things. Try a New Concept of iPhone Cleaner!
We Recommend to All iOS Users: WinX MediaTrans
Move big media files out of iPhone to computer or external hard drive.
Free up space for installing more apps and taking in new things.
Photos, music and videos can be saved to iPhone USB drive and watched offline.
Top 9 Best Apps for Cleaning iPhone
Best iPhone Cleaner Apps
At number one on our list is the Clean My Photos iPhone storage cleaner app. If you're currently paying for storage space to Apple, here's how to save yourself money every month and hours of time.
Clean My Photos makes it super simple to reduce your storage on your iPhone in seconds.
Key features:
Uses AI to scan and optimize your photos and videos on your camera roll instantl
Scans and removes old calendar invites
Finds and merges duplicate contacts in your Address book
Recover deleted or lost pictures, videos, and files from your phone - Store secret photos and videos within the app and lock them in a password protected private vault Compatibility: iPhone/iPod touch powered by iOS 13.0 or later
Size: 124.7 MB
Languages: English, Dutch, French, German, Italian, Japanese, Korean, Portuguese, Russian, Simplified Chinese, Spanish, Swedish
Smart Cleaner ranks 10th in the top free apps for iPhone in App Store. It earns a 4.4 star rating from App Store. Start Smart Cleaner via Siri or Shortcuts, and now you can search and delete similar photos and videos, merge duplicate contacts, and remove old calender events quickly and easily.
Apart from cleaning your iPhone, it also allows you to test internet download and upload speed, and add storage, battery, and contact widgets to your Home Screen.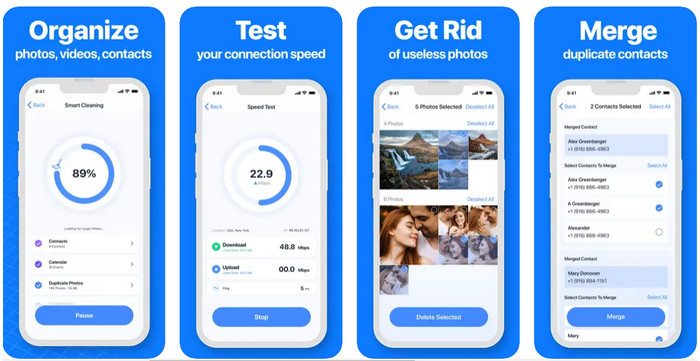 Compatibility: iPhone/iPad/iPod touch powered by iOS 13.0 or later
Size: 36 MB
Phone Cleaner app earns 4.5 star rating. This iPhone cleaner app allows you to sort files by size, type, creation date, and modification date, so that you can find the content you want to remove quickly. It helps you locate large media and similar photos quickly. But if you want to clean up videos on iPhone, you'll be disappointed because videos will be locked and even thumbnails of videos will not appear.
Apart from cleaning up photos on iPhone, Phone Cleaner is also designed to block ads in the browser on iPhone.
Note: Phone Cleaner offers 7-day free trial, but free trial will be automatically upgraded to a paid subscription unless it is canceled at least 24-hours before the trial period ends.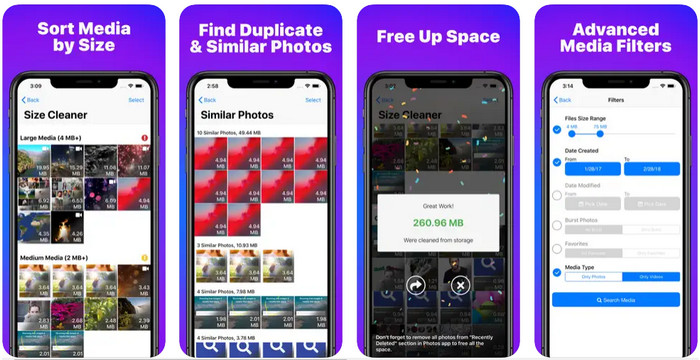 Compatibility: iPhone/iPod touch powered by iOS 13.0 or later
Size: 32.2 MB
Languages: English, German, Japanese, Korean, Portuguese, Russian, Simplified Chinese, Traditional Chinese, Turkish
This is another iPhone cleaner app with a good rating in App Store. After you open it, you will see how much storage has been used. To free up some space and speed up your iPhone, just tap on the Fast Clean button. Then it will start scanning your photo library, video library, and contacts. And, it will detect the similar photos, large videos, duplicate and invalid contacts. Then, what you should do is to delete the junk content you don't need.
Tips: If you don't want to use a paid subscription, make sure to cancel it at least 24 hours before the free trial period ends.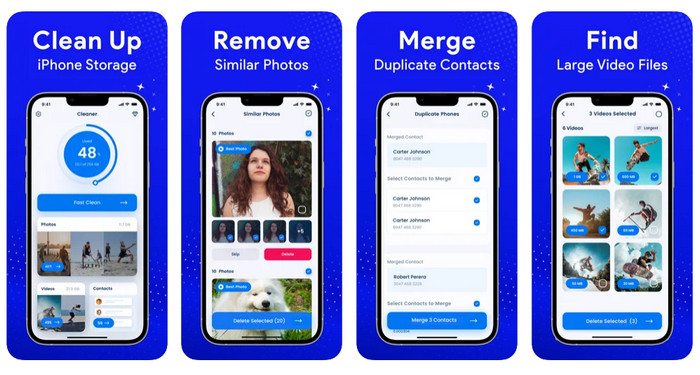 Compatibility: iPhone/iPad/iPod touch powered by iOS 9.0 or later
Size: 114.2 MB
Languages: English, Arabic, Dutch, French, German, Hebrew, Italian, Japanese, Korean, Portuguese, Russian, Simplified Chinese, Spanish, Traditional Chinese, Turkish
When we switch from old iPhone to new iPhone or import contacts from other sources, we may create duplicate contacts on our iPhone. And sometimes we may create contacts with missing names or phone numbers. If we just want to clean up contacts on our iPhone, we can go to the totally free Cleaner Pro. It can help us quickly find and merge the duplications, and remove incomplete contacts.
And this iPhone contact cleaner app allows us to create a restore point to avoid the risk of losing precious contacts due to wrong operation.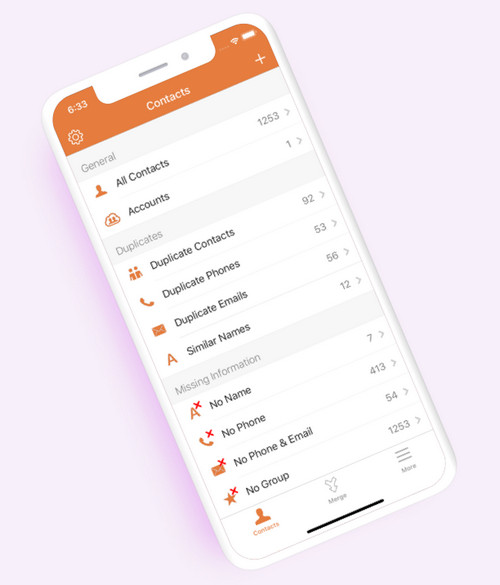 Compatibility: Windows 10, 8, 7, Vista, XP (64bit & 32bit); macOS 10.8 and later
PhoneClean is good at cleaning the cache of your phone. It frees space on iPhone, iPad, or iPod Touch by deleting temporary files, cached and offline files, cookies, script files that should be useless to you as well as the media files that failed to sync properly. Generally, it will take over 10 minutes to complete the whole process, including scanning files, finding caches and cleaning them up. In general cases, it will save 200 MB to 1 GB a time for your iDevice.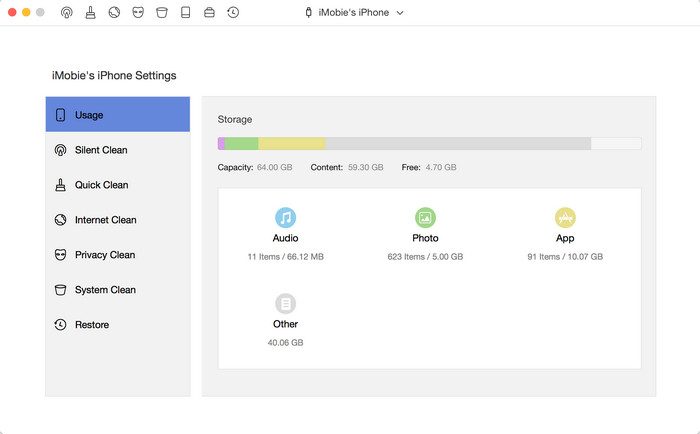 Compatibility: Windows; macOS
Similar to PhoneClean, there exists another famous iPhone cleaner. Not only cleans unnecessary files from your iPhone or iPad, iMyFone Umate also executes data compression and deletes photos large files. Empowered by 25 analysis technologies, it will free up huge space for iOS devices in just one click.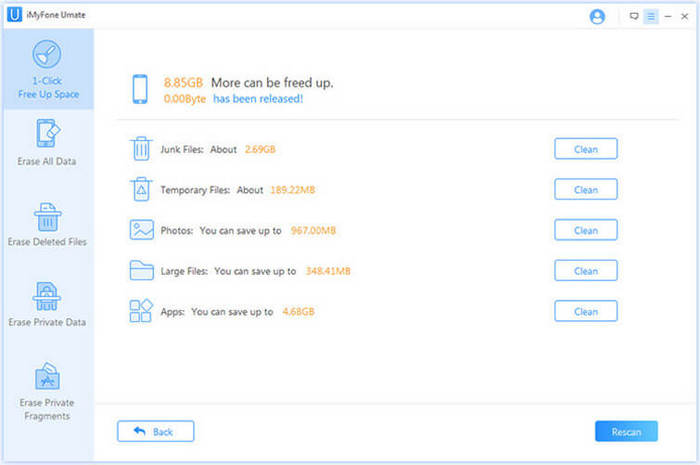 Compatibility: Win8/Win7/Vista/XP SP3
Size: 25.9 MB
Optimizing the system is what iFreeUp centers on for speeding up the phone and saving more space. In addition to cleaning up all the unnecessary, this app supports importing, exporting and deleting photos, music, videos, books, apps and podcasts on iPhone. Compatibility: Windows, Mac
Traditional iPhone cleaner apps like those mentioned above mainly help delete junk files, and remove useless cache and log files, which can be roughly accomplished in the default iPhone feature as a matter of fact. Furthermore, after spending time in doing so, you'll finally realize that the outcome is not obvious because such cookies take only a small percentage in the total memory of your iPhone. The things that take up fatal space are those high definition (or 4K) videos and photos in "Photos & Camera" or other apps.
"I take a ton of photos and videos on my iPhone and back when I had a 16GB iPhone. And it's a huge pain in the butt to have to go through and figure out what to delete."
Believably, the majorities of iPhone users have such concern and are reluctant to delete even the continuously so-so shot pictures. In this case, some users will want to get media files off iPhone to clear up the space on iPhone. And a good app to do this is WinX MediaTrans.
WinX MediaTrans comes as a brand-new iPhone storage saver that oversets the traditional iPhone cleaner. It is able to send photos, music and videos from iPhone, iPad and iPod Touch to a computer or an external hard drive (SSD drive) to dedicate to archiving, and vice versa. In such way, you can save as much space as you can (no upper limit) without deleting and losing anything at all. It is faster, safer and easier. It is designed for iOS device owners that have a Windows or Mac computer.
"Winx mediatrans does surprise me with its transfer speed. I can transfer 100 pics (each above 2.5M) from my iPhone to PC in only 10 seconds", commented by a user.
How to use WinX MediaTrans to clean up iPhone?
How to use this iPhone cleaner to transfer media files from iPhone if your iPhone storage is full or not enough.
Step 2. Download and install the latest version of WinX MediaTrans on your computer properly.
Step 2 . Connect your iPhone to your computer via a USB cable.
Step 3. Open WinX MediaTrans and let it access to your iPhone.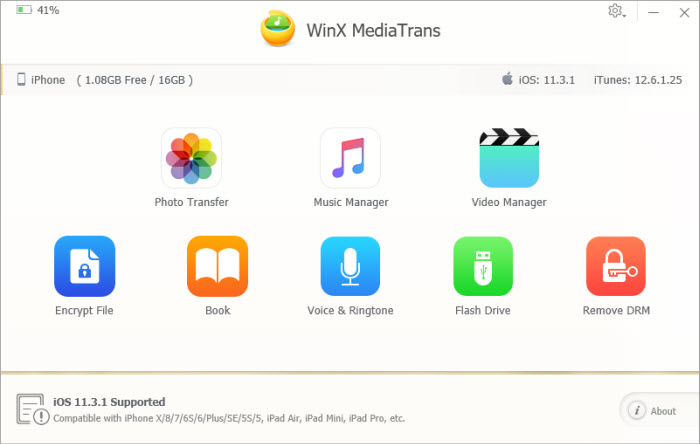 Note: To protect important data from being erased accidently, please check "Prevent iPods, iPhones and iPads from syncing automatically" option in iTunes Devices Preferences if it is the first time you run WinX MediaTrans.
Step 4. Click "Photo Transfer", sort and select the photos you want to remove from iPhone to PC or external storage device, and then click "Export".
To get large videos off iPhone, you should click "Video Manager" -> choose videos -> click "Export".