iPhone Cleaner in a New Concept - Move Media Files from Here to There
iPhone cleaner

clean iPhone 7

Posted by Estrella H.| Last Updated: August 31, 2017
How to Clean My Phone Memory to Free up Space with or without an iPhone Cleaner?
The storage of iPhone is invariably a pesky issue. Day by day, users are prompted with the message "no enough free space available" and to "manage storage". To get rid of this, one has to spend at least $100 more for a higher GB version. But most think it's not worthy. That's why more people go to iPhone cleaner as the alternative solution.
The traditional iPhone cleaner mainly helps delete junk files, and remove useless cache and log files, which can be roughly accomplished in the default iPhone feature as a matter of fact. Furthermore, after spending time in doing so, you'll finally realize that the outcome is not obvious because such cookies take only a small percentage in the total memory of your iOS 13/12 device. The things that take up fatal space are those high definition (or 4K) videos and photos in "Photos & Camera" or other apps.
"I take a ton of photos and videos on my iPhone and back when I had a 16GB iPhone. And it's a huge pain in the butt to have to go through and figure out what to delete." Believably, the majorities of iPhone users have such concern and are reluctant to delete even the continuously so-so shot pictures. Here comes a new concept of iPhone storage cleaning solution:
No More Deleting Things. Try a New Concept of iPhone Cleaner!

We Recommend to All iOS Users: WinX MediaTrans
- Move big media files out of iPhone to PC or external hard drive.
- Free up space for installing more apps and taking in new things.
- Photos, music and videos can be saved to iPhone USB drive and watched offline.
To sum up, we can make room to get more iPhone memory by three ways: manage iPhone storage usage in "Settings", empty the cache and move the media files. Before getting further into the new concept, let's recap what the top iPhone cleaners are in traditional way and how they work.
Top 3 Traditional iPhone Cleaner Apps to Clean Junk Files
Do These iPhone Cleaner Apps Really Work?
Do said traditional iPhone cleaning really work? Yes and no. Deleting junk files should be the initial step to enlarge iPhone storage, but not so much space can be saved than you expected especially if you are a frequent cache cleaner. Yes, it is only a small pace. Then again, why not go to the second and also the ultimate solution – transfer media files from iPhone.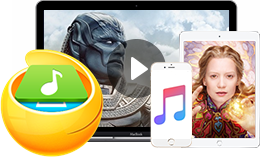 WinX MediaTrans comes as a brand-new iPhone storage saver that oversets the traditional iPhone cleaner. It is able to send photos, music and videos from iPhone, iPad and iPod Touch to a computer or an external hard drive (SSD drive) to dedicate to archiving, and vice versa. In such way, you can save as much space as you can (no upper limit) without deleting and losing anything at all. It is faster, safer and easier. It is designed for iOS device owners that have a Windows or Mac computer.
How to Use the New Concept iPhone Cleaner – WinX MediaTrans
"Winx mediatrans does surprise me with its transfer speed. I can transfer 100 pics (each above 2.5M) from my iPhone7 (iOS 12.) to PC in only 10 seconds", commented by a user.
Yes, with the unique technology, WinX MediaTrans is one of the fastest iPhone storage cleanup solutions. How to use this iPhone cleaner to transfer media files from iPhone if your iPhone storage is full or not enough.
Step 1. Plug in the USB cable and connect iPhone to your computer.
Step 2. Make sure you've downloaded and installed the latest version of WinX MediaTrans properly. It is compatible with iPhone 5/5S/SE, iPhone 6/6S/7, iPhone 8/X/XR/XS (Max), iPhone 11/11 Pro (Max), as well as iPad Air, iPad Mini, iPad Pro, etc.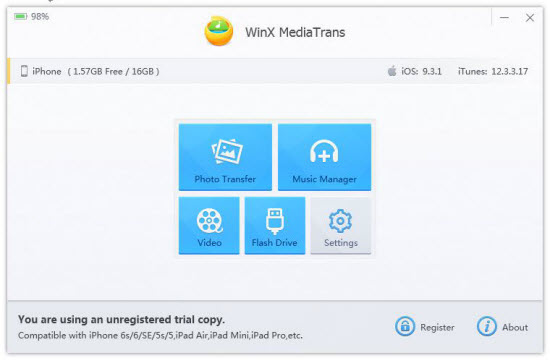 Step 3. Open the media transfer tool and let it accesses to your iPhone.
Note: To protect important data from being erased accidently, please check "Prevent iPods, iPhones and iPads from syncing automatically" option in iTunes Devices Preferences if it is the first time you run WinX MediaTrans.
Step 4. Choose "Photo Transfer", "Music Manager" or "Video" button on the interface for moving photos, audio and video files respectively.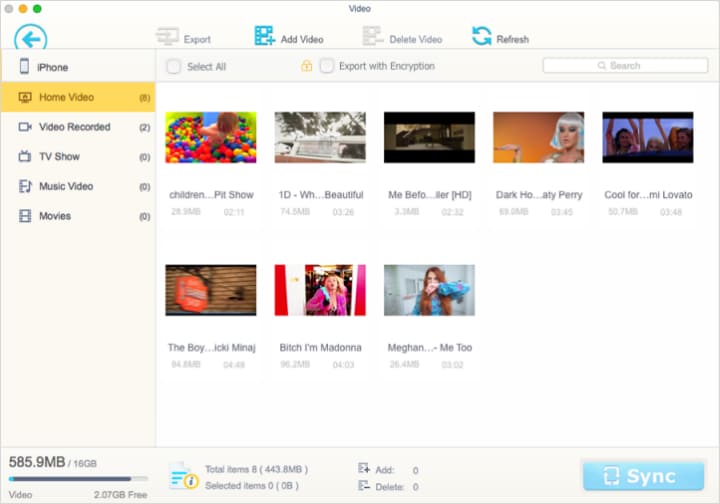 Note: The names of other companies, products and services are the property of their respective owners. Any logo, trademark and image relating to other companies that may be contained wherein are applied in the internet and are not used for commercial use.
Still have some questions about the best new iPhone clear app? Please feel free to Mail Us >>
Please feel free to share this post if you think it is helpful!
>> See WinX MediaTrans on Wikipedia.