[Fixed] iTunes Error 9 Happens when Upgrading/Restoring iPhone/iPad
"The iPhone could not be restored. An unknown error occurred (9)."
If you see this message, unluckily, you face the failure to upgrade or restore your iPhone, iPad or iPod touche. It pops up for multiple reasons, sometimes blaming on the hardware while sometimes software causing the trouble. In this article, we will list all possible resions and solutions to help to fix iTunes error 9.
Get an Easier Way to Back up iOS Data without iTunes Error 9
No iTunes error anymore, try WinX MediaTrans. Transfer media files (photos, videos, music, e-books, voice memos, podcasts) between iPhone, iPad, iPod Touch and PC without data loss.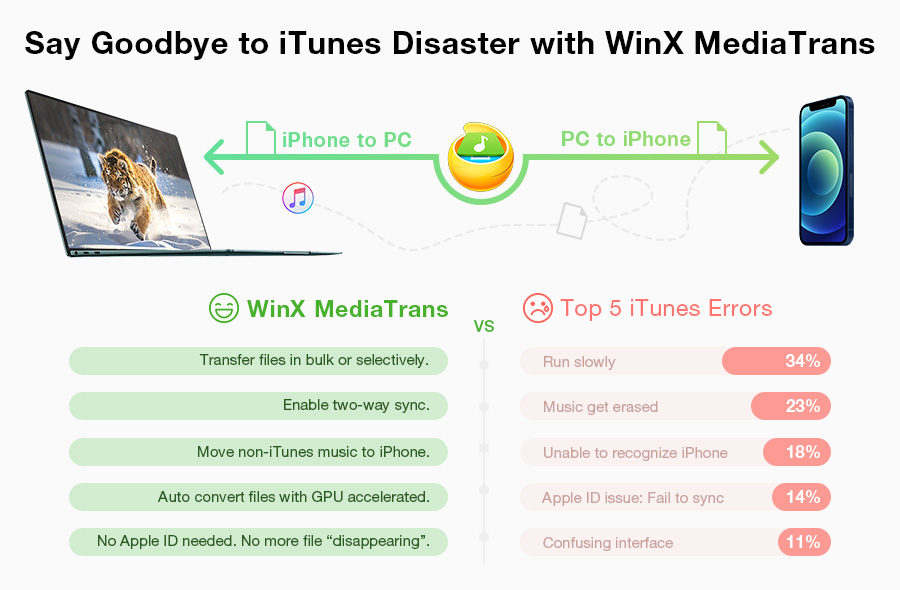 Table of Contents
Part 1. Possible Reasons Why iTunes Error 9 Happens.
What is error 9 when iTunes is updating? iTunes error 9 is one of the common iTunes error codes that generally occurs while you are updating or restoring your iPhone iPad or iPod. Accordingly, your idevice will get stuck. Similar errors like 4005, 4013, or 4014 also happen during the process. If you are trying to figure out this, check the following reasons when iTunes error 9 or 4005, 4013, 4014 occurs.
Your iDevice is jailbroken.
Your security software prevents access to the Apple servers.
The firewall, either on Windows or Mac, is blocking access to the Apple servers.
Corrupt network setting may also cause iTunes error 9.
The USB cable or port is damaged. This is also a possible culprit for iTunes error 9 occurrence.
Network database on your computer that was used to jailbreak or hack the other iDevice was corrupted.
Part 2. How to fix iTunes error 9?
After you've figure out what causes iTunes error 9, you can follow the section and learn how to bypass error 9 in iTunes.
Fix 1. Change USB Cable or Port
You may pay little attention on the USB cable but it is quite important. iTunes error 9 probably pops up when it loses connection between iOS device and iTunes. So, before updating or restoring your iPhone/iPad, please make sure that you have a good USB cable and well plug it in computer. If you encounter iTunes error 9 during upgrading or restoring, use a new USB cable. >> iPhone Not Connecting to iTunes? How to Fix?
On the other hand, a broken USB port may be the problem. Connect the cable with another port to see whether iTunes error 9 is fixed.
Fix 2. Update Your PC or Mac
Sometimes, a minor update for your PC or Mac can help fix a lot of bugs or errors including the iTunes error 9. So, check an update and install it. Next, restart your computer. Restore or upgrade your iOS device with iTunes again to check if everything goes well.
Fix 3. Use Another Computer
If iTunes error 9 still pops up after you get the computer up-to-date, try to use another one with iTunes installed. And, it is suggested to authorize the new computer in iTunes before you upgrade or restore your iPhone/iPad.
Fix 4. Connect with a Stable Wi-Fi Network
Bad network connection may be one cause of iTunes error 9. So, you'd better use a strong or very stable Wi-Fi. If there is no other available Wi-Fi network, try to disconnect Wi-Fi on computer and iOS devices and re-connect a minute later. Otherwise, restart router and connect Wi-Fi again.
Fix 5. Disable Antivirus and Firewall
Security software on your computer restricts iTunes from accessing Apple server resulting in iTunes error 9. You can turn off antivirus programs and firewall temporarily and then upgrade or restore iPhone/iPad with iTunes.
Fix 6. Update iTunes to the Latest Version
If you get all hardware worked well and strong network but iTunes error 9 keeps popping up, it is necessary to update iTunes to the latest version. You can get the newest version by checking update in iTunes and install or download from Apple's website.
If you can't update iTunes, check solutions here...
Fix 7. Force Restarting Your iOS Device
The other iTunes error 9 troubleshooting is to restart iPhone/iPad.
For iPad models without a Home button:
Press the Volume button closest to the top button and release immediately. Make the same operation on Volume button farthest from the top button. Next, press and hold the Top button until the device restarts.
For iPhone 8 or later:
Press the Volume Up button and release immediately. Make the same operation on Volume Down button. Next, press and hold the Side button until Apple logo is shown on screen.
For iPhone 7/Plus or iPod touch 7:
Press and hold Side and Volume Down buttons for 10 seconds. When you see the Apple logo, release the buttons.
For iPhone 6s or earlier, iPad with a Home button or iPod Touch:
Press and hold Home and Top buttons for 10 seconds. When you see the Apple logo, release the buttons.
Part 3. iTunes Alternative – Fix All Errors for iOS Data Backup and Restore
If you cannot put up with errors or complexity of iTunes any more, why not trying the iTunes alternative – WinX MediaTran, a good tool to sync and back up iOS data much easier.
WinX MediaTrans is developed as iOS file transfer software capable of syncing photos, videos, music, e-books and other files from iPhone/iPad/iPod Touch to computer or vice versa. It features a beginner-oriented interface and quite simple operation so that you can soon get started with it.
It also plays as a music manager to create/delete playlist, remove songs from playlist/device, edit meta info, create ringtone; a format converter to change E-PUB to PDF/TXT/HTML, video to MP4 (H.264) audio to MP3/AAC, for watching/listening on iOS devices smoothly; and a file encrypter to lock local photos and videos; or decrypter to remove DRM from iTunes purchases for playback on any player/device.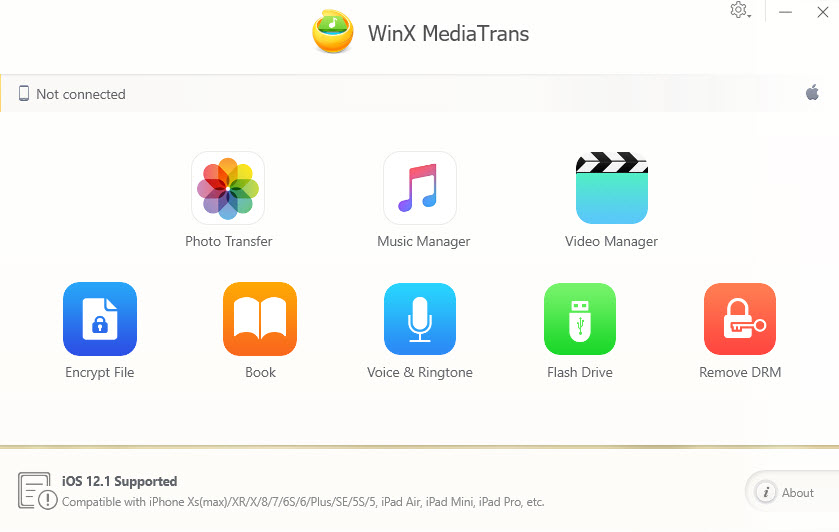 Independent from installing iTunes and Apple Application Support, Apple Mobile Device Support, WinX MediaTrans can back up and restore iOS data without data loss. Use this program and you will not experience iTunes error any longer.