AirDrop Not Working on Mac (12 Monterey) iPhone iOS? [Fixed]
AirDrop is an Apple's on-the-air file transfer app using a low-latency, high-speed peer-to-peer protocol. It is a way to drop files between Apple ecosystem devices. Supposedly, we will airdrop files from Mac to iPad, from Mac to iPhone, from Mac to Mac, from iPhone to Mac, from iPad to Mac, from iPhone to iPad, or from iPhone to iPhone. However, people are finding the AirDrop feature not working ideally.
These troubleshooting tips and tricks are trying to persuade you to give this feature another chance. If AirDrop is still not working properly for you after attempting, we also have prepared a "Plan B" for you. For general AirDrop errors, please make sure: both of the two devices have AirDrop turned. And the two devices are within 30 feet (9 meters) of each other without physical blocks in-between.
For special cases, check the specific solutions below:
AirDrop Not Working Issue Still Not Fixed?
- Try transfer files in wired way with WinX MediaTrans to transfer photos, music, videos, ebooks, podcasts, ringtones, iTunes purchases and other files from iPhone iPad iPod to PC and vice versa without AirDrop in fastest speed. Also remove DRM from iTunes purchased movie/songs and auto convert M4V to MP4, M4P to MP3 for limitless playback. Well compatible with latest macOS 12, iPhone 15 and iOS 17!
Case 1. Showing the 'Invalid Apple ID' Error
When I send a file from my computer to the other computer using AirDrop, it would pop up a message saying the other user disconnected/denied the connection... Going from my wife's MacBook to my MacBook Pro it was saying, "The Apple ID certificate for [my username] is invalid."
Possible tricks:
Go to System Preferences > Click on 'Users & Groups'.
Look for your Apple ID, make sure you have your Apple ID filled out.
Make sure you have set up to receive items from contacts.
Make sure both devices are signed in to iCloud.
Make sure the receiving device has your phone number (or Email) that is associated with your Apple ID in the Contacts. (This method may equally applies to the situation when on the same network, one device can find another device which cannot recognize the other). If all have checked well, but still not working, click 'Change' next to your Apple ID:
Enter your computer's password in pop-up box.
Highlight your Apple ID > click the minus sign to delete it > click 'Done'.
Click on 'Set' next to Apple ID to re-add and reset your Apple ID.
Try to use AirDrop again.
If still not OK, try to transfer files between iPhone/iPad and PC/Mac without Apple ID using an iPhone/iPad File Manager.
Case 2. AirDrop from iPhone to Mac Not Working
Although AirDrop has existed on Mac for even longer, Macs and iOS devices were unable to communicate with each other due to differentia in the technology required. Disappointingly indeed, it has always some bugs and problems when trying to send files from our iPhone to Mac.
Possible tricks:
Go to Settings > open Bluetooth on the iPhone > find the Mac under My Devices > make sure to connect the Bluetooth.
If meeting "Connection unsuccessful" errors, check whether you have the right version of Bluetooth. If not, try to fix it.
Disable the Firewall: System Preferences > Security & Privacy > Firewall > Turn Off Firewall.
Connect to another network.
Resign in signing in iCloud and sign out on both Mac and iPhone.
If still not OK, please try MacX MediaTrans, a wired method as the alternative.
Case 3. AirDrop Not Working on macOS Monterey, Big Sur, Catalina
There are numerous Mac users having problems with AirDrop after upgrading to macOS Sierra 10.12 or Mac Mojave or latest Big Sur and it wouldn't work. The same errors may happen on iOS devices after upgrading to the iOS 13 recently.
Possible Solutions:
If the AirDrop icon is not shown: Turn off the AirDrop in Restriction: Settings > General > Restriction > disable AirDrop; or reboot iPhone/iPad. Check the Wi-fi connection:
After upgrading to Sierra, many users are reporting Wi-Fi problems, such as connection dropping randomly or disconnection when Mac wakes from sleep, and unusually being slow or delayed. In such situations, please give the following fixes a shot:
Disable Block all incoming communications inside firewall.
Remove Existing Wi-Fi Preferences in macOS Sierra.
Set a New Network Location with Custom MTU and DNS.
Download macOS Sierra again from Mac.
Case 4. Unrecognized File Types or Slow File Transfer
I shared a Word doc from my Mac to our iPhone but it was declined (perhaps because I don't have an app that can view it). Besides, AirDrop tended to take a very long time for the general file, such as videos, to transfer. >> See How to AirDrop Share Files on Windows
Best Solution:
Step 1. Download MacX MediaTrans and complete the installation on your Mac. (For Windows user, please click here. It is the easiest and fastest way to transfer files between iOS (15) and Windows (11/10) devices while avoiding any AirDrop working errors).
Step 2. Connect iPhone/iPad/iPod onto your Mac or PC with the Apple cable. Make sure you've downloaded iTunes on this computer. Adjust iTunes settings to prevent data erasing automatically.
Step 3. Click an item like "Photo Transfer", "Music Manager", "Video", "Book", "Voice & Ringtone", "Flash Drive" (good for file types that are not supported by Apple), depending on the object that is to be transferred or managed.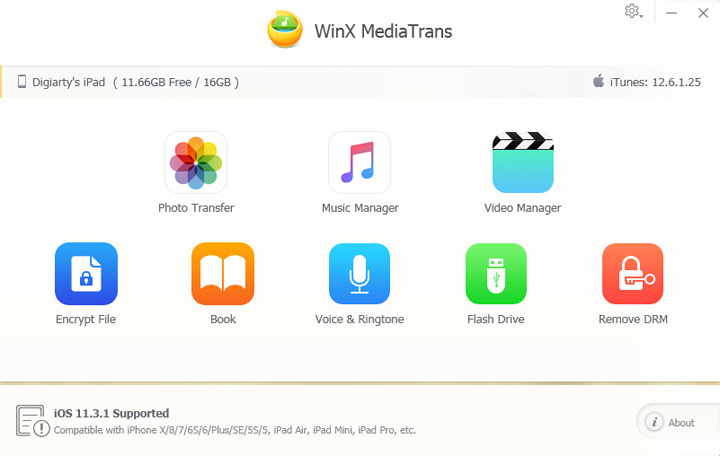 Step 4. Select the files and click on "Export" or "Add" button.
Step 5. Tap "Sync" button to begin transfer and sync the selected files from iPhone to computer, iPad to computer, iPod to computer, or computer to iPhone/iPad/iPod without using AirDrop and iTunes.
>>Go to MediaTrans User Guide
Please note that this solution does not apply for iPhone to iPhone or iPad to iPad transfer.
If you still have questions about how to fix AirDrop not properly working issues, please ask Apple Support or start a discussion in the AirDrop user guide page.