Handbrake Fast vs Very Fast, Which Preset to Choose?
"What's the difference between Very Fast and Fast in Handbrake encoder presets. Does it get me higher quality or smaller files? I don't know what to choose and I don't want to do complicated settings."
Handbrake offers lots of presets for general use, Very Fast and Fast Presets are commonly used. The default preset is Fast 1080p30. What's the difference between Very Fast presets and Fast presets in Handbrake? Here we compare the two presets in terms of video encoding speed, file size, quality, encoder, bit rate, and more.
Can't Encode Videos Fast with HandBrake? Try Free WinX Video Converter
Free Video Converter, a better alternative to Handbrake, can transcode (4K UHD) videos, at a 47x real time faster speed and 5x faster than Handbrake does. The program fully supports hardware acceleration. Its HQ engine and optimized compression algorithm ensures a good balance between file size and output video quality. WinX Video Converter supports a large number of video formats, be it MKV, MP4, AVI, MOV, H.264, HEVC, VP9, AV1, etc. with preset profiles for iPhone, iPad, Android mobiles, TVs, YouTube, Instagram, etc.
Part 1. Handbrake Fast vs Very Fast Presets
The following graphic shows all the Very Fast and Fast Presets offered by Handbrake. Very Fast presets include Very Fast 1080p30, 720p30, 576p 25, and 480p30. Fast presets offer four options, Fast 720p30, 576p26, and 480p30. Both Very Fast and Fast presets use MP4 container encoded with H.264 video codec and AAC audio codec compatible with most devices and programs.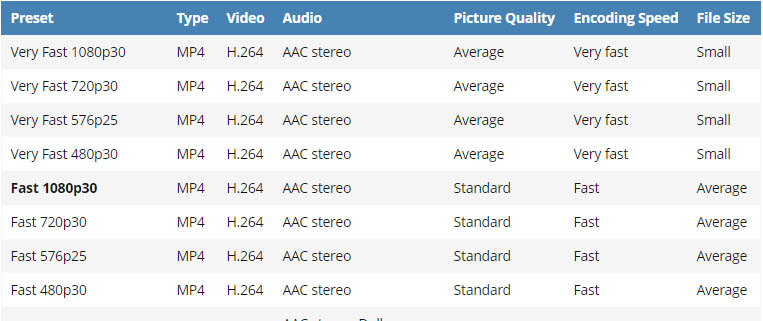 Part 2. Performance Comparison between Fast and Very Fast Presets in Handbrake
The following test result is quoted from Handbrake's official site. It compares Very fast 1080p30 with Fast 1080p30 preset in terms of quality, encoding speed, real-time speed, and output file size. The Very Fast preset uses quality RF 24, the Fast 1080p30 RF 22. Fast presets output better quality video, larger file size, and requires longer time to encode.
Hardware configuration: Mid-2010 Mac Pro, Intel Xeon w3680 CPU with 6 cores and 12 threads, 24 GB memory, and macOS Mojave. On a faster computer, the test results show better performance using Very Fast 1080p30 or Fast 1080p30 presets. Encoding speed and real-time speed are much faster. It remains the same that Very Fast presets result in lower quality video, smaller video file size, and less time to encode.
Hardware configuration: PC running Windows 10, Intel Xeon E5-2699 v4 CPU with 22 cores and 44 threads, 32 GB memory. Note: your performance results might be different from the test results from Handbrake. The encoding speed also depends on the devices' hardware configuration.
Learn more about HandBrake Presets: Variation, Limitation, Settings, Introduction.
Part 3. Handbrake Fast vs Very Fast FAQs
What does fast mean in Handbrake?
The Fast and Very Fast in Handbrake are presets for speeding up the video encoding process. Fast presets take less time to transcode your video files and keep a good balance between output quality and file size. Video files are optimized using Fast presets in Handbrake.
What Handbrake preset should I use?
It depends on what you need. Higher quality always means slower video encoding speed and a bigger file size. If you are confused by Handbrake presets, try the default Fast 1080p30 preset, which is fast and outputs good quality.
How can I speed up Handbrake?
There are a few ways to speed up Handbrake via settings and presets. To make Handbrake transcode videos faster, use Handbrake Very Fast presets, which is the simplest way. Lowering down video quality can also speed up video encoding in Handbrake.