2023 Best Free MP4 to DVD Converters Online
When you have some MP4 files, you may need to convert and burn the MP4 to DVD so that they are readable on standard players. To save your effort downloading and installing a third-party converter program on your computer, you can rely on the MP4 to DVD converters online. In this post, we've gathered the best sites to help you convert MP4 to DVD online.
If you want to convert MP4 for later disc burning, you can first convert Mp4 to MPEG2, a friendly format used in DVD.
Part 1. Best Free MP4 to DVD Converters Online
1. Zamzar
Zamzar is a popular online converter that has an option to easily convert a MP4 file to DVD format VOB online. You can load the MP4 video from your local computer via drag and drop, or add a web video via a link. Beyond MP4 to DVD online, it also lets you convert videos of different formats to image, document, music, video, E-book, and devices. However, the VOB output is not always available for convert.
You may interest: Best MP4 to DVD converter & author
Pros:
Wide range of input and output formats supported.
Fast converting speed.
Free to use.
Cons:
You can convert a less than 50MB MP4 video to DVD.
VOB is missing in the output lists for some videos.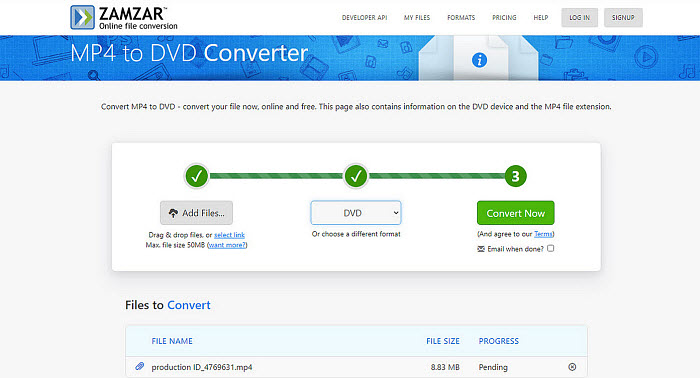 Files Conversion is another online MP4 to DVD converter. After you load the local MP4 to the converter, you can select the quality from Low, Moderate, High, and Very High and select the output file size among different resolutions as you need. It will convert MP4 to MPEG-2 PS format (DVD VOB) (.dvd) and various other video and audio formats. Though it sets no specific limits on the input file size, but if you're loading a large 4K MP4 video, you may see File size error.
Pros:
You can select the output quality.
You can set the output file size.
Free to use.
Cons:
The output formats are limited.
Size limits.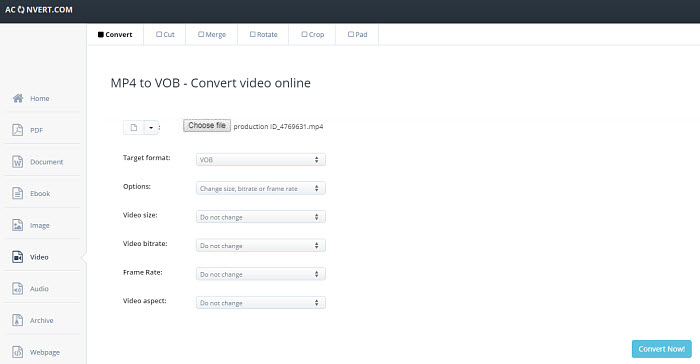 3. Aconvert
The MP4 to DVD VOB converter online Aconvert allows you to convert a MP4 video from local computer, web URL, Google Drive, and Dropbox to DVD format VOB as well as several other formats. The converter allows users to adjust the video size, video bitrate, frame rate, and video aspect online. The maximum file size you can upload and convert is 200MB. After the conversion, you can download it to your computer, save it to online storage services such as Google Drive or Dropbox, or get the file to your smart phone via a QR code image.
Pros:
Adjust basic video parameters online.
Support videos from different sources.
Free to use.
Cons:
The output formats are limited.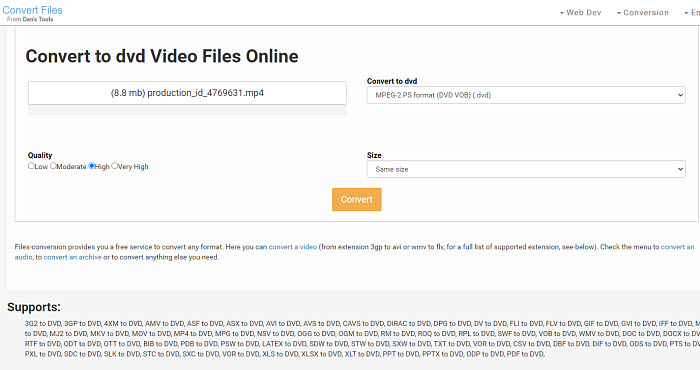 The last online MP4 to DVD converter named Office Converter is a versatile site which contains a video converter, audio converter, image converter, document converter, and more. Its MP4 to DVD online feature also supports videos from local computer, Google Drive, and DropBox. It's very simple. You just need to load your MP4 video and start to convert. For non-members, there is a size limit of 50MB. If you register as a member, you can upload and convert video up to 1GB.
Pros:
Wide range of features available.
Free to use.
Cons:
No editing or setting features.
Size limits. 5. ConvertFiles
ConvertFiles is another online converter that supports videos, audio, image, e-Book, document, and many other files. Its online MP4 to DVD VOB converter lets you load a MP4 video from the computer, and convert it to DVD VOB with fast speed. It supports up to 250MB file size. If you need to convert a larger file (1500MB) or need more features like editing, cutting, cropping, extracting, etc., the site suggests you to try the videotoolbox, which requires registration.
Pros:
Converted VOB files can be sent to email.
Support a wide range of file types.
Free to use.
Cons:
Limited features.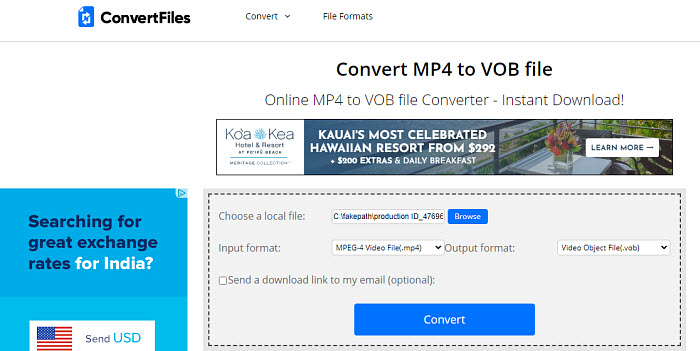 Part 2. Limitations of MP4 to DVD Converters Online
While those sites offers a convenient way to convert MP4 to DVD format online, there are some annoying limits that may make them not the best option.
Limited file size: All the online converters place has a limit on the file size you can upload. In other words, you're not able to convert large MP4 (like 4K) to DVD using online services.
Limited options: Most of online converters provide no features to adjust the video settings, quality, or edit the video.
DVD format only: As you can see, you can convert MP4 to DVD format online only. If you plan to burn the MP4 to DVD, you need another app to burn it.  
Internet dependent: The speed of the conversion speed is largely depended on your internet.
Part 3. Best Free MP4 to DVD Disc Converter without Limits
With these limitations on the online MP4 to DVD converters, users who want to burn MP4 to DVD disc can take advantage of free desktop programs. This 100% free program named WinX DVD Author can easily help. It is able to burn videos in MP4, MOV, AVI, M4V, FLV, etc. to DVD discs with high quality. There are flexible options to let users create menu, add subtitles, adjust aspect ratio, etc. No limits on the file size, formats, internet, or others.
Step 1. First, insert a blank disc to your computer and install the burner. Run the free burner and click the Video DVD Author button. Then click the + icon to add the MP4 video to it. If you need to change the desired aspect ratio, language, subtitle, format, type, etc., click Settings to adjust.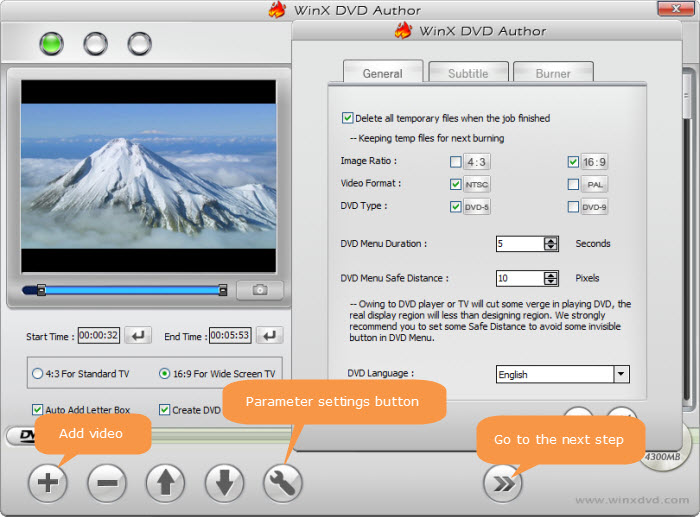 Step 2. Click the next button and in the window you can enable Add DVD Chapter Menu. Create personal title menu, chapter menu, and customize background picture and background music based on your needs.
Step 3. Click the Next button and in the window you can specify the device, write speed, output folder, output format, and encoder engine. After all the changes, click the Start button to burn MP4 videos to DVD.
Related reading: How to burn iPhone videos to DVD for free