How to Free Burn iMovie to DVD on Windows/Mac without iDVD
"I've made a movie project of about 1.5 hours using iMovie which has taken up most of the disk space on my iMac G3/600. I need to export it to DVD to free up hard drive room. How do you export an iMovie project to a DVD without iDVD?"
iMovie is a commonly-used app to create projects of family parties, learning classes, training videos, etc. Sometimes, we will want to burn iMovie videos to DVD as a keepsake or for easier sharing with friends on TVs. iMovie to DVD burning used to be easy with iDVD. However, since Mac OS X 10.17 Lion, iDVD is no longer pre-installed on Macs or available on the Mac App Store. It's macOS Big Sur now! How to burn iMovie to DVD without iDVD on Windows and Mac? Follow the simple steps here.
How to Burn iMovie to DVD on PC/Mac without iDVD?
Step 1 Export iMovie Project for DVD Burning
You can't export iMovie to DVD directly. But you need to export the iMovie projects to digital files for burning later.
1. Open the iMovie project you would like to save on DVD.
2. Click the share icon in the upper right of the menu bar and choose "File" from the dropdown list. Alternative, you can click "File" at the top menu bar > "Share" > "File".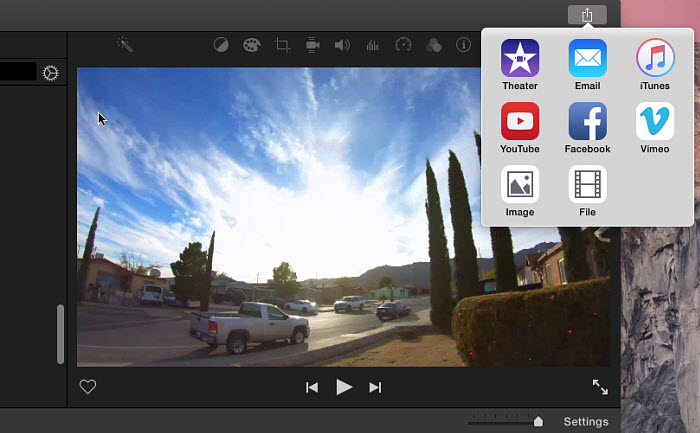 3. In the "File" window, you can change the video name, select the format as "Video and Audio", adjust Format/Resolution/Quality/Compress, and add tags with the accompanying arrows. After all the changes, click "Next".
4. Then you just need to select a location to store the exported iMovie, and click "Save".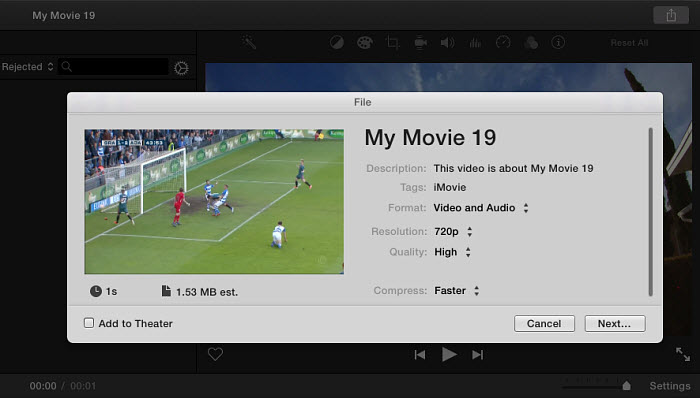 Note: iMovie will export movies in different formats, like ProRes, H.264/AAC, MPEG4/AAC in MOV, MP4, and M4V with 720P, 1080P, different resolutions. You can feel free to export iMovie to any format as the free tool in Step 2 will let you burn any iMovie video to DVD.
Step 2 How to Burn iMovie to DVD on Windows
For Windows users, the 100% free and clean iMovie to DVD burner named WinX DVD Author can easily help. This program is able to burn videos in MP4, MOV, AVI, M4V, FLV, etc. from iMovie to DVD discs with high quality. It lets users to create menu, add subtitles, adjust aspect ratio, etc. It's extremely easy to get started with.
You will need:
A blank disc (both PAL and NTSC is OK. Choose the DVD size based on the iMovie video. Check DVD capacities here>>)
A computer
Download and install the free iMovie to DVD burner
Step 1. Run the free burner and click the Video DVD Author button. Then click the + icon to add the iMovie MP4, MOV video, etc. If you need to change the desired aspect ratio, language, subtitle, format, type, etc., click Settings to do it.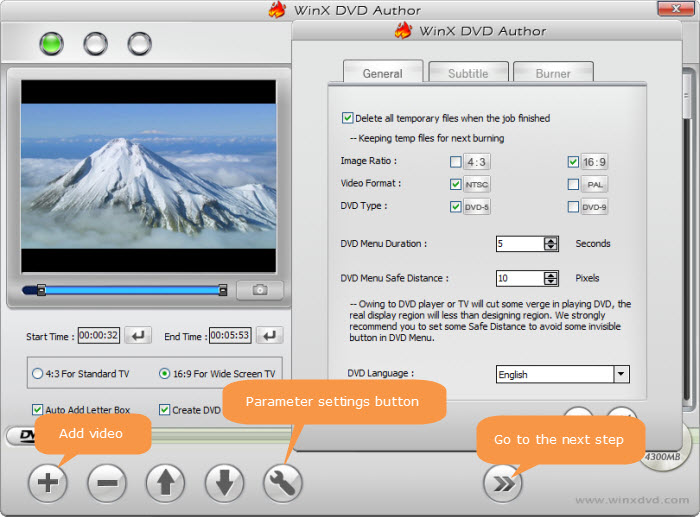 Step 2. Click the next button and in the window you can enable Add DVD Chapter Menu. Create personal title menu, chapter menu, and customize background picture and background music based on your needs.
Step 3. Click the Next button and in the window you can specify the device, write speed, output folder, output format, and encoder engine. After all the changes, click the Start button to burn iMovie project to DVD.
Related reading: How to burn iPhone videos to DVD for free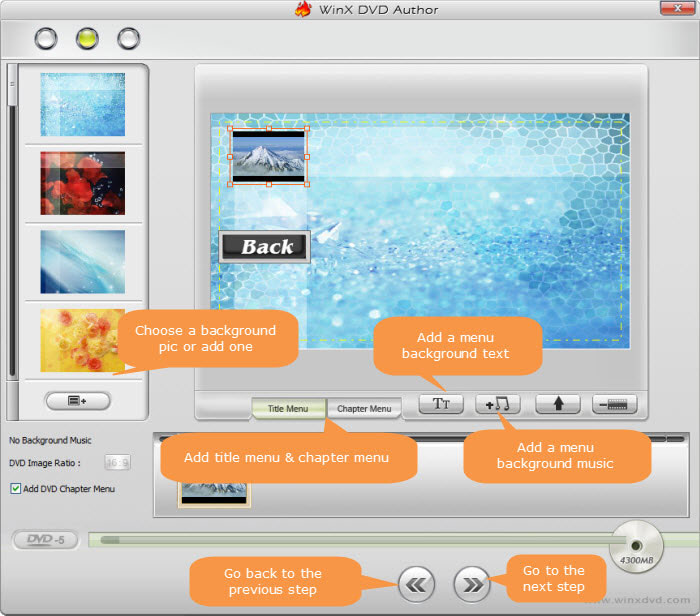 Step 3 How to Burn iMovie to DVD on macOS
Though iDVD discontinued on Mac, you can use Finder to burn the iMovie video to DVD without iDVD.
You will need:
A blank disc  
A Mac computer (with an external disc drive if there is no hard drive)
Step 1. Copy the iMovie video you want to burn.
Step 2. Open Finder and select the blank DVD from the left side of the windows. It normally named Untitled DVD.
Step 3. Click the DVD icon to open it. Then paste the copied iMovie video into the DVD folder.
Step 4: Click File from the upper-left menu bar and you will see a drop-down menu. Select Burn to Disc from it. Then in the window you can change the DVD name and select a burn speed. After all the changes, click the Burn button to export iMovie to DVD now.