How to Play HEVC X265 on Smart TVs from LG, Samsung, Sony...
Some high-end smart TVs can play HEVC in a direct play mode, however, some models don't work with HEVC video files. You will get an error message saying the file is not supported, choppy playback, audio missing, black screen, or artifacts, to name a few typical problems. Refer to our guide below to play HEVC on smart HD/4K TVs smoothly. First, check if your TV supports HEVC codec format, if not, check our troubleshooting tips for HEVC not playing properly on TV.
Will HEVC work on your TV?
A smart TV with Amlogic S905 or Mstar 6A928 or better processor can handle HEVC files. Most modern 4K TVs manufactured by LG, Sony, TCL, Samsung, Philips, etc. in 2016 or later support to play HEVC directly.
Does LG TV support HEVC?
LG webOS TV supported video file: HEVC 1920x1080@60P MP @L4.1, Main 10 Profile @L4.1 20Mbps. HEVC 4096x2160@60 MP@L5.1, Main10 Profile@L5.1 50Mbps. LG 4K TVs support HEVC for MKV/MP4/TS container formats. HEVC contents that are not officially supplied by LG may not play on LG Ultra HD TVs. A software upgrade may help play unsupported HEVC codec, noted in LG official help document.
Can Samsung TV play HEVC?
Samsung UHD/FHD TVs released in 2015 or later can play MKV/MP4/TS HEVC videos up to 4K UHD, 80Mbps.
HEVC (H.265 Main/Main 10/Main 4:2:2 10), 4096x2160, 60fps, 80Mbps.
HEVC FHD: Level 4.1 supported.
HEVC UHD: Level 5.1 supported.
HEVC: Supported only for MKV/MP4/TS containers.
Does Sony TV support HEVC?
HEVC is supported by Media Player from the Google Play Store for Android Sony TV. Most 4K TVs from Sony can play HEVC properly. Many Sony TVs made in 2015 or later add support for HEVC codec format. For Roku TV, refer to 'can Roku play HEVC file'.
What to Do If Your TV Doesn't Play HEVC Files?
1. Decode HEVC to H.264 Codec Format Compatible with Any TV
Use a video converter such as WinX HD Video Converter Deluxe to decode HEVC to H.264 MP4 format accepted by any LG/Sony/Samsung/Philips TV. The program supports Intel QSV/AMD/Nvidia Nvenc/Cuda hardware acceleration, making it process HEVC conversion at a blazing fast speed with low CPU usage even you're using an old computer. Download the tool and follow tips below to convert HEVC to H.264 for smooth playback on your smart TV.
Step 1: Load the HEVC file you want to convert by clicking the + Video button on the top.
Step 2: An output profile window should pop up after the file is loaded. Select General Profiles > MP4 Video at original resolution. Click the OK button to save the output profile and close the window.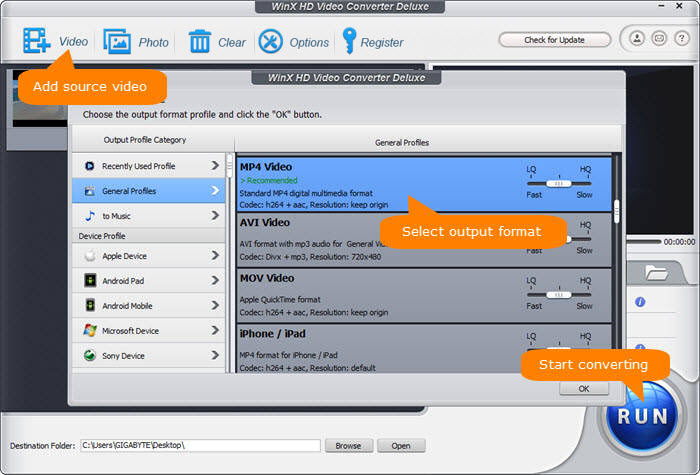 Step 3: Click the RUN button to start decoding HEVC to H.264 MP4 speedily for smart TV.
2. Download a media streaming app such as Plex
When the HEVC file won't play on your TV due to compatible issues, Plex can transcode HEVC to the H.264 codec format automatically. Plex for Smart TVs app is available on various TV models, covering LG, Samsung, Android TV, Amazon Fire TV, Roku, etc. Some televisions models are not actively supported by Plex. These models include LG (2013 models, webOS Lite/1.0/2.0 or newer sets that are not 4K), Panasonic sets (2014 and newer), Samsung (720p/1080p 2016, and newer models), Toshiba Alliance-compatible TV models.
Why HEVC Videos Won't Play in 4K TV via USB?
If your TV supports HEVC codec format, verify the content is corrupt by testing it on other devices such as a computer. The audio may be an issue. Your TV is possibly not compatible with the audio codec format, audio channel, etc. You should also check the video container format, video frame rate, and bit rate compatibility.