HEVC Video and Audio Are out of Sync: Causes and Solutions
I have sync issue with H.265 video playback using Kodi. The video will lag behind the audio . All other types of video files work fine. The HEVC file playback to TV goes through HDMI. The videos will also blur gray when playing in VLC Media Player(latest version). Is this a hardware issue? - from KODI forum.
HEVC video audio out of sync issue always occur on TV, PC/Mac using VLC, Potplayer, Plex media server, etc. There are some circumstances that can cause the HEVC video and audio not to be in sync. For example,
The original video doesn't match the audio after decoding and encoding. The source HEVC file you are playing is corrupted.
Aging hardware can't handle CPU intensive HEVC video decoding.
Software you are using is an old version. HEVC codec incompatibility can cause various HEVC video playback problem, one of which is video audio sync error.
HEVC Video Audio Sync Problem Troubleshooting Tips
1. Play the HEVC video on other devices to determine if the issue occurs with the device or with the source video file.
2. Update the media player to the latest version.
3. Restart your device to fix any improper settings.
4. Buy a new powerful hardware. Old hardware is most likely to fail to do H.265/HEVC decoding.
Learn more basic tips for solving HEVC video and audio out of sync error on Windows/Mac computer, refer to solutions to video and audio sync issue on Windows 10, for instance, update your sound driver, use a generic driver, disable HPET in BIOS, disable enhancements or restore sound device to defaults, change video/audio codec to make it compatible with media player, etc. Some tips also work for syncing HEVC video and audio.
A Straightforward Way to Fix HEVC Video Audio Not in Sync
To fix HEVC video and audio sync issued caused by format compatibility and aging hardware, you can easily decode HEVC to H.264 format using WinX HD Video Converter Deluxe. It decodes HEVC to H.264 MP4 with support for GPU acceleration, showing powerful and fast performance in HEVC transcoding. Source video and audio quality won't decrease during HEVC transcoding process. The program easily fixes HEVC video and audio sync issue on old hardware and software. Use steps below to get started.
Step 1: Run the program on your computer. Directly drag and drop the HEVC file you want to decode to the main interface of the program. The HEVC video should load immediately. You can add more than one video at a time.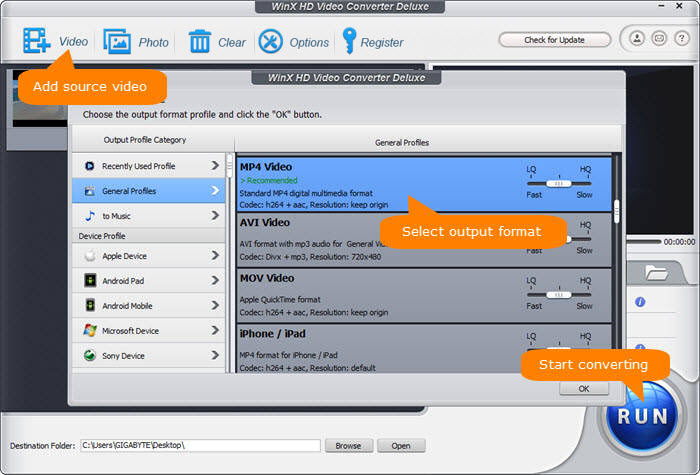 Step 2: Select General Profiles > MP4 Video at original resolution from the popping up Output Profile window. Click the OK button to save the profile setting and close the window.
Step 3: Click the RUN button to start decoding HEVC to H.264 to fix HEVC video audio sync problem.
If you used Handbrake to transcode the HEVC video and the output HEVC video doesn't match the audio, refer to Handbrake output video audio out of sync for more details.
Learn More on How to Play HEVC Videos without A/V Sync Issue